Trump questions Clinton's mental fitness to be U.S. president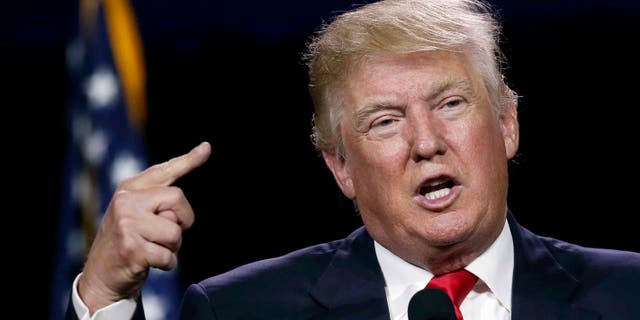 NEWYou can now listen to Fox News articles!
In the past week, questions about the mental fitness of the two contenders for the presidency of the world's superpower have grabbed headlines.
On Saturday, Republican Donald Trump questioned Democrat Hillary Clinton's fitness to be president, saying "she's got problems" and that Americans "don't want someone who's going to short-circuit."
Trump told a crowd of supporters that he's not sure the former first lady and secretary of state is up to the job.
"Honestly, I don't think she's all there," Trump said at a rally in a steamy gymnasium.
Clinton this week said at conference of Latino and African American journalists that she "may have short-circuited" when she claimed that FBI Director James Comey said "my answers were truthful and what I've said is consistent with what I have told the American people" about her use of a private email server during her tenure in the State Department. She had made the claim about Comey in an interview with Fox News.
Comey told Congress that investigators had "no basis to conclude she lied to the FBI." But he has also questioned the accuracy of some of the public statements she's made about the issue.
Last week, a California congresswoman started an online petition demanding that a mental health examination be administered to Trump.
Rep. Karen Bass, a Democrat, also created the hashtag: #Diagnose
"It is our patriotic duty to raise the question of his mental stability to be the commander in chief and leader of the free world," Bass argued on Change.org, adding that the billionaire "appears to exhibit all the symptoms of the mental disorder narcissistic personality disorder."
Bass, a physician, said while mental illness does not preclude people from performing competently in many jobs, she cited the U.S. presidency as an exception.
Meanwhile, Clinton's statement drew rebuke from fact checkers as well as Trump, who earlier Saturday tweeted that, "Anybody whose mind 'SHORT CIRCUITS' is not fit to be our president! Look up the word 'BRAINWASHED.'"
Trump spoke the day after he ended a standoff with House Speaker Paul Ryan and endorsed his re-election bid. The presidential nominee's decision to withhold his support had underscored the deep divide that remains between Trump and much of the Republican Party.
On Saturday, he didn't mention Ryan or other Republicans with whom he has feuded and kept his barbs focused on Clinton and President Barack Obama, as fellow Republicans had urged him to do.
Trump claimed that Islamic State militants were watching the election closely and "salivating" at the prospect of a second Clinton White House.
"Remember, ISIS is looking, folks. They dream of Hillary Clinton," he said.
In response, the Clinton campaign issued a statement saying, "It's unfortunate that Trump's only method of dealing with his own disastrous week is to lash out with more absurd personal attacks."
Trump's mention of Clinton was met with frequent chants of "lock her up" and other insults from the crowd.
When Trump declared that Clinton was "a liar" and "a horrible, horrible human being" who wasn't fit to serve in the White House, one man in the crowd started barking like a dog.
Based on reporting by The Associated Press.
Like us on Facebook
Follow us on Twitter & Instagram