Trump administration to ban abortion referrals by taxpayer-funded family planning clinics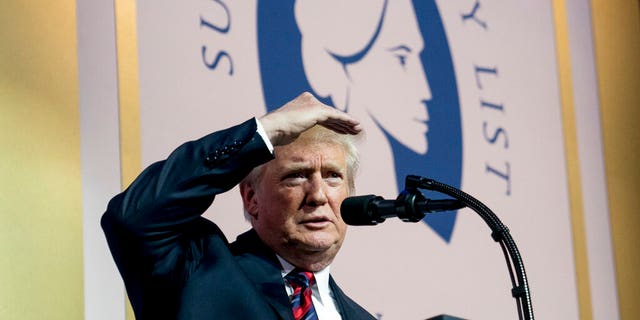 The Trump administration announced Friday that it intends to bar taxpayer-funded family planning centers from promoting or perfoming abortions or referring women to other clinics for them -- a move that is likely to yank money from groups like Planned Parenthood.
The Department of Health and Human Services announced that the Title X program, a family-planning grant that helps approximately four million women a year, would be subject to a revision of regulations -- including one that "prohibits the use of Title X funds to perform, promote, refer for, or support abortion as a method of family planning."
COUPLE SUES PLANNED PARENTHOOD FOR CHILD SUPPORT AFTER FAILED ABORTION
Title X costs approximately $260-million-a-year and is intended to pay for birth control, STD-testing, infertility testing and other screening services. The release by HHS notes that from the beginning of the fund in 1970, Congress "was clear that Title X funds cannot be used to support abortion."
"Consistent with the statutory requirement that no funds may be expended where abortion is a method of family planning, this regulation no longer requires, and affirmatively prohibits, referral for abortion as a method of family planning," it says.
The new regulation "permits, but no longer requires, nondirective pregnancy counseling, including nondirective counseling on abortion."
PLANNED PARENTHOOD ACCUSED OF MISTREATING PREGNANT EMPLOYEES: REPORT
The final regulation was published Friday on an HHS website. It's not official until it appears in the Federal Register and the department said there could be "minor editorial changes."
The move is likely to have support from President Trump's conservative base, while enraging pro-abortion groups such as Planned Parenthood. The Washington Examiner reports that Planned Parenthood covers roughly 40 percent of people who use Title X to get medical services and receives between $50-60 million from Title X.
In a statement, Dr. Leana Wen, President of Planned Parenthood Federation of America, called the rule "unconscionable and unethical."
"This rule compromises the oath that I took to serve patients and help them with making the best decision for their own health," she said. "Patients expect their doctors to speak honestly with them, to answer their questions, to help them in their time of need."
"Imagine if the Trump administration prevented doctors from talking to our patients with diabetes about insulin. It would never happen," she added. "Reproductive health care should be no different. Reproductive health care is health care and health care is a basic human right."
CLICK HERE TO GET THE FOX NEWS APP
Republicans have long called for Planned Parenthood to be defunded, and while this move does not achieve that, it will be seen as a significant step toward that goal by conservatives.
The rule meanwhile is likely to see a court challenge from groups opposed to the move.
The Associated Press contributed to this report.