Trump administration rips leaks surrounding Mueller probe
The Trump administration and its allies are firing back at the torrent of leaks surrounding Special Counsel Robert Mueller's Russia probe, suggesting the anonymous sources tied to these reports cannot be trusted – while calling into question the Mueller team's neutrality.
In an unusual statement overnight, Deputy Attorney General Rod Rosenstein said Americans should question anonymously sourced reports.
"Americans should exercise caution before accepting as true any stories any stories attributed to anonymous 'officials,'" Rosenstein said, "particularly when they do not identify the country — let alone the branch or agency of government — with which the alleged sources supposedly are affiliated."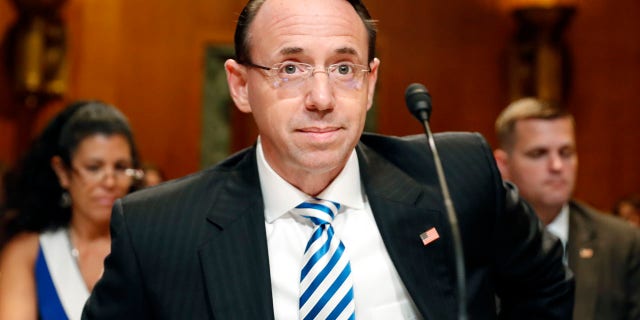 While not specifically citing the Russia probe, the statement was issued as The Washington Post published an anonymously sourced report claiming another significant development in the Mueller investigation. The Post reported the team is probing the finances and business dealings of Trump son-in-law and adviser Jared Kushner, attributing the details to "U.S. officials familiar with the matter."
Peter Carr, a spokesman for Mueller, did not comment on the Post report when reached by Fox News, but did say that the special counsel's office "has undertaken stringent controls to prohibit unauthorized disclosures that deal severely with any member who engages in this conduct."
It's unclear whether this and other leaks are coming from inside or outside the investigation -- for instance, from associates of individuals who are the subject of scrutiny.
Trump and his supporters have repeatedly complained about leaked reports on the progress of Mueller's investigation, many of which have appeared in either the Post or The New York Times.
On Wednesday, the Post reported that Mueller was examining whether Trump has tried to obstruct justice and was seeking interviews with three administration officials: Dan Coats, the director of national intelligence; Michael Rogers, the head of the National Security Agency; and Richard Ledgett, the former NSA deputy director.
Mark Corallo, a spokesman for Trump's personal lawyer, responded Wednesday evening to the Post report by saying: "The FBI leak of information regarding the president is outrageous, inexcusable and illegal."
The Post report cited anonymous sources who were briefed on requests made by investigators. It was not immediately clear whether the FBI was the source of the information.
The president himself took to Twitter Wednesday morning to decry "the single greatest WITCH HUNT in American political history." He claimed it's being "led by some very bad and conflicted people!"
Former House Speaker Newt Gingrich tweeted that Mueller is the tip "of the deep state spear aimed at destroying or at a minimum undermining and crippling the Trump presidency."
Rosenstein, who appointed Mueller special counsel in the Russia investigation last month, testified to lawmakers Tuesday that he has seen no evidence of good cause to fire Mueller and that he is confident that Mueller will have "the full independence he needs" to investigate thoroughly.
Fox News' Brooke Singman and the Associated Press contributed to this report.