Trump administration can retain DACA documents, Supreme Court rules
The Supreme Court on Wednesday lifted an order requiring the Trump administration and federal agencies to release internal documents related to the withdrawal of an Obama-era program that offered a deportation reprieve to illegal immigrants who came to the U.S. as children.
In a unanimous ruling, the high court ordered lower courts to hold off any demands of documents from federal agencies until a ruling is reached on the Trump administration's attempts to dismiss five lawsuits in California that challenge the legality of the order to rescind DACA (Deferred Action for Childhood Arrivals), Politico reported.
The lawsuits argue that the acting secretary of the Department of Homeland Security (DHS) determination to completely rescind the limited amnesty program by March 2018 was unlawful because "It violates the Administrative Procedure Act (APA) and the Due Process Clause of the Fifth Amendment."
After the government provided only 250 pages of documents related to the program's termination, the challengers accused the administration of concealing records, claiming the termination of such program would have created a large volume of documents.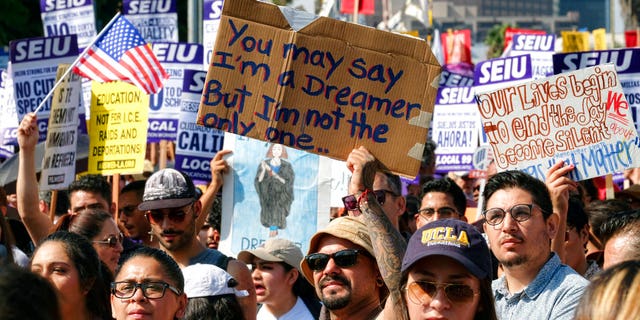 U.S. District Judge William Alsup sided with the plaintiffs and ordered DHS and the Justice Department to turn over more documents related to the DACA reversal. This order, according to the Supreme Court's opinion, was wrong and should have not been made.
Attorney General Jeff Sessions praised the high court's ruling, saying it was "a crucially important ruling" and vowed to "continue to defend the Trump Administration's lawful actions."
"The discovery order in the DACA cases was dramatically intrusive and premature, and I am pleased with tonight's decision that the district court's order was 'overly broad,'" Sessions said.
He added: "Make no mistake, this was a crucially important ruling, and the fact it was granted by a unanimous Supreme Court cannot be overstated. We will continue to defend the Trump administration's lawful actions."
But California Attorney General Xavier Becerra, who brought one of the five lawsuits challenging the White House over the DACA decision, told Politico that the ruling was not a win for the administration as it left the possibility that the challengers were entitled to more information.
"Today the Supreme Court has essentially told us that no one — not even the president — can hide the facts," he said.
Both the White House and leaders in Congress were working on legislation to address the issue and replace the legally contentious DACA program with a legal status for those who are or were covered by the program, Fox News reported.
It is likely that a bipartisan deal will emerge in January and include border security measures at the request of the White House in exchange for a deal on DACA.