Tracking Your Taxes: The Earmark Kings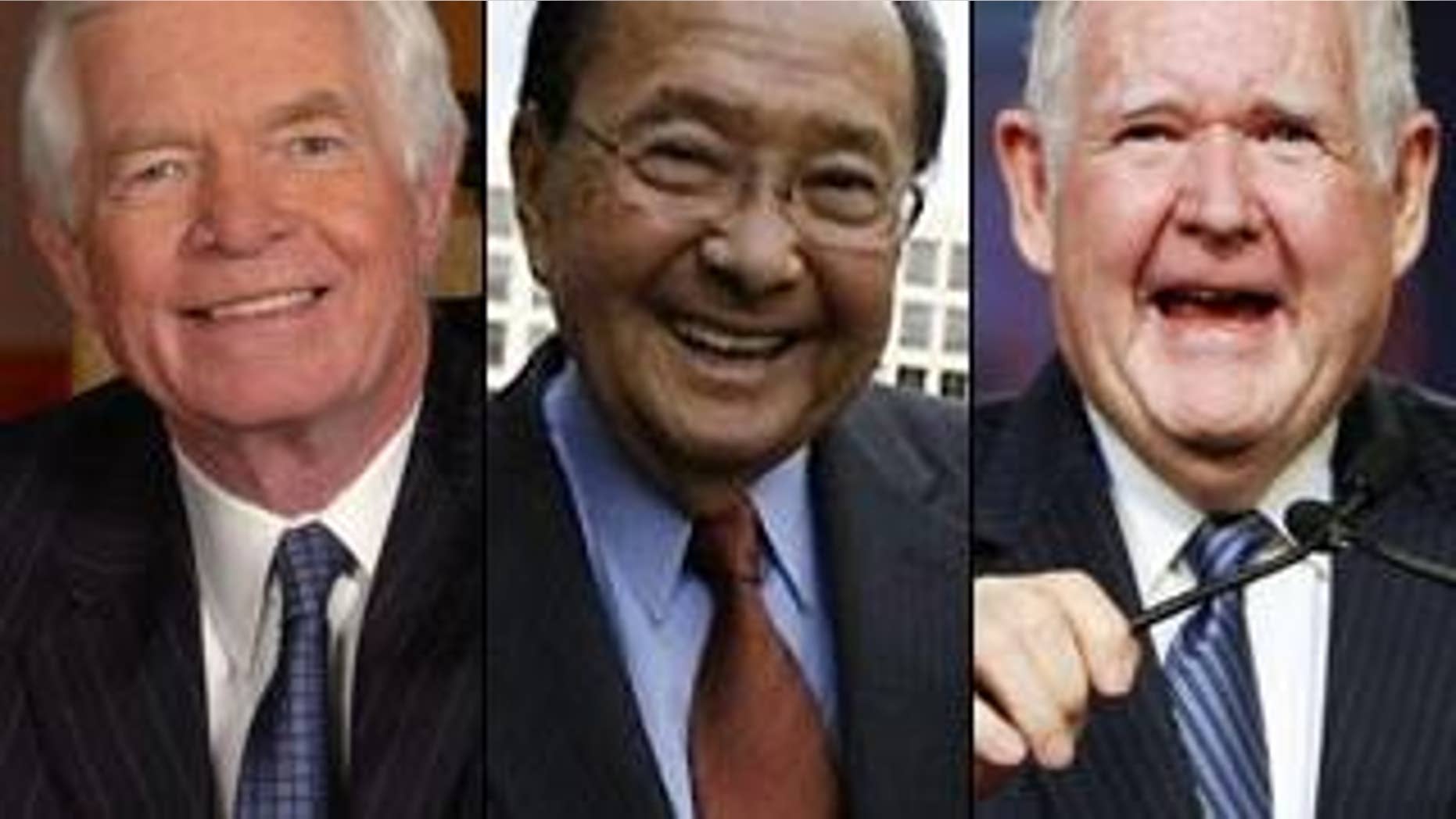 In the next 16 days, Congress will spend more than $3 trillion in taxpayer money. To cover these programs, some Americans will be working up to three hours of each day.
Vast amounts of that money will be spent in the form of earmarks, specially designated pet projects that members of Congress use to bring federal funds back to their home states. Since 44 congressmen make no earmarks at all, that means the rest are doing more than their share. For example, in the House, just 4 percent of members took home 32 percent of all the bacon -- and all were members of the Defense Appropriations Committee.
With Washington bleeding green, some congressmen -- the princes of pork -- are treating you like a giant ATM and can't spend your money fast enough.
In the last two years, the self-described earmark king, Sen. Daniel Inouye, D-Hawaii, has sponsored earmarks totaling $2 billion dollars. This year he's at it again:
$12 million to monitor sea turtles and monk seals.
$5 million for a supercomputer to help study planets and fruit flies.
$8 million for a cultural exchange between villages that once made a living killing whales.
$24 million for the East West Center, a private think tank even President Obama wants to cut.
$500,000 for music enrichment programs for Native Hawaiian children -- part of $59 million for health and education programs targeted to Native Alaskans or Hawaiians.
Inouye is one of the last of a generation of unapologetic earmarkers who feel it's their job to bring federal dollars home. And when they reach Inouye's level of seniority -- he is chairman of the Senate Appropriations Committee -- they can bring home a lot. He once even appropriated $20 million for a museum where he was chairman.
VIDEO: $5 million robotic sailboat earmark
The top Republican spender, Mississippi Sen. Thad Cochran, made waves in 2009 with the largest earmark ever -- $439 million to restore barrier islands off the Mississippi coast, a giant project that comes on top of $80 billion that taxpayers have already forked over to rebuild in the wake of Hurricane Katrina.
This year (in fiscal year 2009), Cochran helped sponsor 259 earmarks worth $1.2 billion, but he's now aiming for a dubious distinction: he wants $2.6 billion for 2010 -- a record for a single politician:
$201 million to his alma mater, the University of Mississippi, including $10 million for programs at the Thad Cochran Research Center.
$750,000 Mississippi Biotechnology Association building -- an organization that has no members and doesn't exist, and that got $450,000 last year.
$4.4 million to build fire stations, $14 million to improve drinking water in local communities (responsibilities typically left to the states).
$1.6 million for a mobile music lab.
$650,000 to a private Christian school (Piney Woods) on 2,000 wooded acres where student tuition is $31,400.
$400,000 to pay overtime for the Jackson Police Department to combat drug use.
$950,000 for the local Audubon Society, despite national Audubon assets topping $18 million.
Rep. John Murtha, D-Pa., earmarked $120 million this year, and wants another $148 million for 2010:
$500,000 to improve the profitability of dairy farms.
$1 million to toward the $250 million Sky Shuttle, an urban Mag-Lev train for a university in southwest Pennsylvania.
$1 million for a trolley museum.
But where the retired Marine really makes a dent is the defense industry. If the Pentagon rejects a project, contractors turn to Murtha.
Here are some examples of companies that gave Murtha campaign money -- and the earmarks he requested on their behalf.
Client                       Earmark Amount                         Campaign Contribution
MTS                          $5 million (combat vehicle)              $29,900
Trident Systems         $5 million (radar)                            $13,500
Advanced Acoustics    $5 million (submarine navigation)     $42,000
Argon ST                   $8 million (torpedo defense)            $46,000
Planning Systems       $2.3 million (portable radar)            $24,450
The No. 2 porker in the house, Rep. Bill Young, R-Fla., has secured $104 million in earmarks this year, including:
$4.5 million for maritime domain awareness.
$2.4 million for a vacuum pack life-raft for the military.
$4.0 million a WMD support team for southern Florida.
Young's 2010 totals appear to be smaller:
$200,000 for the Florida Holocaust Museum.
$500,000 for bike trails in St. Petersburg.
But Young, too, has received significant contributions from earmark recipients:
Client                    Earmark Amount                        Campaign Contribution
Alliant Tech            $5 million (missile warning)             $7,500
Honeywell              $2 million (minuteman 2)                $11,000
SAIC                     $3 million (communications)            $12,250
SRI Int.                 $4 million (port security)                 $7,300
Raytheon               $6 million (naval warfare)               $11,850
While the connections may not look good, there is no evidence of wrongdoing, and giving money to a politician is not against the law.
Watch FOX News for more from our continuing series, "Tracking Your Taxes," which keeps an eye on government waste.