Top Dem Clyburn confirms intention to run for speaker if Pelosi wobbles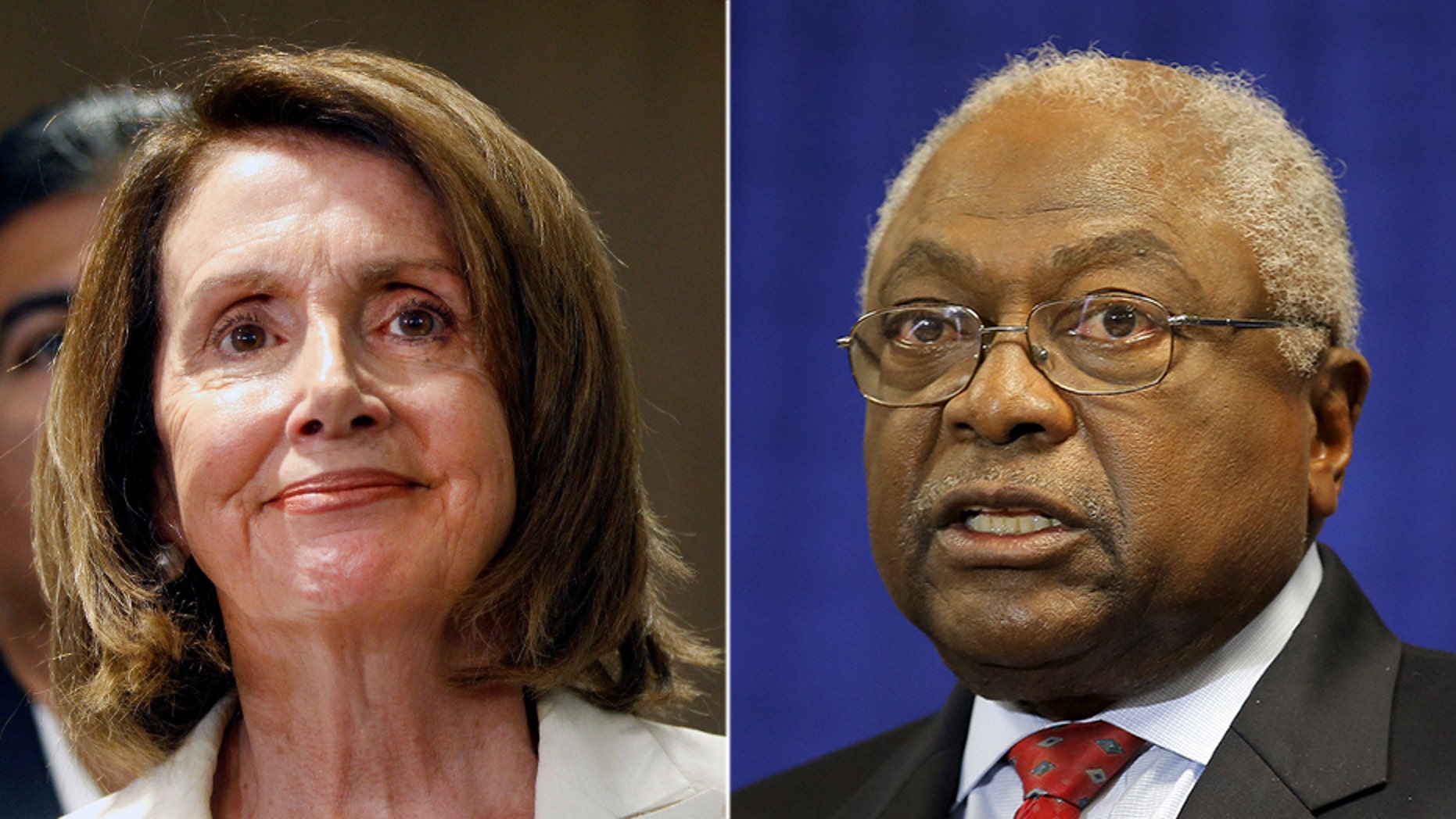 Rep. Jim Clyburn, the third-ranking House Democrat, confirmed his intention to run for speaker of the House if his party takes the chamber in November and Nancy Pelosi struggles for support.
The statement, made in an interview with The New York Times, marks another public challenge to the House minority leader's grip on power.
Dozens of Democratic candidates, including some sitting lawmakers, have already refused to commit to supporting Pelosi for speaker if their party takes back the majority.
Clyburn, D-S.C., reportedly came under pressure at a Congressional Black Caucus retreat last week to compete against Pelosi for the speakership should she struggle to garner the 218 votes necessary to lock in the post.
In an interview with The New York Times, Clyburn, 78, said he still supports Pelosi, but intends to run if she cannot gain the support.
"If the opportunity is there I would absolutely do it," Clyburn told the Times, adding that an African-American speaker would "put to bed forever the notion that the Democratic caucus is taking black voters for granted."
'If the opportunity is there I would absolutely do it.'
Pelosi, though, told the Times that she was not troubled by Clyburn's plans and called him a "beautiful, lovely member of Congress" whom she sees as a brother.
She also suggested she could serve as a "bridge to the future," but cautioned that any potential successor would have to prove they have a following and a "vision" and fundraising ability.
Clyburn's announcement comes amid internal worries that Pelosi's presence could hurt the party's chances in the midterms and hold back its next generation of leaders.
DEM REVOLT AGAINST PELOSI GROWS, AMID FEARS HER SHADOW COULD CAST PALL OVER MIDTERM HOPES 
The list of candidates refusing to support Pelosi for speaker has steadily grown. The Washington Post last week counted at least 27 Democratic House candidates who would not commit their support for the California Democrat. Another count published by NBC News last week said over 50 Democratic candidates and incumbents would not support Pelosi.
The conversation is premature, as serious consideration of Pelosi for speaker would only happen if the party takes back the 23-seat majority from the Republicans in November's elections.
A spokesman for Pelosi told Fox News in an email that she has not even sought votes for the post.
"Pelosi has said that she's not asked for a vote and will not do so until after the election," Pelosi spokesman Drew Hammill wrote to Fox News Thursday. "Her focus is on winning."
President Trump, who has endorsed dozens of Republican candidates in the primaries, has sought to liken most of their Democratic opponents to Pelosi. The National Republican Congressional Committee has followed suit.
"Democrats cannot escape the Nancy Pelosi leadership conundrum. Her potential return to the speakership should be a rallying cry for every Republican to get out and vote in November," Republican National Committee spokesman Steve Guest told Fox News in a statement Friday. "Her number one priority would be to reverse the great American comeback ushered in by President Trump and Congressional Republicans."
But Democratic Rep. Seth Moulton urged Pelosi to step down ahead of the midterms, so that Republicans couldn't use her expected candidacy for the speakership against the party.
"It's far better for her to graciously step down before the election, so that Republicans can't use that attack against Democrats, than to wait until after the election," Moulton told the Times.
Pelosi, meanwhile, is hosting an upcoming gathering of donors in Napa Valley. A spokesperson told the Times that nearly 300 people are expected to attend, including California's Democratic Gov. Jerry Brown and former Secretary of State John Kerry.