To find great leaders, get beyond the granite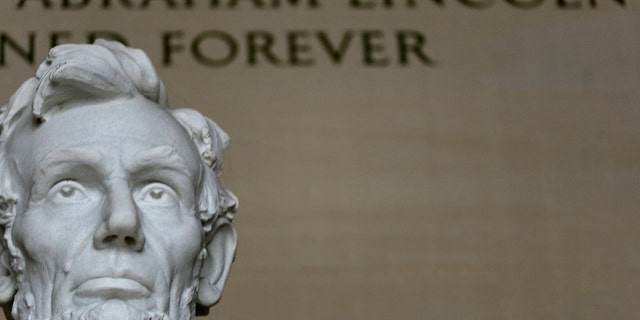 **Want FOX News Halftime Report in your inbox every day? Sign up here.**

On the roster: To find great leaders, get beyond the granite - Trump 'not happy' with bipartisan border deal - Iowa Dems propose 'virtual caucuses' for 2020 - McConnell: Senate to vote on 'Green New Deal' - Duuuuuuuuude…

TO FIND GREAT LEADERS, GET BEYOND THE GRANITE
If you go to Hodgenville, Ky. to pay your respects at the birthplace of Abraham Lincoln, you will not find a historically accurate depiction of frontier life in central Kentucky in 1809.

No re-enactors churning butter. No demonstrations on the nutritive value of buckwheat. No authentic fiddle performances.

Instead, you will confront an imposing neo-classical edifice at the top of a long set of marble steps, 56 of them, one for each year of Lincoln's life. The building looks completely out of place in the Kentucky hills an hour south of Louisville – more like a mausoleum than a historical site.

And it is a tomb of a certain kind. But inside is not the remains of a body, but rather the remains of a home.

Here's historian Jesse Ritner from the University of Texas: "The cabin inside the monument's granite walls never housed the Lincoln family. It was constructed in 1895 by entrepreneur Alfred Dennett and his agent, James Bigham, from logs found in a log cabin near the sinking spring where records suggest Lincoln was born. In 1897, the fabricated cabin was toured around the country, where it was matched with another ersatz birthplace cabin – that of none other than Confederate President Jefferson Davis. As the caravan of cabins continued around the United States, it finally landed on Coney Island. There, due to poor organization while shipping, parts of each cabin became mixed so they were simply joined together creating a single Lincoln-Davis Birthplace Cabin."

There's something wonderfully American about the jumbled up history of the monument and what the National Park Service now calls the "symbolic" birth cabin. There's a little hucksterism, a little grandiosity, a little sentimentality and a whole lot of hero worship.

What could be more American, after all, than the elevation of what is ordinary, crassly commercial and of dubious origin to Olympian heights? It's also quite fitting for Lincoln, who grew up with his brawling, mercantile, ambitious young country but ended up chiseled in stone, an American demi-god.

But there's a problem with all that granite and marble. What was intended to elevate also obscures, shutting us off from the more interesting, more useful story and of the man at the center of it.

Given what passes for history education in America today, we would be happy even if most Americans had the idea of the marble model sculpted by Daniel Chester French at the Lincoln Memorial here in Washington: Lincoln the eternal judge, casting his searching gaze down the Mall at the works of his successors, rendering his verdict for the ages.

That at least gets to the extraordinary virtue of our most remarkable president. It conveys too the enormity of his accomplishment in preserving the union.

But what the marble and granite hide is the how ordinary and normal Lincoln was – that he was just another child of the frontier. He was like us and we are like him. That's an encouraging thought, but also a challenging one. If he was not born cast in heroic marble but rather of flesh and blood, what ought we to expect of ourselves and our leaders?

On this 210th anniversary of Lincoln's birth there at Sinking Spring, in a humble cabin with leather hinges on the door, we would do well to not think of granite edifices, but of what is humble and even hokey behind them.

We need men and women of his same gifts, grit and character again, and we won't find them carved out of a rock.

THE RULEBOOK: CREATED EQUAL
"The rights of property are committed into the same hands with the personal rights. Some attention ought, therefore, to be paid to property in the choice of those hands." – Alexander Hamilton or James Madison, Federalist No. 54

TIME OUT: PIGEON WARFARE
Smithsonian: "In the Great War, pigeons proved essential in trench warfare. … After months of training as a homing pigeon, the bird that would one day be known as 'Kaiser' entered frontline service and began flying messages for Kaiser Wilhelm II's German troops in Northern France. In April 1917, just as Kaiser entered the German Army, the United States declared war on Germany. … During the fighting in October [1918], American troops captured German prisoners and equipment—including pigeons. … When the war ended less than a month later on November 11, 1918, Kaiser remained confined to a pigeon loft with his captured colleagues, his fate undetermined. … In December, the Signal Corps decided to bring home distinguished American pigeons together with captured German birds for public relations and morale purposes. … Once in America, Kaiser was paraded with other captured birds and used for recruiting purposes in 1919 before settling in at the Signal Corps Pigeon Center in Fort Monmouth, New Jersey."

Flag on the play? - Email us at HALFTIMEREPORT@FOXNEWS.COM with your tips, comments or questions.

SCOREBOARD
Trump job performance
Average approval: 39.8 percent
Average disapproval: 56 percent
Net Score: -16.2 points
Change from one week ago: no change
[Average includes: CNN: 42% approve - 54% disapproval; IBD: 39% approve - 57% disapprove; Quinnipiac University: 38% approve - 57% disapprove; Monmouth University: 43% approve - 53% disapprove; Gallup: 37% approve - 59% disapprove.]

TRUMP 'NOT HAPPY' WITH BIPARTISAN BORDER DEAL
Fox News: "President Trump said Tuesday he is 'not happy' with the tentative deal congressional negotiators have worked out on border security, as they face a Friday deadline to avert a second government shutdown. But while the president expressed his displeasure at what was agreed to by lawmakers on Monday night, he added that he does not believe there will be another shutdown in the end. … A committee negotiating new border security measures tentatively agreed Monday night to dedicate $1.4 billion to Trump's border wall, far less than his $5.7 billion goal. The emerging deal drops Democratic demands to seriously limit detentions of immigrants illegally in the U.S. The agreement also calls for 55 miles of metal slats or other types of new fencing, as opposed to a concrete wall. The fencing would be built in the Rio Grande Valley in Texas. The pact includes money for other border security measures, including advanced screening at border entry points and customs officers. The huge funding measure, which combines seven spending bills into one, would fund several federal agencies through Sept. 30."

And for the Dems? - WaPo: "House Appropriations Committee Chairman Nita M. Lowey (D-N.Y.), who was in Monday's meetings, said she hoped the negotiators would have a finished product by Wednesday. She said she ran the proposal by House Speaker Nancy Pelosi (D-Calif.) and she signed off on it. 'Some may be happy, some may not be happy,' said Lowey, assessing how Democrats would receive the deal and saying she hoped the agreement would have the votes needed to pass the House. 'We did the best we could.'"

IOWA DEMS PROPOSE 'VIRTUAL CAUCUSES' FOR 2020
Politico: "The Iowa Democratic Party laid out a proposal Monday that would add a major change to its presidential caucuses, allowing for absentee voting by phone on six different days through 'virtual caucuses.' The proposed change, set out on a call by Iowa Democratic Party Chairman Troy Price on Monday, would allow Democrats to phone in absentee votes, rating their presidential preferences in a ranked choice style. The virtual results will be tabulated and apportioned according to congressional district and eventually will be added into the final results of the live precinct caucuses. Previously, only those who physically attended the Iowa caucuses could register their votes. … The proposed changes must still go before the state central committee and back to the Democratic National Committee and is part of a larger mandate to make caucuses more accessible. The Iowa Democratic precinct caucuses are scheduled for Feb. 3, 2020."

Trump and Beto hold head-to-head El Paso rallies - Texas Tribune: "President Donald Trump kicked off his first major rally of the year here the same way he campaigned during his successful 2016 bid: by unleashing a torrent of criticism on the media, pushing back against allegations of collusion with Russia, and promising once more to end illegal immigration and build a wall on the southern border. Across the street, one of his potential 2020 rivals — former Texas Congressman and El Paso native Beto O'Rourke — held a competing rally that drew thousands of people. Standing beneath an American flag flanked by red signs that read 'finish the wall,' the president tossed plenty of fresh red meat to the capacity crowd, which periodically interrupted him with chants of 'build the wall!' … As Trump spoke, O'Rourke led a march to a park just steps away from the coliseum."

Dem candidates show scrutiny for Green New Deal, 'Medicare-for-all' - Fox News: "John Delaney's not your typical 2020 Democratic presidential candidate. With many of his rivals for the nomination running to the left, the former congressman from Maryland is carving out a more moderate path and taking aim at two top wish-list items for the progressive base -- the Green New Deal and 'Medicare-for-all.' And he's not the only one. While every other Senate Democrat running for president has signed onto the Green New Deal, potential presidential candidate and Ohio Sen. Sherrod Brown defended his decision not to on Tuesday: 'I don't need to co-sponsor every bill that others think they need to co-sponsor to show my progressive politics.' … [Delaney] took aim at the Green New Deal, the sweeping proposal that aims to transform the country's economy to fight climate change -- while enacting a host of new health care and welfare programs.

De Blasio heads to New Hampshire Friday - Politico: "New York City Mayor Bill de Blasio is making moves toward a possible run for president, soliciting City Hall staffers with national political experience and preparing to travel to the early primary state of New Hampshire this week, several sources familiar with his plans told POLITICO. After a visit to Harvard's Kennedy School to discuss his time as mayor this Thursday, de Blasio will travel the next morning to Nashua, N.H. There he will meet with Mayor Jim Donchess and may chat with locals at a diner, City Hall Communications Director Mike Casca confirmed. On Friday evening, de Blasio will drive to Concord, where he will meet with local organizers of the group Rights & Democracy, New Hampshire, which describes itself as part of a 'movement across the region to counter the influence of money in politics.'"

Dem presidential candidates push emphasis on small-dollar donations now - WaPo: "Although the Democratic field for the 2020 election is still taking shape, the race for small-dollar donations has already begun, with about two dozen prospective and declared candidates scrambling to build online operations focused squarely on individual supporters who may give in amounts as low as $5. Historically, these early low-dollar contributions were viewed largely as a sign of grass-roots support and an indication of potential voter enthusiasm. But that has changed in recent elections as small contributions have increasingly filled the coffers of many candidates — providing the fuel that allows them to be viable contenders."

Gabby Giffords' husband to run for McCain's Senate seat - USA Today: "Retired astronaut Mark Kelly announced Tuesday that he is running to finish the late Sen. John McCain's last term representing Arizona, which ends in 2022. Kelly is the husband of former Rep. Gabby Giffords, who survived being shot in the head in a 2011 mass shooting that left six dead in Tuscon, Arizona. Since that attack, Giffords and Kelly have been prominent advocates for gun control. He is the first Democrat to enter the field ahead of 2020 and is widely seen as a formidable candidate, given his biography and likely ability to raise the millions of dollars needed to take on the GOP's established candidate, Sen. Martha McSally. McSally, who formerly served in the House, was appointed to the seat by Gov. Doug Ducey after she narrowly lost her campaign for Arizona's other Senate seat to Democrat Kyrsten Sinema in the 2018 midterm election. She is considered one of the most vulnerable Republican senators heading into the 2020 election."

MCCONNELL: SENATE TO VOTE ON 'GREEN NEW DEAL'
National Review: "Majority Leader Mitch McConnell announced Tuesday that the Senate will vote on the 'Green New Deal' resolution introduced last week by a coalition of progressive lawmakers vowing to entirely erase greenhouse gas emissions within ten years, while simultaneously creating millions of jobs in a government-subsidized green energy sector. 'I've noted with great interest the Green New Deal. And we're going to be voting on that in the Senate. Give everybody an opportunity to go on record and see how they feel about the Green New Deal,' McConnell said during a Monday press conference."

This comes after Ocasio-Cortez tries to retract information about the deal - WaPo: "Rep. Alexandria Ocasio-Cortez (D-N.Y.) is pushing for a debate on the substance of her Green New Deal resolution after her staff distributed an erroneous fact sheet regarding the proposal… Those pages included language and policies not included in the resolution itself such as providing economic security to those 'unwilling to work' and ruling out nuclear power as part of the solution to the climate crisis. … 'An early draft of a FAQ that was clearly unfinished and that doesn't represent the GND resolution got published to the website by mistake,' Saikat Chakrabarti, Ocasio-Cortez's chief of staff, wrote on Twitter on Saturday, two days after the document's release. … The incident underscores both the power and peril of the first-term lawmaker's power within the party…"

PLAY-BY-PLAY
Rep. Ilhan Omar won't lose committee assignments after anti-Semitic remarks - Roll Call

Senate Intel Committee finds no evidence of conspiracy between Trump campaign and Russia - NBC News

Rand Paul to vote against Trump's AG pick William Barr - Politico

AUDIBLE: TUBULAR
"When [Beto O'Rourke's] doing a bong tour through Southwest America, it's a little less invigorating to Democratic primary voters." – Jeff Roe, a former chief strategist for Sen. Ted Cruz, discussing Beto's handling of President Trump's visit to El Paso with Politico.

FROM THE BLEACHERS
"'. . distractedness and surficiality'? Is that a typo for 'superficiality', or is that an actual word? If it comes from 'surface', I guess it's more or less synonymous, but I just never heard the word before. As I said, I don't like the role of nitpicker; your column is always fresh and well-written. And it doesn't hurt to learn something new, even in the autumn of my life." – David P. Taylor, Springfield, Va.

[Ed. note: You're referring here to the very smart piece from the Paris Review about the way our culture of distraction is changing how we read. "Surficiality" is indeed a word, and it is indeed about the surface-level of things. "Superficial" is an older word, coming straight to English from the Latin "superficialis." If you really want to get crazy, you can use its root "superficies," which was long, long ago accepted as standard English. But by then, you're back where we started – "super" for on top and "ficies" for aspect. "Surface" is a newer word, coming to us in about 1600, according to Webster's, from the Middle French, which had by then changed the Latin "super" into "sur." Not surprisingly, "surface" beat "superficies." And yet, "superficial" is far more common than "surficial." They have ultimately the same origins and mean basically the same thing. But if I was to try to nudge out a distinction between the two for modern usage, it would be that "surficial" more obviously relates to the actual surface of things while "superficial" has a more abstract sense about shallowness. The latter carries more judgement, at least to my ear.]

Share your color commentary: Email us at HALFTIMEREPORT@FOXNEWS.COM and please make sure to include your name and hometown.

DUUUUUUUUUDE…
KTRK: "Police say someone who went to an abandoned home in southeast Houston to smoke marijuana, ended up discovering a tiger inside of it. Houston Police Department's Major Offenders, Livestock Animal Cruelty Unit arrived on scene and found a 350-pound tiger inside. The cage that kept the animal enclosed was not large or sturdy enough for such a creature of that size. While the home was abandoned, several packages of meat were found with the animal. 'A concerned citizen called 311. They were trying to get into this house to smoke marijuana. We questioned them as to whether they were under the effects of the drugs or they actually saw a tiger. They saw a tiger in this building, this vacant house that's obviously been abandoned for some time,' said Sgt. Jason Alderete, of HPD's Major Offenders, Livestock Animal Cruelty Unit."

AND NOW, A WORD FROM CHARLES…
"By conventional measures — poise, logic, command of the facts — [Hillary Clinton] won the debate handily. But when it comes to moving the needle, conventional measures don't apply this year. What might, however, move the needle is not the debate itself but the time bomb Trump left behind." – Charles Krauthammer (1950-2018) writing in the Washington Post on Sept. 29, 2016.

Chris Stirewalt is the politics editor for Fox News. Brianna McClelland contributed to this report. Want FOX News Halftime Report in your inbox every day? Sign up here.