Tillerson, Mattis make case for war powers authority in Senate hearing in wake of Niger ambush
NEWYou can now listen to Fox News articles!
Secretary of State Rex Tillerson and Defense Secretary James Mattis told Senate lawmakers at a hearing Monday that the U.S. needs the authority to deploy troops oversees to fight terror, as the killing of four U.S. service members in Niger earlier this month drew significant scrutiny.
Mattis and Tillerson testified before the Senate Foreign Relations Committee, which they privately told several months ago that the post-9/11 Authorization for Use of Military Force (AUMF) gives the U.S. military ample authority to fight terrorist groups.
However, the deadly Oct. 4 ambush on U.S. troops has brought to light the extent to which America's military is fighting terrorism in foreign countries, including Afghanistan, Syria and Niger, one of a reported half-dozen African countries with American troops.
Speaking to the committee, the two men said if Congress does pursue a new authorization for foes such as Islamic State terrorists, it's imperative the existing law not be rescinded until a new one is fully in place.
Tillerson and Mattis also said that any new war authorization, like the existing one, should not have any geographic or time restrictions so as not to tip the enemy off.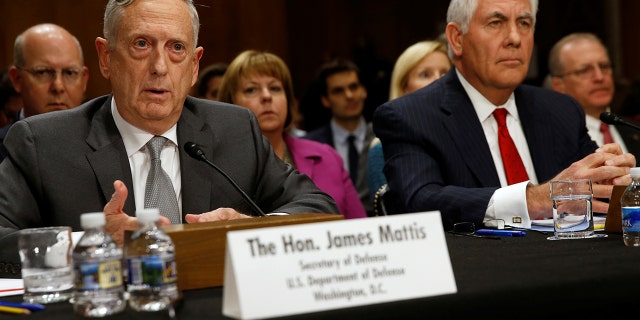 "Though a statement of continued congressional support would be welcome, a new (war authorization) is not legally required to address the continuing threat posed by Al Qaeda, the Taliban and ISIS," Mattis said.
Doing away with existing laws prematurely "could only signal to our enemies and our friends that we are backing away from this fight," he continued.
Asked if there were circumstances that would allow Trump to preemptively strike North Korea or other countries with nuclear weapons, Mattis said the question was hypothetical.
Mattis said that he could forsee a situation where it's possible to preemptively fire weapons should another country be preparing to use weapons of mass destruction at the United States. But, Mattis said, the process for launching nuclear weapons is very rigorous.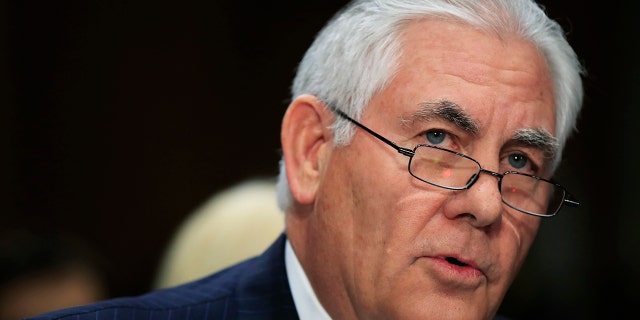 Tillerson said that no U.S. president "has foresworn first strike and that has served us well for 70 years."
Some Congressional Republicans and Democrats after the Niger ambush seemed startled to learn the depth of the U.S. commitment, which has reignited a Capitol Hill debate about replacing or updating the post-Sept. 11 authorization to reflect current threats.
Among those who have called for changes is Sen. Tim Kaine, D-Va.
"We were in Niger to deal with an ISIS threat," he said recently. "It's time for Congress to finally revisit the authorization, which is badly out of date and have a debate on full view of the American public about all the different countries where we are in engaged in military action right now."
Sen. Rand Paul, R-Ky., recently trolled Sen. Lindsey Graham, R-S.C., on Twitter after Graham told NBC he wasn't fully aware of U.S. military operations there.
"You know you are in too many wars in too many places when even warmonger Lindsay Graham can't keep track anymore," Paul tweeted.
Kaine and Sen. Jeff Flake, R-Ariz., are sponsoring legislation to install a new war authority for operations against ISIS, Al Qaeda and the Taliban.
Roughly 800 U.S. service members are in Niger as part of a French-led mission to defeat the extremists in West Africa.
Those calling for the 2001 authorization to be updated also argue Islamic State militants didn't exist 16 years ago and they are entrenched in a country – Syria – that the U.S. didn't expect to be fighting in.
Nor did the 16-year-old authorization anticipate military confrontations with the Syrian government. Trump in April ordered the firing of dozens of Tomahawk missiles at an air base in central Syria and American forces in June shot down a Syrian Air Force fighter jet.
Beyond that, Trump approved a troop increase in Afghanistan, the site of America's longest war, and the U.S. backs a Saudi Arabia-led coalition carrying out airstrikes in Yemen.
Previous attempts to end the old authorization and force Congress to craft a new one have failed.
Democrats in the House complained that Speaker Paul Ryan, R-Wis., used underhanded tactics after an amendment was stripped from a military spending bill that would have repealed the 2001 war authorization 240 days after the bill was enacted. Proponents of the measure said eight months was enough time to approve new war authority.
GOP leaders said voting to rescind existing war authority without a replacement in hand risks leaving U.S. troops and commanders in combat zones without the necessary legal authority they need to carry out military operations.
A similar effort in the Senate, led by Paul, also came up short.
Paul, a member of the committee and a leader of the GOP's noninterventionist wing, has accused his colleagues of surrendering their war-making power to the White House.
Fox News' Rich Edson, Chad Pergram and The Associated Press contributed to this report.