Threatening letter reportedly sent to Donald Trump's son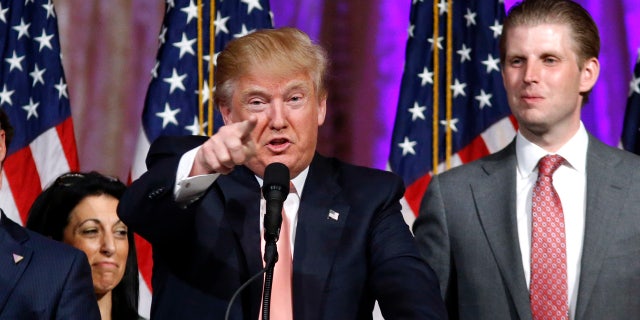 NEWYou can now listen to Fox News articles!
The FBI's Joint Terrorism Task Force and New York City police were investigating a threatening letter containing a suspicious white powder that was sent to one of the sons of Republican presidential front-runner Donald Trump.
Preliminary tests on the substance in the envelope to Eric Trump's apartment in Manhattan Thursday indicated that it was not hazardous, officials said.
"The white powder substance has been sent out for testing to confirm that it is not toxic," NYPD Sgt. Carlos Nieves told FoxNews.com Friday.
He said the testing was being "expedited."

The handwritten letter postmarked March 5 and addressed to Trump's 32-year-old son was delivered to his Trump Parc East home on Central Park South.
According to the New York Post, the white powder fell out of the envelope when Eric Trump's wife, Lara Yunaska, opened it. Police, fire crews and the FBI all responded to the scene.
"If your father does not drop out of the race, the next envelope won't be a fake," the letter said. It was signed "X," according to a law enforcement official who had seen the letter and spoke to the Associated Press.
The NYPD in a statement confirmed Friday morning that it had responded to a residential building overlooking Central Park to investigate a suspicious letter received by a tenant but didn't name the recipient.
The NYPD says it was notified about 7:15 p.m Thursday evening, according to Fox 5 New York.

Nieves told FoxNews.com the Secret Service has been notified and was part of the investigation.
An FBI spokeswoman told the Washington Post the Joint Terrorism Task Force was leading the investigation. The task force includes the Secret Service, FBI, New York Police Department and Postal Inspection Service.
Eric Trump and his wife were allowed to return to the home, according to officials.
He is one of Trump's five children. He has been campaigning for his father.
Donald Trump's representatives did not immediately respond to a request for comment from the AP.
Click for more from The New York Post.
The Associated Press contributed to this report.