The Handshake Redux: Cuban Leader Told President Obama, 'Mr. President, I'm Castro'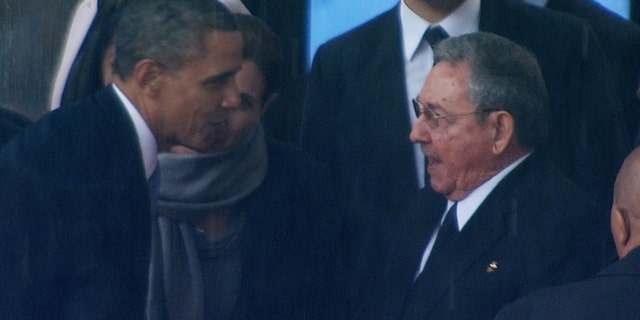 "Mr. President, I'm Castro."
And so now the world knows what words were uttered during that famous handshake between Cuban President Raul Castro and President Barack Obama at Nelson Mandela's funeral last week.
The revelation of the words that the Cuban president spoke to Obama came from Castro's older brother and former Cuban leader Fidel Castro, who broke months of silence Thursday with a lengthy editorial in state media discussing Cuba's ties to Mandela and his brother's trip to South Africa for his funeral.
The Dec. 10 handshake set off speculation in the U.S. and Cuba about whether it signaled a warming of ties between the two nations after decades of animosity. U.S. and Cuban officials dismissed that, calling the handshake a mere diplomatic courtesy.
In his 2,400-word essay published Friday on the front pages of Cuba's government-run newspapers and websites, Fidel Castro congratulated his brother for his "steadfastness and dignity, when, with a friendly but firm gesture, he greeted the head of the U.S. government and told him in English, 'Mr. President, I'm Castro.'"
Castro, 87, handed over leadership of Cuba to his brother after suffering intestinal bleeding in 2006. He last wrote one of his trademark editorials and appeared in a photo in September. When Mandela died and Castro failed to appear in public or write about the loss of a close ally, many inside and outside Cuba wondered if it was an indication that his health had worsened.
As if to dispel those thoughts, the Cuban government on Monday published a photo of a vigorous-looking Castro meeting with a Spanish journalist three days earlier.
The journalist, Ignacio Ramonet, said that he and Castro discussed a wide range of topics including Mandela, Venezuelan politics and climate change and "I found him to be in excellent health and in a good mood, physically, mentally and psychologically."
Castro wrote extensively about his relationship with Mandela in the article published Thursday, discussing Cuba's backing of Angolan fighters who battled forces supported by the pro-apartheid South African government of the 1980s.
He condemned the United States for supporting the opposing forces.
Based on reporting by The Associated Press.
Follow us on twitter.com/foxnewslatino
Like us at facebook.com/foxnewslatino