Thad Cochran Turns Back Tea Party Challenge; Charlie Rangel Celebrates Close Race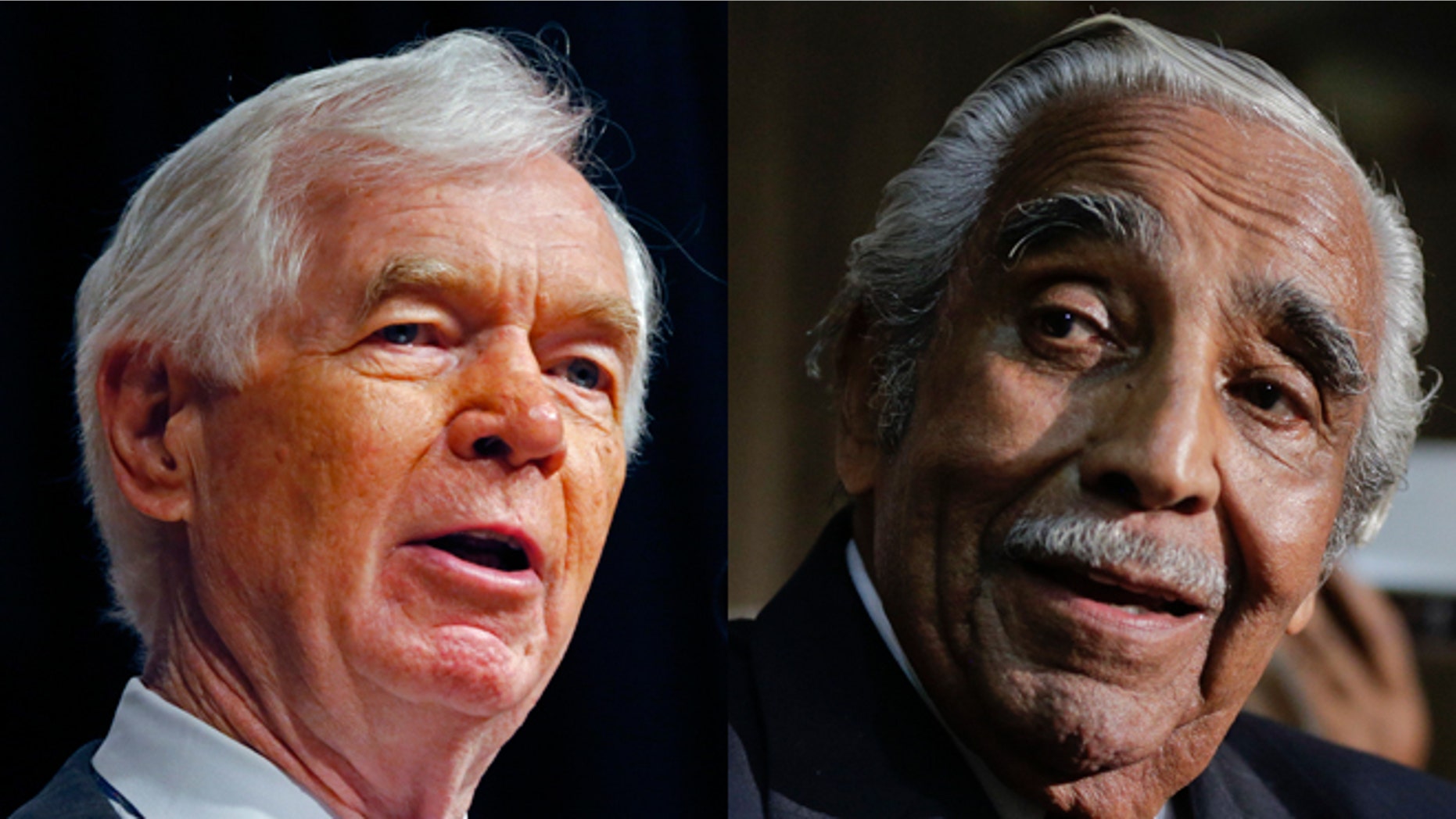 Associated Press – Was it too soon? It was almost certainly too long.
U.S. Rep. Charles Rangel, the 84-year-old "Lion of Harlem," took the stage on his final primary night before a victory had been declared, saying he wanted to "sweat it out" with his supporters in a Harlem ballroom.
What followed was an unprecedented, nearly hour-long, folksy speech that was part thank you, part real-time political analysis and, eventually, part declaration of victory even though the race between the 22-term congressman and his challenger, state Sen. Adriano Espaillat, was still officially too close to call early Wednesday.
With 99 percent of the vote counted in unofficial results, Rangel was leading Espaillat 47.4 percent to 43.7 percent, a difference of less than 2,000 votes. About 47,000 votes were counted on Tuesday.
The Associated Press is not declaring a winner because the city Board of Elections was not able say how many absentee and affidavit ballots were still outstanding. The Board said no further information on those ballots would be immediately released.
Rangel, the face of Harlem politics for generations, showed no such reluctance to bring the drama-filled campaign to a close.
"This was your victory," Rangel told the crowd. "This is your congressman. And you can rest assured all I will be doing is thinking about you and bringing resources back home."
At one moment during his rambling address, the stage buckled under the weight of the congressman and more than a dozen elected officials who wanted to stand near him. After determining that no one was hurt, Rangel resumed talking. And kept talking.
Acknowledging that he was "killing time" as the votes were being counted, Rangel held court, continually introducing new speakers and asking his advisers and members of the press for updates on the latest totals.
Finally, after a local TV station called the race, balloons dropped from the ceiling. Rangel raised his arms aloft and smiled.
But upon leaving the stage, Rangel was slightly more cautious in addressing reporters, saying he was "confident" that his margin of victory would hold but resisting a full-throated reiteration of his victory cry.
Espaillat, who is bidding to become the first person born in the Dominican Republic to be elected to Congress, refused to concede. He told supporters that the "race was too close to call" and his campaign said that several thousand absentee and provisional ballots remained uncounted.
And even as Espaillat's stage was quickly dismantled and his party emptied out, the possibility of a legal challenge was raised, which could lead to a sequel to the 2012 primary between the two men. The result of that race, which Rangel won by barely 1,000 votes, took two weeks to finalize.
Rangel was once arguably the most influential black elected official in the U.S., known for his gravelly voice, impeccable suits and staunch liberal views, including his outspoken opposition to apartheid and the Iraq War.
But he was weakened after 2010 ethics violations that forced him to give up the chairmanship of the powerful House Ways and Means Committee, and his heavily Democratic district was then redrawn to include parts of the Bronx, which along with the accelerating gentrification of Harlem transformed a heavily black district into one that was majority Hispanic.
The primary race that drew the most attention nationally was Mississippi's Republican U.S. Senate race, which proved a victory for the Washington establishment over the tea party movement as incumbent Sen. Thad Cochran, a mainstream conservative with more than 40 years congressional experience, narrowly turned back a challenge from state Sen. Chris McDaniel.
Outside conservative organizations and tea party groups invested millions in the Mississippi race in hopes of knocking off Cochran. They fell short Tuesday night after a nasty, costly primary, and have few chances to reverse the trend in remaining contests before November's elections.
The results left the movement's leaders fuming.
"Unfortunately in Mississippi, nefarious campaign tactics seem to have won the day over ideas and a bold conservative vision," said Taylor Budowich, executive director of Tea Party Express. "We thank Senator Chris McDaniel for courageously standing up to the political machine. In politics, the righteous are not always victorious, but Americans across the country appreciate the values that his campaign was built upon."
Earlier this month, McDaniel had beaten Cochran in the initial primary round but had fallen short of the majority needed for nomination. In the three-week dash to the runoff, Cochran and his allies highlighted his seniority while McDaniel argued that Cochran was part of a blight of federal overspending.
In a last-ditch effort, Cochran reached out to traditionally Democratic voters — blacks and union members — who could cast ballots in the runoff. That factor in Cochran's victory is sure to be cited by critics in days and weeks to come.
At the Cochran party, Ronny Barrett, a black 56-year-old mechanic from Jackson, said that until the June 3 primary, he had always voted for Democrats, but he decided to support Cochran after following news coverage and talking to friends.
"Sen. Cochran has done a lot of things for the black community, and a lot of people in the black community might not know that," said Barrett.
Cochran, a stalwart of the Senate Appropriations Committee, has funneled billions to his home state, one of the poorest in the nation, since he won a U.S. House seat in President Richard Nixon's GOP wave of 1972 and then was elected to the Senate in 1978.
In November, Cochran will face Democrat Travis Childers, a former congressman, in the heavily Republican state.
In another setback for the tea party, two-term Rep. James Lankford of Oklahoma won the GOP nomination in the race to succeed Sen. Tom Coburn, who is stepping down with two years left in his term. In the solidly Republican state, Lankford is all but assured of becoming the next senator. Part of the House GOP leadership, Lankford defeated T.W. Shannon, a member of the Chickasaw Nation and the state's first black House speaker, who was backed by former vice presidential candidate Sarah Palin and Texas Sen. Ted Cruz, two stalwarts of the right.
In Colorado, former Rep. Bob Beauprez won a crowded gubernatorial primary that included 2008 presidential candidate Tom Tancredo, an immigration opponent. That was welcome news to national Republicans who feared that Tancredo could be a drag on the GOP ticket in November. Beauprez will face Democratic Gov. John Hickenlooper.
In Maryland, Lt. Gov. Anthony Brown won the Democratic primary for governor as the state chose a successor to outgoing Democratic Gov. Martin O'Malley, who is considering a 2016 presidential bid. If elected in the Democratic-leaning state, Brown would make history as one of the few African-American governors; Massachusetts' Deval Patrick is retiring.
Follow us on twitter.com/foxnewslatino
Like us at facebook.com/foxnewslatino