Texts show FBI agents fuming over Trump: 'Protect the country from that menace'
Hundreds of text messages released overnight between two FBI officials who worked on Robert Mueller's Russia probe show the agents exchanging a steady stream of anti-Trump feelings – and even discussing how to "protect the country from that menace."
The texts were released to the House Judiciary Committee ahead of a hearing Wednesday with Deputy Attorney General Rod Rosenstein, who is sure to be peppered with questions about the messages. Republicans have pointed to them in raising questions about the objectivity of both the bureau and the Mueller probe.
In one exchange from August 2016, the FBI's Lisa Page forwarded a Donald Trump-related article to Peter Strzok, writing: "And maybe you're meant to stay where you are because you're meant to protect the country from that menace."
He responded: "Thanks. It's absolutely true that we're both very fortunate. And of course I'll try and approach it that way. I just know it will be tough at times. I can protect our country at many levels, not sure if that helps.'"
Strzok, who was an FBI counterintelligence agent, was reassigned to the FBI's human resources division after the discovery of the exchanges with Page, with whom he was having an affair. Page was briefly on Mueller's team, but has since returned to the FBI.
The Justice Department has been reviewing thousands of their messages in recent days, turning over roughly 375 to the committee from between August 2015 and December 2016.
The anti-Trump sentiments were clear from the start.
On March 2 2016, Strzok texted Page that someone "asked me who I'd vote for, guessed [Ohio Gov. John] Kasich."
"Seriously?! Would you not [vote] D[emocrat]?" Page responded.
"I don't know," Strzok answered. "I suppose Hillary [Clinton]."
"I would [vote] D," Page affirmed.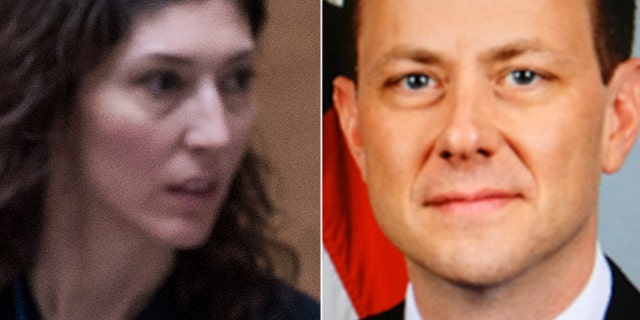 Two days later, Page texted Strzok, "God, Trump is a loathsome human."
"Yet he many[sic] win," Strzok responded. "Good for Hillary."
Later the same day, Strzok texted Page, "Omg [Trump's] an idiot."
"He's awful," Page answered.
"America will get what the voting public deserves," said Strzok, to which Page responded. "That's what I'm afraid of."
Twelve days later, after Trump took a commanding lead in the Republican delegate race with victories in key "Super Tuesday" primaries, Page texted Strzok, "I can not believe Donald Trump is likely to be an actual, serious candidate for president."
On Aug. 6, Page texted Strzok a New York Times article about Muslim lawyer Khzir Khan, who became embroiled in a war of words with Trump after Khan spoke at the Democratic National Convention.
"Jesus. You should read this. And Trump should go f himself," Page wrote in a message attached to the article.
"God that's a great article," Strzok answered. "Thanks for sharing. And F TRUMP."
Yet another exchange appears to show efforts to conceal some of their conversations about Democratic nominee Hillary Clinton.
"So look, you say we text on that phone when we talk about Hillary because it can't be traced, you were just venting, bc you feel bad that you're gone so much but that can't be helped right now," Page wrote on April 2, 2016.
Fox News' Samuel Chamberlain and Jake Gibson contributed to this report.