Texas refuses to give back lethal drugs, proceeds with execution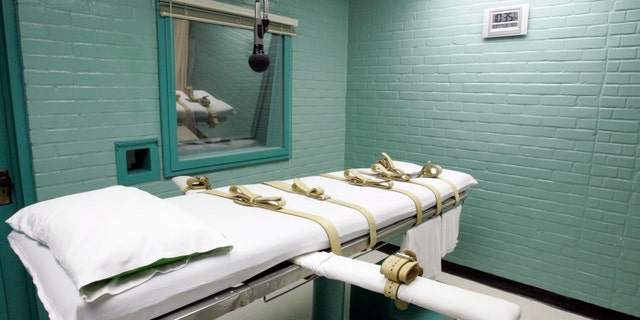 NEWYou can now listen to Fox News articles!
WASHINGTON – A Texas man convicted of killing his parents was executed as planned Wednesday night despite a growing controversy over the drug used to carry out the punishment.
Last week, state prison officials refused a request from the compounding pharmacy that created and sold Texas the pentobarbital -- a single-dose drug used in executions -- to return the drug.
Jasper Lovoi, owner of The Woodlands Compounding Pharmacy, claims Texas authorities put him "in the middle of a firestorm" of protesters, hate calls and press requests after letting it leak that he sold eight 2.5-gram doses of pentobarbital to the state for upcoming executions.
Lovoi says he had been promised anonymity by the state.
But Jason Clark, a spokesman for the Texas Department of Criminal Justice, said the department bought the drug vials legally and won't return them.
Clark said the state has enough vials to carry out scheduled executions for the remainder of the year.
Death penalty states like Texas, which has executed 505 people since 1981, have been turning to compounding pharmacies to purchase lethal doses of barbiturates used in executions.
The switch comes after the drugs' primary makers shut off supplies to states following pressure from anti-death penalty advocates.
Compounding pharmacies allow certified specialists to mix ingredients for medicine themselves and sell them. For example, if there is only an adult-dose of a particular drug available, compounding pharmacists can manipulate the active ingredients and change the dosage or strength.
However, the U.S. Food and Drug Administration does not vouch for the validity, safety or effectiveness of drugs made in compounding pharmacies.
Earlier this year, these new go-to drug dens came under scrutiny following a deadly meningitis outbreak that was linked to contaminated injections made at a Massachusetts compounding pharmacy.
In Texas, attorneys for Michael Yowell, 43, had hoped to get a last-minute stay for their client. But minutes before he was taken to the death chamber, the U.S. Supreme Court rejected a lawsuit he and two other condemned prisoners had brought seeking execution delays on grounds the pentobarbital could cause unconstitutional pain and suffering.
He was pronounced dead at 7:11pm CDT (8:11 ET) in Huntsville, Texas.
Yowell was convicted of killing his parents, Johnny and Carol Yowell, in 1998 and setting fire to their home in Lubbock, Texas. According to court records, Yowell told authorities he shot his father and then beat, strangled and killed his mother. He then blew up the house.
Yowell's grandmother, who lived with them, was killed though Yowell was not convicted in her death.
Last month, the House passed legislation aimed at regulating compounding pharmacies. The bill, which is now in the Senate, would create a national set of standards to track the distribution chain of pharmaceuticals. Proponents say the bill closes a pretty wide gap between state and federal oversight of compounding pharmacies. In the Massachusetts meningitis outbreak, 64 people died and more than 700 people got sick across 20 states from a bad batch of steroids produced at the New England Compounding Center.
Other states like South Dakota and Georgia have had similar problems with purchasing drugs directly through manufacturers.
Georgia's first use of an execution drug obtained through a compounding pharmacy was put on hold in July after the condemned inmate challenged a new state law that bars the release of information about where Georgia obtains its execution drug.
Separately, on Tuesday, the 5th Circuit Court of Appeals rejected a motion made by Yowell's attorneys who asked to supervise "every step of the execution process."
The Associated Press contributed to this report.