Ted Cruz's biggest donors get cold feet ahead of crucial Indiana primary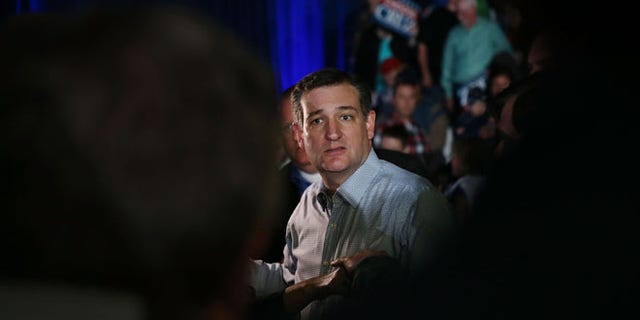 Ted Cruz's run for the White House has been bolstered by a generosity of three very wealthy donors, who helped the firebrand Texas senator establish credibility and stay alive during one of the most hectic and chaotic nominating processes in the history of the Republican party.
But now, as Cruz faces a do-or-die moment in Indiana, the candidate is learning that relying on a small group of affluent backers can be a double-edged sword.
One of his primary donors, Toby Neugebauer, is currently engaged in an open fight with the top strategist for Cruz's super PACs over how his $10 million will be spent. While Neugebauer is known to be a close friend of the Cruz family, he is refusing to allow $9 million of the $10 million he put into a super PAC to be spent.
"He was going to go up with ads in October or November. That came and went, and then he said he's saving it for Super Tuesday," Kellyanne Conway, who oversees a network of super PACs supporting Cruz, told the Los Angeles Times. "I don't know if he's having a $10 million party in Cleveland, or what. It became apparent almost immediately that his money wasn't really there."
For his part, Neugebauer said he has just become worried after looking at how other campaigns quickly spent money from their PACs only to have their candidates come up short. Neugebauer said he is happy that he set up a strategy where he and two other major donors dictate how their money is spent.
"How we set up in these big PACs was a response to how unhappy people were in 2012," he said. "Trust me, all the other big donors wish their PACs were set up the same way."
While Neugebauer may be happy with his decisions, the choice not to spend the money comes at a time when the clock is running out for Cruz's hopes of attaining the Republican nod.
Cruz has spent the past week camped out in Indiana, securing the support of the state's governor and announcing retired technology executive Carly Fiorina as his running mate. Yet his aides were pessimistic heading into Tuesday's voting and were prepared for Cruz to fall short, though the senator vowed to stay in the race, regardless of the results.
"I am in for the distance, as long as we have a viable path to victory," Cruz told reporters on Monday during a campaign stop.
GOP front-runner Donald Trump devoted more time to campaigning in Indiana than he has to most other states, underscoring his eagerness to put his Republican rival away and shift his attention toward Democratic front-runner Hillary Clinton. While Trump cannot clinch the nomination with a big win in Indiana, his path would get easier and he would have more room for error in the campaign's final contests.
"Indiana is very important, because if I win that's the end of it. It would be over," Trump said during a lunchstop Monday in Indianapolis.
Republican leaders spent months dismissing Trump as little more than an entertainer who would fade once voting started. But Republican primary voters have stuck with the billionaire businessman, handing him victories in every region of the country, including a string of six straight wins on the East Coast.
But now Trump is the only Republican left in the race who can secure the 1,237 delegates needed for the nomination through regular primary voting. Cruz — as well as Ohio Gov. John Kasich, who trails significantly in the delegate count — must try to block Trump in Indiana and the handful of other remaining states to push the race toward a contested convention.
In an abrupt strategy shift, Cruz and Kasich announced an alliance of sorts in Indiana. The Ohio governor agreed to stop spending money in Indiana to give Cruz a chance to compete head-to-head with Trump. Cruzhas pledged to do the same for Kasich in Oregon and New Mexico, which vote in the coming weeks.
But that strategy, which appeared to unravel even as it was announced, may have backfired. A recent NBC News/Wall Street Journal/Marist poll found that nearly 6 in 10 Indiana primary voters disapproved of the Cruz-Kasich alliance.
"After they made the alliance, their numbers tanked," Trump said Monday. "That's what happens when politicians make deals."
The Associated Press contributed to this report.