Ted Cruz, Other Lawmakers Push To Revoke Citizenship Of Americans Who Join ISIS, But Is It Feasible?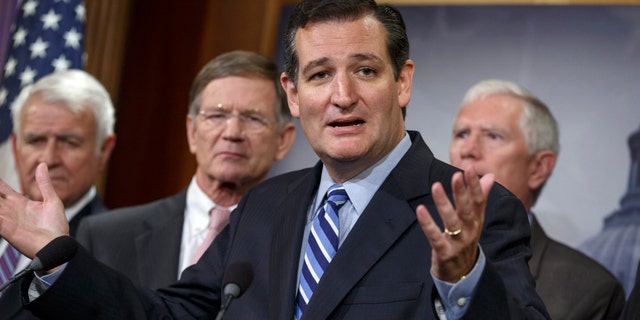 NEWYou can now listen to Fox News articles!
Republicans have introduced a bill in Congress to penalize both U.S.-born and naturalized Americans by revoking their citizenship if they are involved with terrorist groups such as the Islamic State of Iraq and Syria.
But even if such a measure – led by Ted Cruz of Texas in the Senate, and Michele Bachmann of Minnesota in the House – passed Congress, it would be very difficult to apply, say legal scholars.
The reason, says Patrick Weil, a visiting professor at the Yale Law School who has written extensively about citizenship laws, is a 1967 Supreme Court decision that said that the Fourteenth Amendment – originally meant to cover freed slaves – guarantees citizenship to all Americans and protects them from losing it, unless they seek to give it up.
"Congress can pass any law it wants," Weil said to Fox News Latino, "but the courts would find it unconstitutional."
"You could lose life, liberty and property, but not citizenship," Weil said.
A foreign-born American could lose citizenship if it is found that the person withheld information about criminal or terrorist activities – or something else that would disqualify them – when they applied for it, Weil said.
In February, for instance, a former Guatemalan special forces soldier was sentenced to 10 years in an American prison for lying on his U.S. citizenship papers about his alleged role in a civil war massacre more than three decades ago.
U.S. District Court Judge Virginia A. Phillips stripped 55-year-old Jorge Sosa of his U.S. citizenship.
The United States also has, for example, denaturalized – as the process officially is known – former Nazis who settled in the United States and hid their part in persecuting and murdering Jews during World War II.
Cruz, who introduced his legislation – titled Expatriate Terrorists Act – Monday, said that by joining ISIS to engage in terrorism, including the beheading of U.S. journalists, Americans are, in effect, renouncing their U.S. citizenship.
"We should take common sense steps to make fighting for, or supporting ISIS, an affirmative renunciation of American citizenship," Cruz said, according to a press release from his office.
"We know today that there are over a hundred Americans who have joined ISIS, who have taken up arms alongside the jihadists … And we also know that they are trying to return to their countries of origin to carry out terrorist attacks there."
"We should not be facilitating their efforts," Cruz said about his bill, "by allowing fighters fighting alongside ISIS to come back to America with American passports and walk freely in our cities to carry out unspeakable acts of terror."
However, U.S. laws protect the right of U.S. citizens to return here. "We cannot prevent an American from coming back home," Weil said.
Meanwhile, in the House of Representatives, Republicans Bachmann and Ted Poe of Texas also introduced bills that call for the United States to revoke the passports of Americans involved with groups like ISIS.
"The Benedict Arnold traitors who have turned against America and joined the ranks of the terrorist army ISIS should lose all rights afforded to our citizens," Poe said in a statement posted by The Hill. "These people are not returning to America to open coffee shops, they are coming back to kill. We must stop them from coming back at all."
Bachmann's legislation would amend existing law to include involvement in terrorist groups like ISIS as a reason for revoking individuals' American citizenship and passports.
"Those who have joined a foreign terrorist organization have taken up arms against the United States and our very way of life. By turning against their country, their passports should be revoked and if they're naturalized citizens, they should lose their citizenship," Bachmann said.