Ted Cruz furious over Washington Post cartoon depicting his children as monkeys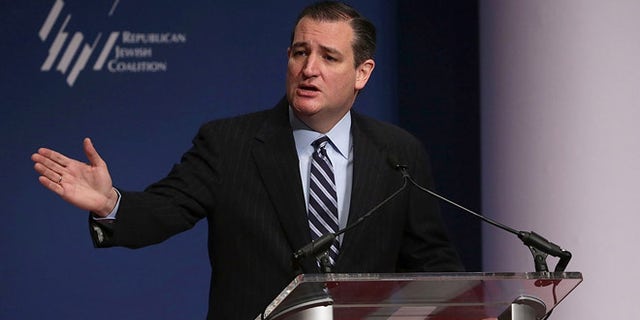 Ted Cruz is furious with the Washington Post for an editorial cartoon depicting his two young daughters as leashed dancing monkeys.
The cartoon, which was drawn by Pulitzer Prize-winning cartoonist Ann Telnaes, sparked immediate controversy and was later taken down by the Post, but not before Cruz launched an "emergency" fundraising effort to pull in $1 million in 24 hours.
"My daughters are not FAIR GAME," Cruz wrote in a fundraising email sent late Tuesday. "I'm sickened ... I knew I'd be facing attacks from day one of my campaign, but I never expected anything like this."
Accusing the "liberal media" of attempting to "attack and destroy me (and my family) by any means necessary," Cruz railed against the cartoon that depicts his two young daughters, Catherine, 4, and Caroline, 7, being paraded around by Cruz, who is dressed in as Santa Claus in cowboy boots and carrying an organ grinder.
Washington Post editorial page editor Fred Hiatt said that it was generally the Post's policy "to leave children out of it."
"I failed to look at this cartoon before it was published," he said in an editor's note. "I understand why Ann thought an exception to the policy was warranted in this case, but I do not agree."
Telnaes stood up for her work and posted on her twitter feed a link to recent video from Cruz's campaign that showed the firebrand senator reading such titles as "How Obamacare Stole Christmas" and "Rudolph the Underemployed Reindeer" to his daughters.
The furor at the Washington Post, however, did bring a moment of unity within a fractured Republican party. Cruz's GOP presidential rival, Florida Sen. Marco Rubio, tweeted out a message of support.
"Wash Post cartoon featuring [Ted Cruz's] children is disgusting," Rubio tweeted. "The Post saying the kids are "fair game" is even worse."
The cartoon came as a new Quinnipiac poll showed the Texas senator virtually deadlocked with boisterous businessman Donald Trump and holding a solid edge against the other Republican candidates in the presidential race.
Cruz earned the support of 24 percent of the registered Republican voters surveyed by Quinnipiac University, while Trump captured 28 percent. The poll's margin of error is plus or minus four percentage points.