Tea Party Favorite Sharron Angle Surges in Nevada GOP Primary Race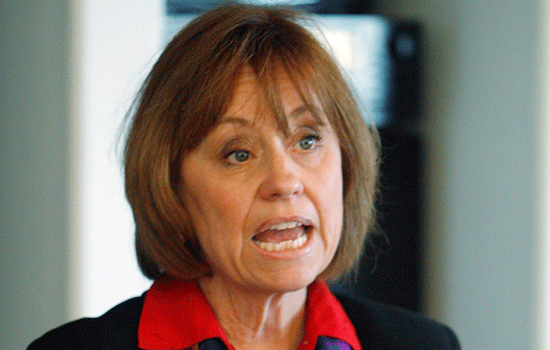 Tea Party favorite Sharron Angle may be surging in the polls at just the right time as she battles other Republicans for the chance to slug it out with Senate Majority Leader Harry Reid – seen by some as the most vulnerable incumbent in Congress.
Angle, a staunch conservative Republican state assemblywoman, is now leading two polls this week ahead of Tuesday's primary, powered in two short months by the support of Tea Party activists.
Reid has one of the worst personal approval ratings in all of Congress, which also has record low disapproval ratings.
But the race remains unpredictable in a state where unemployment is 13.7 percent.
A Suffolk University poll gives Angle 33 percent of the vote in the GOP primary, over businessman Danny Tarkanian at 26 percent and former state party chairwoman Sue Lowden at 25 percent.
GOP leaders hoped Lowden would emerge from the primary. But Angle has financial backing from the Tea Party express. Lowden committed a gaffe by suggesting consumers use chickens to pay their doctor bills, and a union-backed group friendly to Reid jumped in with TV commercials ridiculing her. Reid is now even in polls with Lowden and Angle.
Tarkanian, son of a famous UNLV basketball coach, said Tuesday's primary has turned into a two-candidate race.
"I quite frankly think it's coming down to Sharon and myself," Tarkanian said. "I think Sue's campaign has imploded, her numbers have dropped substantially."
Polling suggests momentum in the June 8 primary belongs to Angle, whose website invites visitors to read her record. It says she favors abolishing the federal income tax, phasing out Social Security for younger workers and turning a proposed nuclear waste dump site at Yucca Mountain into a facility for reprocessing waste. In a state that is 20 percent Hispanic, she supports a requirement for voters to show identification before they can cast ballots.
Fox News' Carl Cameron and The Associated Press contributed to this report.