Tea Party, Democrats team up to block lawmakers looking for gun perks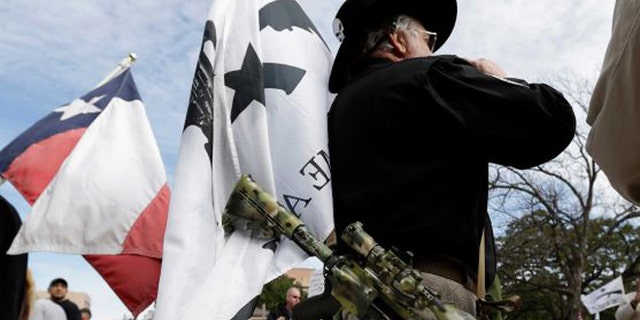 NEWYou can now listen to Fox News articles!
WASHINGTON – It's not a political alliance people are used to seeing. But in states like Texas and North Carolina, Tea Party supporters have been teaming up with Democrats to defeat measures that would expand gun rights for lawmakers but not the general public.
In Texas, the House defeated a measure on Sunday that would have given prosecuting attorneys and lawmakers permission to carry guns anywhere they wanted to in the state. Just 38 lawmakers voted for it, while 103 voted against.
Current Texas law restricts concealed handgun license holders from taking their weapons into schools, bars, sporting events and federal buildings.
Democratic state Rep. Ryan Guillen of Rio Grande City originally introduced a bill to loosen those regulations for prosecutors. But when an amendment giving lawmakers the same rights was tacked on the bill, many backed out and accused Guillen of pulling a bait-and-switch.
Not only were Texas Tea Party backers upset, but members of Guillen's own party turned on him and pulled their support. At one point, Democratic Rep. Joe Pickett even told the media Guillen's actions made him question his motives and integrity.
Following a lengthy blame game that was played out in the media, Guillen eventually walked back statements he made denying he knew the bill would give lawmakers extra perks.
As with the opposition, a bipartisan coalition of sorts -- albeit a smaller one -- is behind the push to give politicians special gun privileges. Supporters like Republican Rep. Drew Springer say Guillen caved in too quickly.
"We face a higher degree of risk because we're known and people might not like our opinions," Springer said.
Both Springer and Guillen cited the attempted assassination of former Arizona Rep. Gabrielle Giffords as an example why lawmakers should be given special gun rights.
"In light of Gabrielle Giffords and others, those in the public eye need to protect themselves," Guillen said on the House floor.
On Jan. 8. 2011, Giffords and 18 others were shot during a meeting she was having with constituents near Tucson. Of those who were shot, six died, including a judge, one of Gifford's staff members and a 9-year-old girl. The shooter, Jared Lee Loughner, pleaded guilty to 19 counts against him and was sentenced to life in prison.
Rep. Kenneth Sheets of Dallas, a vocal opponent of the gun bill, believes that giving lawmakers extra gun privileges would only deepen the distrust many feel towards the government.
"If we're going to push for gun rights we need to push for equal gun rights," he told FoxNews.com, adding that a Texas mother going to a grocery store should have the same right to protect herself and her children as a lawmaker would.
Calls to Guillen for comment were not immediately returned.
In North Carolina, concealed handgun permits come with strict requirements on where users can and cannot carry their guns. But after several national shootings, including the Giffords shooting, Republican Rep. Stephen LaRoque tried to push forward with plans to rewrite his state's stringent law.
The general assembly session ended with the bill being buried in a subcommittee of the House Judiciary Committee.
If it had passed both chambers and gotten the governor's signature, it would allow anyone elected or appointed to a North Carolina public office to carry a handgun or pocket knife to any location in the state.
Separately, LaRoque went on trial this week, accused of theft, fraud and filing false tax returns.
In New York, state lawmakers there are trying to pass a provision in their gun laws that would allow retired police officers to keep assault weapons and high-capacity magazines they bought and used when they were on the force.