Taxpayers funded $50G settlement to aide who complained of House Democrat's drinking, report says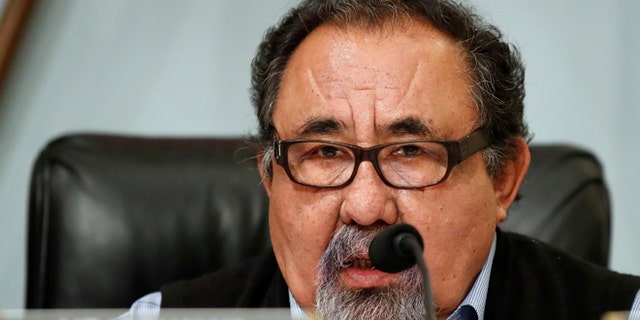 A female aide on Capitol Hill was paid nearly $50,000 in a taxpayer-funded settlement in 2015 after complaining about the drinking and office environment of a Democratic member of Congress, according to a new report.
The Washington Times reported this week that an unnamed former congressional aide threatened a lawsuit against Arizona Rep. Raul Grijalva two years ago by accusing him of being frequently drunk and fostering a hostile work environment.
The House Employment Counsel negotiated a $48,395 severance – the equivalent of five months additional salary – for the aide, the report said. The accuser, who worked for Grijalva for three months, dropped her complaint after the settlement, the newspaper said.
In a statement on Tuesday, Grijalva acknowledged a settlement had been paid to a former employee but did not discuss the details of what led to it.
"The fact is that an employee and I, working with the House Employment Counsel, mutually agreed on terms for a severance package, including an agreement that neither of us would talk about it publicly," Grijalva said. "The terms were consistent with House Ethics Committee guidance."
Grijalva, the top Democrat on the House Natural Resources Committee, said the severance funds came out of his "committee operating budget."
"Every step of the process was handled ethically and appropriately," he said.
But critics say the Grijalva payout is another example of lawmakers being able to deal with complaints lodged against them by aides through secret settlements.
"It seems like all of these House bodies are designed to help cover for members of Congress," Melanie Sloan, the former leader of the Citizens for Responsibility and Ethics in Washington organization, told the outlet. "A large part of the problem is that each member of Congress can treat their staff as their own fiefdom and also know that it will remain silent."
CONGRESS HAS PAID NEARLY $1 MILLION IN SETTLEMENTS AFTER WORKPLACE COMPLAINTS THIS YEAR
The revelation of the payout comes as the Office of Compliance in Congress released numbers this month indicating the government has paid more than $17 million in settlements to congressional employees on Capitol Hill since 1997.
"A large part of the problem is that each member of Congress can treat their staff as their own fiefdom and also know that it will remain silent."
These settlements were in response to claims of sexual harassment, overtime pay disputes and other workplace violations filed by employees of Congress.
But Grijalva said his aide's severance payout was not related to any sexual harrassment allegations.
"The severance did not involve the Office of Compliance and at no time was any allegation of sexual harassment made, and no sexual harassment occurred," he told the Washington Times.