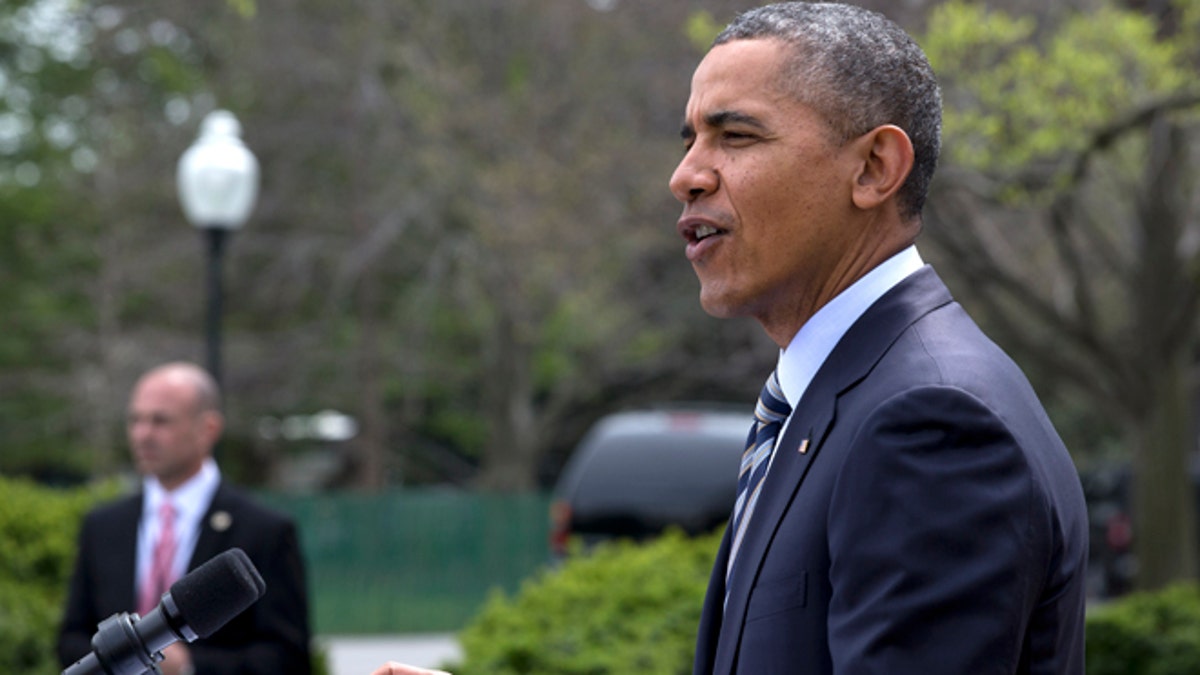 WASHINGTON (AP) – President Barack Obama has taken tough stances on a number of issues -- among them Wall Street and the Keystone XL pipeline. Now he's talking tough on immigration.
After Senate Majority Leader Mitch McConnell introduced a compromise on immigration, separating language introduced by House Republicans blocking the president's executive actions providing deportation relief to millions of undocumented immigrants from a Homeland Security funding bill, Obama is now headlining a Miami town hall on Wednesday, enlisting his Latino support base to increase pressure on GOP lawmakers.
Seeking to maintain pressure on Republicans, Obama will participate in an immigration town hall meeting sponsored by Telemundo, the Spanish-language network. Before leaving for Florida, Obama also was to meet at the White House with immigration advocates to discuss the status of his executive actions.
"There is the power of the bully pulpit. That's partially what he's doing in Miami," said Marielena Hincapie, executive director of the National Immigration Law Center. "It's also clear that the Department of Justice and the Obama administration are taking a pretty assertive stance in using all the legal tools at their disposal to defend his policy, which is good not just for immigrants but I'm sure the administration sees it as part of the president's legacy."
Conservative Republicans maintain that Obama exceeded his constitutional authority when he took steps to shield more than 4 million immigrants from deportation and make them eligible for work permits. But GOP attempts to tie repeal of those actions to legislation that funds the Homeland Security Department have stalled in the face of procedural obstacles from Democrats.
Senate Republicans on Tuesday offered to allow a vote on Homeland Security funding legislation without the immigration provisions. But it was unclear whether conservatives in the House would allow such a stripped-down bill to proceed.
Separately, a federal district court judge in Texas last week blocked implementation of Obama's executive actions pending a review of the merits of a lawsuit against the administration. The Justice Department on Monday sought an emergency stay of that injunction.
On Tuesday, Obama vetoed GOP legislation that would have forced construction of the Keystone XL oil pipeline. And on Monday he proposed tougher rules on financial brokers who help manage retirement accounts, over Wall Street objections.
Such aggressive activism delights his supporters but irritates the Republicans who now control both chambers of Congress.
It's not as if Republicans didn't see it coming. But it unfolds as Obama insists he is willing to find common ground with GOP leaders on such issues as trade and fixes to the criminal justice system.
Indeed, Obama on Tuesday summoned a bipartisan group of lawmakers to the White House for a private meeting on how to address modernizing juvenile justice, sentencing and incarceration policies. And on Thursday, Obama planned to draw attention to the economic benefits of trade and exports in a series of interviews at the White House.
"Let's try to focus on some of things that we have in common and deliver real results," he told governors of both parties who attended a White House luncheon Monday.
But can the confrontational Obama exist alongside Obama the accommodator?
Among those attending the criminal justice session at the White House on Tuesday were Republicans who have been among the most high-profile critics of Obama on other issues, such as Sen. Rand Paul of Kentucky, a potential presidential candidate, Sen. Mike Lee of Utah and Reps. Jason Chaffetz of Utah and Trey Gowdy of South Carolina.
On trade, Obama is seeking legislation that will give him the authority to negotiate international trade deals that Congress can only approve or reject but not amend. A majority of Democrats oppose such "fast track" authority, which means Obama must rely on mostly Republican votes to get his way.
"I think we're in synch with the administration," said Republican House Ways and Means Committee Chairman Paul Ryan of Wisconsin, who is leading the pro-trade drive in the House.
Such efforts at bipartisanship occur against a steady effort by Republicans to undo or roll back Obama actions on immigration, health care and financial regulation. Obama has promised to use his veto to reject those, as he did the Keystone bill.
"He's looking at this as showing he still can be king of the hill, because we don't have the votes to override," Republican Sen. Jim Inhofe of Oklahoma, a vocal opponent of Obama's climate change agenda, said after the Keystone veto. "If he vetoed this, he's going to veto many others that are out there."
So far, both sides have demonstrated an ability to place confrontation on one track and cooperation on another.
"The bluster over the veto-bait bills that Republicans are trying to pass is mostly fake — everyone knows that he can't sign them," said Matt Bennett of the centrist Democratic group Third Way. "So when it comes time for the trade bills, on which most Republicans, many Democrats and the White House are all aligned, there won't really be any hangover from these battles."
Like us on Facebook