Sustained Iraq Training Mission Could Cost Billions, Complicate Deficit Reduction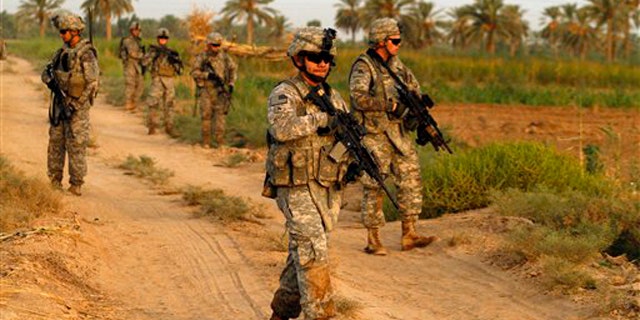 The U.S. military is pursuing talks over a possible troop presence in Iraq beyond the end of 2011, a deal that if struck could cost billions annually and complicate efforts to reduce the nation's untamed deficit.
Defense Secretary Leon Panetta said Friday that Iraqi leaders have agreed that "we negotiate on some kind of training" program. Though the comment prompted a flurry of media reports claiming Iraq had agreed to extend the U.S. non-combat troop presence into 2012, the Pentagon stressed that Panetta had merely confirmed that the Iraqis "have said yes to discussions about the strategic relationship beyond 2011, and what that relationship might look like."
But Panetta already made clear, at his confirmation hearing in June, that he thinks Iraq will ultimately want U.S. troops to stay, citing the hundreds of al Qaeda-linked insurgents still in the country.
Such an arrangement with Iraq could cost between $5 billion and $10 billion a year, according to one budget analyst. Todd Harrison, a senior fellow with the Center for Strategic and Budgetary Assessments, said his "rough estimate" is based on the assumption that as many as 10,000 trainers remain in the country.
If the assumption holds true, U.S. budget writers could be looking at another $100 billion in Iraq war costs over the next decade.
That might not be a problem for the current effort to find $2.4 trillion in deficit savings under the recently struck debt-ceiling deal.
The first phase of that deal calls for $350 billion in defense cuts over the next decade, though that number exempts war spending. A joint congressional "super committee" will then be tasked with finding the rest of the savings. That effort is already shaping up to be a battle over changes to entitlements and the tax code, but if no agreement is reached, additional defense funding worth about $500 billion over 10 years could be targeted for reduction.
On top of that, many lawmakers want to eventually go beyond the $2.4 trillion figure and achieve more cuts to U.S. spending, seeing the recently signed deal as a mere down payment on future deficit reduction. The recent decision by Standard & Poor's to downgrade the United States underscored the need to work out a bigger package of deficit cuts.
Another $10 billion a year in Iraq war costs weighs down that effort.
"Every $10 billion counts," Harrison said.
Harrison said that sustained operations in Iraq could require budget-writers to find savings elsewhere -- either from other cuts in the defense budget or even some kind of "war surtax" for anything beyond current projections.
A spokesman for the House Armed Services Committee offered a more conservative estimate than Harrison. Claude Chafin said congressional researchers told the committee it could cost about $400,000 for every troop that remains in Iraq. That's another $4 billion a year if 10,000 trainers stay.
"It's all very speculative," Chafin added.
Douglas Holtz-Eakin, former director of the Congressional Budget Office, said a sustained training mission in Iraq does not throw a wrench into the latest deficit-reduction deal, but it does raise deficits beyond what they would have otherwise been.
"Regardless of what the committee then goes and does, if we stay in Iraq longer, it will be more expensive," he said.
Under the current arrangement, the nearly 50,000 non-combat U.S. troops are scheduled to leave Iraq by Dec. 31. The agreement was hammered out in 2008 under then-President George W. Bush.
Over the past several years, the cost of the winding-down Iraq war has plummeted as the cost of the Afghanistan war has shot up. The Iraq operation went from costing $142 billion in fiscal 2008 to $18 billion in the president's 2012 budget request, according to the Congressional Research Service.
Another $5 billion to $10 billion a year would pale in comparison to those earlier figures. But a sustained training mission represents yet another military "contingency" that could inflate in cost and require a separate funding bill.
Reuters reported Friday that the Iraqi government was pushing back on Panetta's comments. An adviser to Prime Minister Nouri al-Maliki said no decision had been made about keeping military trainers in the country.