Susana Martinez Rips Mitt Romney, Wants GOP Latino Outreach to Change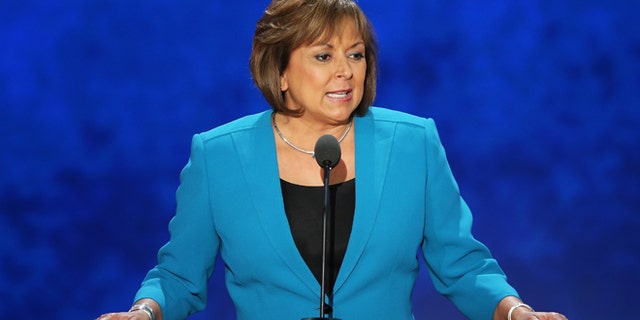 NEWYou can now listen to Fox News articles!
Republican New Mexico Gov. Susana Martinez has her own message of hope and change for the GOP following Mitt Romney's defeat on Election Day.
The first Latina governor in U.S. history and the most prominent Latina in the Republican party criticized Mitt Romney's campaign rhetoric, her party's approach to the Hispanic community, and pushed the need for comprehensive immigration reform.
Martinez, who was mentioned as a possible vice presidential candidate, criticized Romney's most recent comments that said Obama won over minority and young voters because he offered "gifts" to them.
"That unfortunately is what sets us back as a party — our comments that are not thought through carefully," she said in an interview with Politico and Yahoo News after the Republican Governors Association meeting on Thursday.
Martinez criticized Republicans as well, implying that her party isn't diverse enough.
"We have to start electing people who look like their communities all the way from county commissioners ...up into national politics," she said.
But in order to have a more diverse party, the governor, who gained national attention for her speech at this year's Republican National Convention, believes Republicans need to fundamentally change their strategy toward Latinos.
"We need to embrace them not just at election time," the Republican Mexican American said in the interview. "We visit them, and they don't appreciate that. And I don't blame them for not appreciating that. We should not visit them when we need their vote and then walk away."
Immigration
Martinez blamed Obama for failing to deliver comprehensive immigration reform in his first term but the governor said she's ready to be part of a solution that deals with the 10 to 12 million undocumented immigrants in the U.S. But she wants to make those efforts don't undercut those who are in line through the legal immigration system.
"I'd like to be part of the discussion because I lived on the border all my life," said Martinez, who was born in El Paso, Texas.
The governor also said she hopes the party can change their tone, eliminating words like "amnesty" from the debate.
Her bipartisan approach on immigration may come as a surprise for some. Martinez enjoys record popularity in New Mexico from both sides of the aisle, but has drawn fire from Latino groups for being adamantly against allowing undocumented immigrants to obtain driver's licenses.
She has vowed to repeal a New Mexico law that allows undocumented immigrants to receive a driver's license, even after Hispanics in the state have urged her to abandon the fight.
This isn't the first time Martinez has criticized her party and Romney.
In an interview with Newsweek, Martínez was unusually outspoken on immigration, in particular about Romney's support of enforcement policies that would make undocumented immigrants so miserable that they will opt for self-deportation.
"'Self-deport?' What the heck does that mean?" she was quoted as saying in the story, which described her as snapping her answer. "I have no doubt Hispanics have been alienated during this campaign. But now there's an opportunity for Gov. Romney to have a sincere conversation about what we can do and why."
Latinos heavily favored Obama on Election Day. Latinos voted for Obama by a margin of 3 to 1 over Romney, proving that failing to draw enough Hispanic support was perhaps a missed opportunity.