Steve Bannon's former partner in Hollywood says Trump strategist is no racist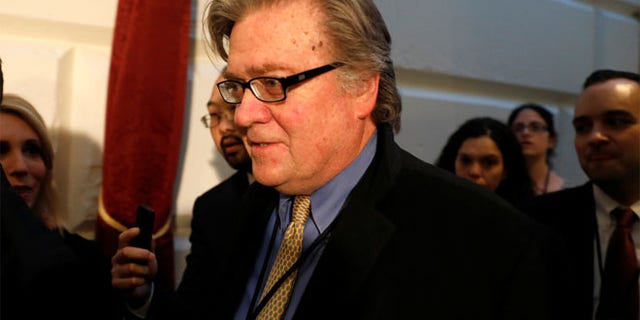 The former business partner of President Trump's chief strategist, Steve Bannon, said he could no longer remain quiet as the media created its own narrative about his former colleague.
Jeff Kwatinetz, the founder of The Firm—a talent management company in Santa Monica, Calif.—told The Hollywood Reporter that he is "absolutely positive" that Bannon is not racist. He said 20 people who worked at the company while Bannon was there asked him "why the media is lying about Steve."
"I will always love and care about Steve because he was a friend to me when I needed a friend, and he worked hard for me, more than was required," he said. "He was a stand-up, great guy. I'm a die-hard liberal with very liberal values and I have no reason to stand up for the guy. He doesn't ask people to defend him, and he doesn't seem to be bothered by the lies, he just does his thing. That's how he always was — very self-assured."
Kwatinetz, who is Jewish and has given millions to liberal candidates, remembered Bannon's intelligence and work ethic. Bannon worked at The Firm in 2002 and 2003.
"He has beliefs and stands by them," he told the magazine. "Those beliefs aren't based on racism, they're based on what he honestly believes is best for the world. Do I agree with all of them? No. He was a Bush and a [Donald] Rumsfeld supporter, I was a Bill Clinton and Bernie Sanders supporter. But not being a liberal doesn't mean you're a racist."