Steele Under Increasing Pressure to Step Aside in 2011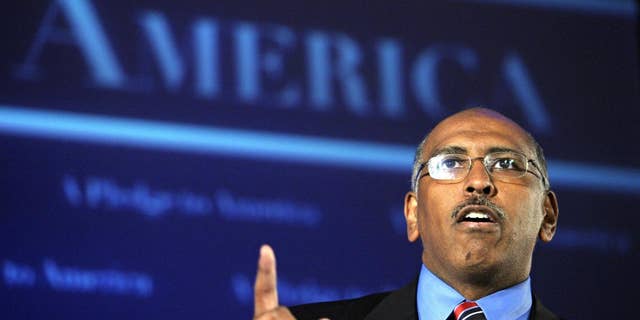 Washington - Republican National Committee Chairman Michael Steele is finding himself under increasing pressure to step aside when his term ends in January 2011, and Fox News has learned a small group within Steele's inner circle has warned the chairman that any re-election bid could face substantial problems.
Sources tell Fox News that one of Steele's closest confidantes, Wisconsin Republican party chairman and RNC legal counsel Reince Priebus, is among those talking to Steele about the possibility of not running for re-election. Preibus has not returned calls and e-mails from Fox News.
Other RNC members are not being so subtle about the situation. Haley Barbour's nephew, Henry Barbour says Steele "has to go." The RNC committeeman from Mississippi is reaching out to multiple members, including Priebus, urging them to challenge Steele.
"I do think it's time that we make a change," said Henry Barbour, pointing to poor fundraising at the RNC under Steele along with some infamous ill-chosen comments from the chairman, "We won elections this year because of a toxic environment for Democrats, not because of Chairman Steele," Barbour said.
The fact that Henry Barbour is publically coming out against Steele is yet another clear signal to many that, Haley Barbour, the Governor of Mississippi, Chairman of the Republican Governor's Association and one of the most powerful Republicans in the land, is among a growing group of prominent Republicans against the idea of Steele running the RNC during the 2012 presidential election. On election night Haley Barbour memorably called out Steele and the RNC on fundraising, saying their lackluster effort left him and the RGA scrambling.
RNC staffers defend their fundraising, pointing to the $185 million raked in during Steele's term, a figure they say that even when allowing for inflation surpasses the RNC's haul when Haley Barbour was the committee's chairman in 1994.
The RNC will elect a chairman during the committee's winter meetings in mid-January. Steele has not yet signaled whether he will run for re-election but sources close to the chairman say they do expect him to give it a shot. Meanwhile other RNC insiders say Steele is talking to members, attempting to gauge his chances.
Saul Anuzis, a committeeman from Michigan who ran against Steele and lost in 2009 says the RNC is ready for a different type of leadership, "We need more of a strategic tactician, a nuts and bolts type person," said Anuzis. "When Michael Steele won the chairmanship it was because he ran as a recognizable face to go on television and annunciate our policies. We don't need that from the RNC chairman anymore, we have Republican leadership like John Boehner who can step into that role."
Anuzis says he is contemplating another run at the post and will make a decision soon. The next couple of weeks will be a critical period for Steele and his would-be challengers as the election is only two months away. It is expected that the candidates will test their support during next week's RGA meetings and make official announcements before Thanksgiving.
"We don't have time to sit around and wait," said Henry Barbour. "If [Steele] wants to slow-walk his decision...We have to get moving.