States roll out trippy ObamaCare ads to lure the uninsured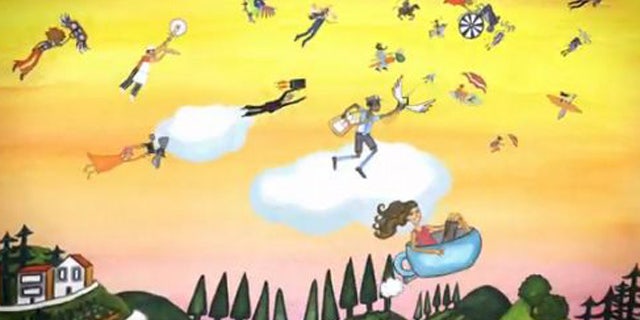 NEWYou can now listen to Fox News articles!
WASHINGTON – Oregon is in the running to win the prize for the weirdest commercial hyping ObamaCare. The state recently rolled out a 30-second acid-trip-style ad to tout its new healthcare exchange, Cover Oregon.
The commercial, part of a multi-million-dollar ad buy that has conservative watchdog groups fuming, features a cartoon man who is lifted into the air after his magical guitar sprouts white wings. During his ride over Oregon, the man sees the state's mountains, streams and forest. When he approaches the shoreline, a fish with freakish strength pulls a fisherman out of his boat and he, too, is soaring.
Toward the end of the trippy tribute, a person in a wheelchair wearing a red cape gets in on the fun by rolling himself off a cliff and joining the cluttered crowd in the sky.
The ride ends when everyone turns into one giant multi-colored bird.
And it all goes down while the characters sing about the importance of being healthy.
Really.
But the ad, which has gotten more than 14,000 hits on YouTube and such reviews as "I can't believe this is what my tax dollars are used for," is in a way doing what it set out to do, though it includes little information about ObamaCare: Get people talking about Cover Oregon.
Cover Oregon is one of several exchanges being rolled out Oct. 1 as part of the Affordable Care Act, or ObamaCare. The ad is part of a two-step marketing campaign to promote the Oregon state exchange.
The first phase centers on grabbing a potential shopper's attention. The second provides education information about the exchanges.
Cover Oregon carved out a $3.2 million budget for its TV and radio ads.
Spokeswoman Ariane Holm tells FoxNews.com that their folksy approach has generated a 300 percent increase in call volume.
Included in the first round of ads is one featuring Oregon artist Laura Gibson and the Portland Cello Project that has received more than 43,044 YouTube clicks. A 60-second additional one featuring singer Matt Sheehy playing his guitar has gotten more than 30,911 views.
Other states – 14 in all and the District of Columbia - are fully running their own health-insurance marketplaces. To boost interest, they are toning down references to Obama and the complicated overhaul of medical coverage by playing up friendly, cultural references in their campaigns.
In Minnesota, employees of MNsure are getting the word out by handing out fans at the state fair with pictures of Babe the Blue Ox and legendary lumberjack Paul Bunyan on them.
The state's $9 million marketing and outreach campaign includes billboards and television ads that, like those in Oregon, are set to grab people's attention.
In Minnesota, that means showing Bunyan doing "Minnesota-style activities like clearing snow off a roof or water-skiing on a lake and getting into accidents that would lead to expensive health care," April Todd-Malmlov, MNsure's executive director said.
In Vermont, that translates to a clip-art like tutorial. However, a representative tells FoxNews.com that it is all part of a coordinated and aggressive approach the state is taking toward pushing its exchange that includes radio and television ads.