Spokesman for Missouri state auditor found dead 1 month after boss killed himself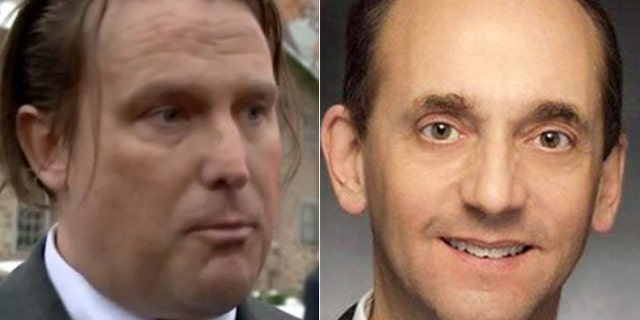 NEWYou can now listen to Fox News articles!
The spokesman for the Missouri auditor was found dead Sunday from an apparent self-inflicted gunshot wound, just a month after the suicide of his former boss, GOP gubernatorial frontrunner Tom Schweich.
Jefferson City police said Monday that Robert "Spence" Jackson was found dead Sunday evening at his home in the capital city. A police statement said Jackson's death is being investigated as a suicide.
Jackson had been the spokesman for Missouri Auditor Tom Schweich, who shot himself to death on Feb. 26 at his home in the St. Louis suburb of Clayton. Jackson had remained as the office spokesman after Schweich's death.
The 44-year-old Jackson also had previously served as the spokesman for former Missouri Gov. Matt Blunt.
Jackson was a strong critic of Schweich's political adversaries, according to the St. Louis Post-Dispatch. Schweich killed himself Feb. 26 at his home in Clayton minutes after telling a reporter that Republican state Chairman John Hancock had started an anti-Semitic "whispering campaign" against him.
Hancock strongly denied the allegation but Jackson -- who had served as Schweich's media director since May 2011 -- subsequently called for his resignation, the newspaper reported.
Police said they were asked by a relative to make a well-being call at Jackson's apartment a little after 7 p.m. Sunday. Jackson's mother told police he had been unresponsive to phone calls.
A property manager provided a key to police officers, who found Jackson dead in his bedroom from an apparent self-inflicted gunshot wound, according to police. Authorities said there was no physical evidence of a forced entry or struggle, but that an autopsy is planned for Monday and detectives are continuing to investigate the case.
Jefferson City Police Captain Doug Shoemaker told reporters Monday that a note was found near Jackson's body but he declined to release the contents at this time.
"There was a revolver at the apartment and one spent round as well," he said.
Shoemaker declined to comment on whether Jackson's death is related to Schweich's suicide.
Blunt released a statement Monday saying he and his wife were saddened by the death of Jackson, whom he described as a "good friend for many years."
"Spence was hard-working, well-liked and quick-witted. he will truly be missed. We mourn his passing and offer our prayers to his family and friends," Blunt said.
Schweich's death has roiled the Missouri Republican Party as it prepares for an important 2016 election that will feature contests for president, U.S. Senate, governor and most of Missouri's other statewide executive offices.
Earlier this month, a prominent Republican donor said Missouri GOP chairman John Hancock had made what he took to be negative religious remarks about Schweich, who was of Jewish ancestry but attended an Episcopal church, according to the Missourian.
Businessman David Humphreys said Hancock told him at a meeting last November in Joplin to discuss fundraising that Schweich was Jewish.
"The meaning I took from Mr. Hancock's statement and tone of his comments was clear: He (Tom Schweich) is Jewish — in case you didn't know — and that being Jewish is a negative attribute for Tom Schweich's gubernatorial race," Humphreys said in an affidavit.
Hancock, who Jackson had called on to resign, denied making the remark.
Former Republican U.S. Sen. John Danforth, an Episcopal minister who was Schweich's political mentor, delivered the eulogy at Schweich's funeral and suggested his friend had been driven to suicide by an anti-Semitic whispering campaign.
Danforth said the state party should oust Hancock.
"The brand of the Republican Party in Missouri has been badly damaged, and it's very important to set the record clear," Danforth told the AP. "I think it's important for Republicans to dissociate themselves from what has happened in the campaign against Tom Schweich."
Police said last week they have no evidence of an anti-Semitic whispering campaign against Schweich or any political bullying. Clayton Police Detective Lt. Don Bass the investigation into Schweich's death is nearing an end and that Schweich left behind no message explaining his actions.
"I think everybody's looking for a rational reason for an irrational act ... but right now we're not finding anything," Bass told the AP last week. He said based on "the leads and sources that we have heard from, we have not been able to prove that there was a whispering campaign."
FoxNews.com's Cristina Corbin and The Associated Press contributed to this report.