Some Dems Won't Commit to Re-Upping Pelosi as Speaker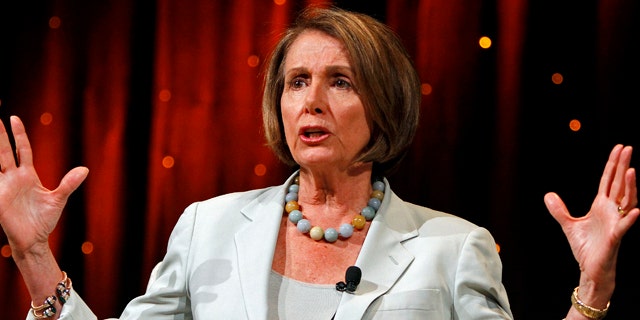 WASHINGTON — Even if Democrats retain a slim majority in the House this November, Speaker Nancy Pelosi could have an insurrection on her hands from moderate Democrats looking for a change in leadership.
Rep. Gene Taylor, D-Miss., who two weeks ago threw a colossal insult at his party by joining Republicans in a pledge to repeal the health care law, stepped out of line again over the weekend by telling a pair of Capitol Hill newspapers he wants someone other than Pelosi leading the chamber -- specifically pro-defense Rep. Ike Skelton, D-Mo.
Taylor's comments add an element of chaos into the mix. Worst-case scenario for Democrats would be that defectors like Taylor, who would almost certainly struggle to mount an effective mutiny inside the caucus, could torpedo the speaker vote in the full chamber and hand the post to Minority Leader John Boehner.
Nothing in the U.S. Constitution requires members to vote for one of the two parties' nominees -- perhaps no Democrat would dare vote for Boehner -- but enough votes for a de facto write-in candidate could act as a Pelosi spoiler if Democrats hold a slim majority.
More likely, however, is that Pelosi will face a rare, though symbolic, challenge to her reign, marking a shift in loyalties compared with the past two election seasons when Pelosi enjoyed unanimous support from her caucus.
Though Taylor is more brazen than most in bucking his party and its leaders, other congressional Democrats are declining to commit to Pelosi for a third term, including the guy Taylor wants to see in that job.
A spokesman for Skelton, who chairs the House Armed Services Committee, told FoxNews.com the "flattered" congressman does not plan to run for speaker but would not offer an endorsement when asked whether Pelosi could count on Skelton's vote.
"Right now, he's just concentrating on the race back in Missouri's 4th District," spokesman Will Chapman said.
Several other Democrats have found other things to do than pre-endorse Pelosi for another two years at the top. Rep. Chet Edwards, D-Texas, told The Washington Post a week ago that he's made "no commitments," noting that "until we see the outcome of this election, I don't even know who will be running for speaker."
Rep. Joe Donnelly, D-Ind., told the South Bend Tribune he didn't want to make any "pre-judgments."
Rep. Bobby Bright, D-Ala., among several moderates who's made his opposition to the health care package a centerpiece of his re-election campaign, also sidestepped the Pelosi question last month. The Montgomery Advertiser reported on a controversial comment where Bright, whose opponent has hammered him for supporting Pelosi in the past, joked that the speaker might decide not to run or even get sick and die before the next session.
Bright's remarks were an off-color example of how resentful some members of Pelosi's party feel toward her leadership, having to in some cases campaign against the legislation she has shepherded through the chamber.
"She has given them nothing to run on," Republican strategist Andrea Tantaros said.
Though the public is divided over the health care law, the Obama administration last week sought to draw attention to potentially popular provisions that just went into effect -- including a ban on denying coverage to children with pre-existing conditions and restrictions against dropping coverage when patients get sick.
But several Democrats continue to run in a straight line away from their party.
Rep. Jason Altmire, D-Pa., who also voted against the health care package, recently released a campaign ad touting his willingness to "stand up" to Pelosi.
At least one Democratic candidate who's not even in Congress has asked Pelosi not to run next year. Tennessee congressional candidate Brett Carter wrote a letter to Pelosi urging her to commit not to seek the speakership next year. In his reasoning, he cited a local newspaper column that called Pelosi an "unshakable albatross" dragging down his candidacy.