Shortage of lethal drugs, 'ugly' Ohio execution fuels battle over death penalty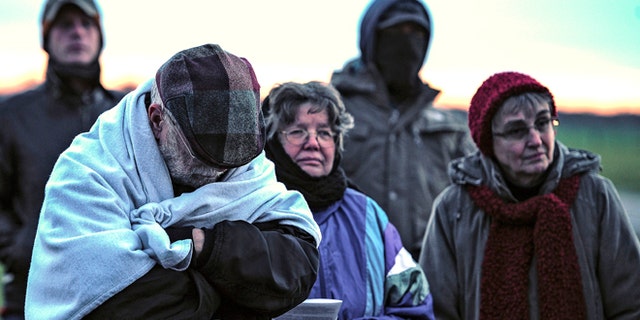 NEWYou can now listen to Fox News articles!
A shortage of the lethal drugs used to administer the death penalty has re-ignited a battle over capital punishment which has pushed a few states to weigh execution alternatives -- even firing squads.
The battle came to a head last week when Ohio used a new two-drug cocktail to execute an inmate, who had been convicted of raping and murdering a pregnant woman. The execution, though, took roughly 26 minutes and raised concerns about the ability of states to perform executions in a constitutional manner.
While some death penalty foes continue to ramp up their opposition, other states are weighing alternative methods -- even firing squads -- to carry out lethal punishment.
Right now, 32 states allow for lethal injections or other means of capital punishment. But when European pharmaceutical companies last year stopped selling the three-drug mix used for injections on ethical grounds, states began weighing their options.
Several states, including Texas, Georgia, Missouri and Ohio, have turned to a controversial source of execution drugs -- compounding facilities unregulated by the federal government until last year.
In the Ohio case, any justice the victim's family might have felt last week was overshadowed by controversy over the execution itself.
The presumably unconscious inmate Dennis McGuire gasped and snorted for roughly 26 minutes. "Nobody deserves to go through that," the inmate's son, also named Dennis McGuire, said afterward -- though nobody will ever know whether the inmate suffered.
Ohio's prison system is reviewing the execution and declined to comment on the amount of time it took the 53-year-old inmate to die from the combination of a sedative and a painkiller, never before used in a U.S. execution.
Richard Dieter, executive director of the Death Penalty Information Center, said he hasn't necessarily seen the drug shortage issue sparking a national movement toward ending capital punishment -- but predicted attorneys would run with it.
"To [anti-death penalty] lawyers this would be a gift," he told FoxNews.com.
He argued the optics of "putting somebody to sleep" by injection has helped keep capital punishment alive in the United States. But a return to firing squads or more situations like the recent one in Ohio could perhaps swing the pendulum, he said.
Still, Dieter thinks changes will be at a more local level and on a state-by-state basis.
Doug Berman, an Ohio State University law professor and death penalty expert, thinks the question may center on states' tolerance for a constitutional method that is difficult to observe.
"It seems that what we now have discovered is Ohio is using a method that gets the job done, but looks ugly," he said.
Most Ohio death-row inmates in recent years have taken no more than 15 minutes to die, according to records.
States are in a bind for two main reasons: The European companies are cutting off the drug supplies because of death-penalty opposition overseas. And they cannot just switch to other chemicals without triggering legal challenges from defense attorneys.
Slowly, states may consider other methods. Utah already allows for inmates to be executed by firing squad -- now, lawmakers in Missouri and Wyoming are proposing the same.
Missouri currently puts inmates to death with injections and lethal gas. But a state lawmaker argued death by injection takes too long, so he has proposed a bill that calls for a firing squad.
"It just allows for another alternative to an execution," state GOP Rep. Rick Brattin told a local TV station.
Missouri has executed two inmates in recent months using the sedative pentobarbital and plans a third execution later this month. However, the state auditor is conducting a probe on the use of the drug, which comes from a compounding pharmacy not licensed to do business in Missouri.
In Wyoming, state law calls for using a gas chamber if lethal injection is unavailable, which has resulted in a state lawmaker there calling for a firing squad as an inexpensive alternative -- if constitutional or other problems prevent the use of injections.
"The state of Wyoming doesn't have … an operating gas chamber, so the procedure and expense to build one would be impractical to me," said state GOP Sen. Bruce Burns. "I consider frankly the gas chamber to be cruel and unusual."
Dieter also thinks Wyoming and Missouri could face constitutional challenges if they tried to use the firing squad as their only method of execution.
"That I think would raise concerns in the federal courts, perhaps the state courts, about whether an unusual, perhaps a cruel and unusual punishment is being inflicted," he said.
He points out that Utah offers inmates the choice of being executed by firing squad and that the state is phasing out the punishment. Utah last used a firing squad to execute an inmate -- double murderer Ronnie Lee Gardner -- in 2010.
Dieter didn't speculate on the outcome of possible court rulings on the issue but thinks cases would be delayed as they make their way through the system, possibly up to the Supreme Court.
To end constitutional challenges over the possibility of an inmate suffering undue pain from the widely used three-drug method, states beginning with Ohio initially switched to single doses of a powerful sedative, sodium thiopental. Even opponents agreed that wouldn't cause pain. But then sodium thiopental was put off limits when Illinois-based manufacturer Hospira said it couldn't promise authorities in Italy, where the drug was to be produced, that it wouldn't be used in executions.
The next choice, pentobarbital, experienced a similar fate when its Danish maker also prohibited its use in executions, and a U.S. company that inherited the drug agreed to continue the restriction.
Missouri at one point proposed using propofol, the powerful operating room anesthetic infamous for its role in Michael Jackson's overdose death. But Missouri's governor backed off for fear the European Union, which opposes the death penalty, would cut off exports to the U.S. and cause a nationwide shortage of propofol.
Companies in India and Israel put similar prohibitions on their drugs.
As a result, states will be under a lot of pressure to find new sources of pentobarbital, Dieter said.
FoxNews.com's Joseph Weber and The Associated Press contributed to this report.