Then-FBI Director James Comey reportedly told lawmakers last March that agents did not think former White House national security adviser Michael Flynn lied to them -- raising more questions about a key moment in the agency's Russia probe.
The Washington Examiner's Byron York reports that Comey briefed lawmakers amid allegations Flynn had lied to Vice President Pence about conversations with then-Russian Ambassador Sergey Kislyak and speculation he also may have misled FBI agents who questioned him in January 2017. Flynn lost his job over that controversy -- and as recently as December, even President Trump claimed Flynn had "lied" to agents.
But Comey reportedly told lawmakers at the time that agents who interviewed Flynn did not believe he lied to them in that Jan. 24 meeting, and that any inaccuracies in his account were unintentional.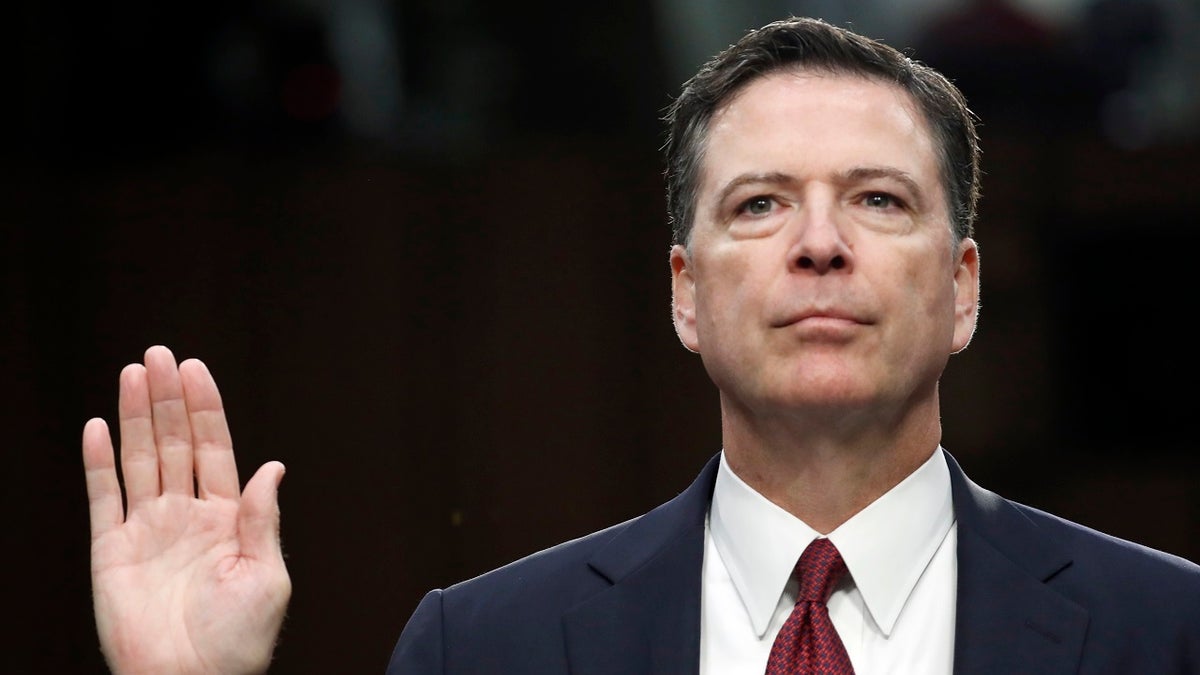 Fast-forward to December, after the probe takeover by Special Counsel Robert Mueller, and Flynn would plead guilty to one count of making false statements to the FBI during that meeting.
So what changed? The Examiner reported that those briefed by Comey are now "baffled by the turn of events."
The revelation is likely to increase the scrutiny of Mueller, whose team already has faced accusations of bias in the wake of anti-Trump text messages from Peter Strzok and Lisa Page -- two FBI officials who once served on his team.

Incidentally, Mueller's team postponed Flynn's sentencing last month, citing the "status" of the investigation -- a move that also added to speculation about the direction of the Russia probe.
MUELLER TEAM SEEKS DELAY IN FLYNN SENTENCING
"Due to the status of the Special Counsel's investigation, the parties do not believe that this matter is ready to be scheduled for a sentencing hearing at this time," the document, signed by Mueller and Flynn attorneys Robert Kelner and Stephen Anthony, said.
And on Wednesday, Mueller's team filed a protective order "governing the production of discovery."
The Comey revelation also could raise questions about the involvement of Obama appointees, specifically fomer Deputy Attorney General Sally Yates who briefly served as acting attorney general at the end of January 2017. She would later be fired by Trump for refusing to defend his travel ban -- making her a hero of the anti-Trump left.
The Examiner also reported that the FBI apparently did not tell White House officials in advance that agents would be interviewing Flynn over a potentially criminal matter, and that Flynn did not have a lawyer present.
Further, the report questioned whether the DOJ relied on the obscure Logan Act as a mere pretext to question Flynn -- a law restricting discussions with foreign governments that has never been used to successfully prosecute anyone.
A spokesman with the special counsel's office declined to comment on the latest claims, referring back to the original plea documents.
J. Christian Adams, president of the Public Interest Legal Foundation and a former DOJ lawyer, questioned Yates' role.
"Yates represents [former Obama attorney general] Eric Holder's most enduring legacy -- normalization of political law enforcement," Adams told Fox News.
"She saw it as her mission to sabotage the incoming administration. We know she did it on the travel ban. Now we know she did it to screw over General Flynn," he added.
Attempts to contact Yates for comment were unsuccessful.
Additional questions about the Russia probe were raised this week after it was revealed that former National Security Adviser Susan Rice, on Inauguration Day, wrote an email to herself detailing a meeting with President Obama, Comey, Yates and others.

"President Obama began the conversation by stressing his continued commitment to ensuring that every aspect of this issue is handled by the Intelligence and law enforcement communities 'by the book,'" Rice wrote. "The president stressed that he is not asking about, initiating or instructing anything from a law enforcement perspective. He reiterated that our law enforcement team needs to proceed as it normally would by the book."
SUSAN RICE'S INAUGURATION DAY EMAIL RAISES NEW QUESTIONS FOR COMEY
Republican senators have asked Rice to explain the email.
"This is the oddest conversation I can imagine," Sen. Lindsey Graham, R-S.C., said on Fox News' "The Story with Martha MacCallum."
Rice's attorney Kathryn Ruemmler, however, said there was "nothing 'unusual'" about Rice "memorializing an important discussion for the record."
Ruemmler added: "Any insinuation that Ambassador Rice's actions in this matter were inappropriate is yet another attempt to distract and deflect from the importance of the ongoing investigations into Russian meddling in America's democracy."
Fox News' Brooke Singman contributed to this report.