Sheriff Clarke curses out reporter who questioned his need for a security detail
Former Milwaukee County Sheriff David Clarke is never one to mince words – just look at the response his office gave a reporter who questioned his security detail.
"'F--- you and the horse you rode in on.' I'm David Clarke and I approve this message," Clarke's office allegedly wrote back.
The abrupt, to-the-point email was in response to questions last week from Daniel Bice, a "political watchdog columnist" for the Milwaukee Journal Sentinel. Bice posted an image of the exchange Wednesday on Twitter, in response to apparent public demand for a screenshot.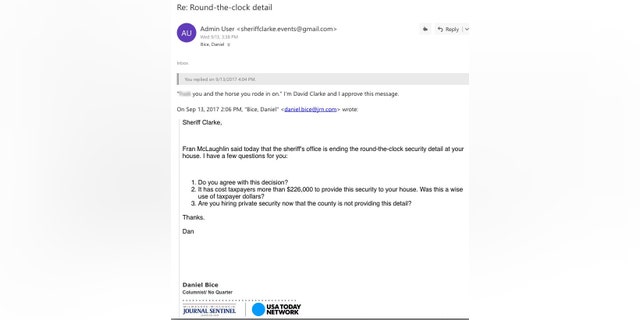 In the original inquiry, Bice rattled off a series of questions about the cost and rationale for Clarke's previous security detail.
"Fran McLaughlin said today that the sheriff's office is ending the round-the-clock security detail at your house. I have a few questions for you," Bice wrote on Sept. 13.
He went on to ask Clarke whether he agrees with the decision, whether the detail was a "wise use of taxpayer dollars" and whether he'll hire private security.
Bice previously had reported that Clarke's detail cost taxpayers more than $220,000 in 2017, due to the "multiplicity of threats" against the controversial sheriff, an early supporter of President Trump.
Clarke did not respond to a request for comment.
This is not the first time Bice and the sheriff have had a colorful exchange.
In December 2016, McLaughlin sent Bice a message "from the sheriff," with an image of a shirt.
"He said he is getting you one of these T-shirts for Christmas and needs to know what size you wear. He said his guess would be extra-small but wants to make sure he gets the right size!" McLaughlin wrote on behalf of Clarke. "And no tax dollars will be used! That should make you happy."
Clarke resigned from his post late last month, announcing that he would join the super PAC America First Action, devoted to electing candidates who support the Trump-Pence administration. Clarke is currently a senior adviser and spokesman for the group.
America First Action did not respond to Fox News' request for comment.