'Sex and the City' star Cynthia Nixon could be New York's next governor: A look at her political activism
NEWYou can now listen to Fox News articles!
Cynthia Nixon, known as Miranda Hobbes by fans of HBO's "Sex and the City" series, officially is challenging incumbent Gov. Andrew Cuomo in New York's Democratic primary.
"New York is my home. I've never lived anywhere else," Nixon said in a campaign video. "New York is where I was raised and where I'm raising my kids. I'm a proud public school graduate and a prouder public school parent."
"I love New York. I've never wanted to live anywhere else, but something has to change," Nixon said, adding that the government should fix the state's problems with healthcare, mass incarceration and the subway system.
Nixon, 52, is no stranger to politics. She's often butted heads with Cuomo over issues pertaining to public education. She's advocated for an increase in funding for public schools, breast cancer awareness and gay rights, among other things. She's protested President Trump and campaigned for former President Barack Obama.
Nixon also received the endorsement of the Working Families Party (WFP), an influential, progressive third party in New York.
In the primary, Nixon has been credited with pushing Cuomo to the left on some issues, including his executive order granting paroled felons the right to vote in the state.
Here's a look at Nixon's political advocacy and some of the issues she's passionate about.
Public schools
Along with her wife, Nixon has championed causes related to New York City's public schools, including an effort to reduce public school classroom sizes. It was during this campaign that Nixon met her future spouse Christine Marinoni, according to a profile in The Advocate.
Nixon was once arrested during a protest at City Hall aimed at increasing funding to public schools.
"We marched on up, sat down and blocked the entrance," she told The New York Times. "The police very politely asked us to move, and we declined. They pulled up the police van and put us in."
The Tony Award winner is also a spokeswoman for the Alliance for Quality Education, a New York-based organization that advocates for "high quality academic opportunities."
"Cynthia is a public school mom who is extremely sincere and knowledgeable and has consistently been outspoken on the need for fair and adequate funding for our public schools."
"Cynthia is a public school mom who is extremely sincere and knowledgeable and has consistently been outspoken on the need for fair and adequate funding for our public schools," Billy Easton, executive director of AQE, told Fox News.
"She's been a very clear advocate, not just in a sort of self-interested, 'I'm just trying to take care of my kids' [way], but more from the standpoint of every kid deserves a great opportunity," he said.
In an op-ed for The Journal News, a New York newspaper, Nixon criticized the Trump administration's support for charter schools and implored New York to put more resources into public schools.
Gay rights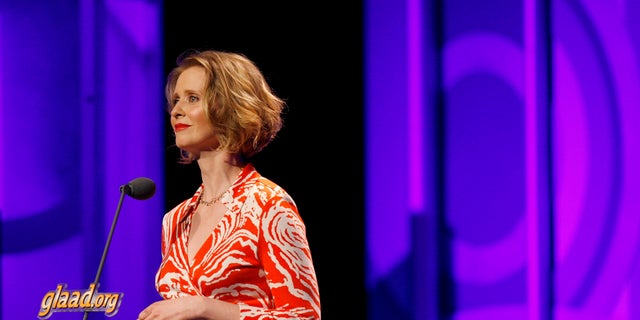 Nixon was honored with the Human Rights Campaign's Visibility Award in February 2018 because she is a "fearless and outspoken advocate for all LGBTQ people," HRC President Chad Griffin said.
"Cynthia uses her talent and public platform to speak out for equality in this country and around the globe, and in the process, she is changing countless hearts and minds," Griffin said in a statement.
CYNTHIA NIXON RELEASES MIRANDA-THEMED CAMPAIGN GEAR ON SHOW'S 20TH ANNIVERSARY
A year before she was awarded the honor, Nixon protested Trump's immigration ban at a rally held outside New York City's Stonewall Inn, an important historical site for gay rights. She criticized Vice President Mike Pence, calling him the "poster boy for anti-LGBT rhetoric, legislation and conversion therapy."
"As LGBT people, we know how important coming out is, but I would argue that our coming out has never been more important than it is right now," Nixon said.
Nixon has been married to activist Marinoni since 2012. The pair lobbied to legalize gay marriage in Washington, where Marinoni is from.
Breast cancer awareness
After battling breast cancer herself, Nixon became a spokeswoman for the Susan G. Komen for the Cure Foundation.
Nixon kept her own diagnosis quiet while she received treatment, telling ABC News she didn't want paparazzi at the hospital. After hearing the news from her doctor, she said she "felt scared" and didn't "want this to be happening."
The cancer was found early, in 2006, and Nixon was able to beat it. She also had some prior experience with breast cancer; her mother successfully battled it when Nixon was a child, according to ABC News.
To treat it, Nixon had a lumpectomy and underwent more than six weeks of radiation, Fox News previously reported.
Access to abortion
Nixon has long been a supporter of Planned Parenthood and abortion rights, attending protests in Washington, D.C., and penning editorials in support of the reproductive health organization.
"I am convinced that abortion rights are human rights not only because of compassion for my mother but also because I am a mother of three," Nixon wrote in an op-ed for Time, detailing her mother's own abortion. "Many of us who made the decision to become parents have experienced a unique desire for parenthood. But that in no way mutes our desire for abortion to be safe, legal and available."
"Women must have the right to determine whether and when to have children. That is what reproductive rights are all about," she continued. "Abortion, like parenthood, is a deeply personal and sometimes complex decision for a woman, and no one can make that decision for her. Decisions about whether to choose adoption, end a pregnancy or raise a child must be left to the woman and her family to determine based on their faith with the counsel of their medical provider."
CYNTHIA NIXON EMBRACES 'UNQUALIFIED LESBIAN' LABEL IN NEW YORK GUBERNATORIAL RUN
Nixon was a keynote speaker at Planned Parenthood of Greater Texas' awards luncheon in Dallas in March. And she's also participated in the Women's March, a nationwide women-led rally that advocates for women's rights, as well as other hot button issues such as immigration reform and LGBTQ rights
Mayor de Blasio's campaign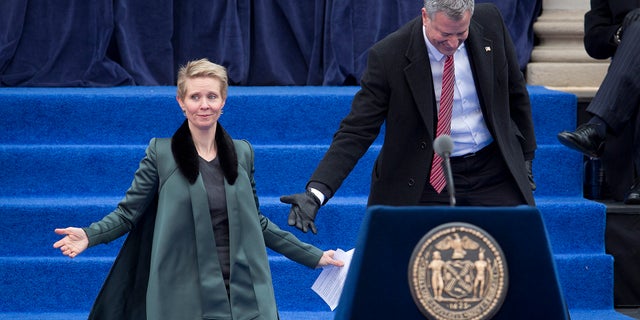 Nixon was able to get another big-name celebrity to endorse Bill de Blasio in the Democratic primary when he ran for mayor in 2013: Alec Baldwin.
According to a New York Times profile, Nixon sent Baldwin an email, encouraging him to publicly pick de Blasio over Christine Quinn, then the speaker of the City Council.
Baldwin responded to Nixon's email, ensuring her that he would support de Blasio and apologizing for "lamely" assuming that she was supporting Quinn as both women are lesbians, according to The Times.
She would also get other celebrities on board with de Blasio – including fellow "Sex and the City" star Sarah Jessica Parker – and organized a fundraiser for him.
She is listed as one of de Blasio's advisors. And for her own campaign, she's assembled a staff that includes veteran operatives who have worked for de Blasio, according to NY1.
The Associated Press contributed to this report.