Senate's lone black GOP member says police stopped him 7 times in a year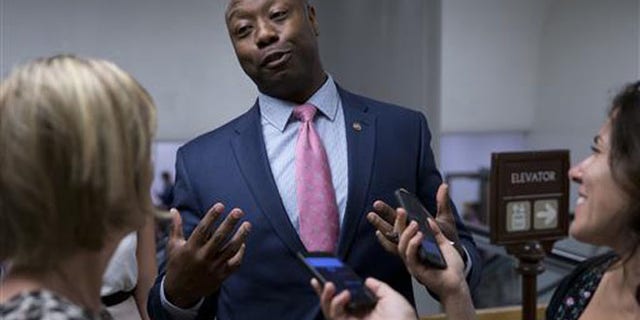 NEWYou can now listen to Fox News articles!
The U.S. Senate's lone black Republican said he has personally experienced discrimination by law enforcement, claiming Wednesday in a candid speech on race relations that he was pulled over seven times in one year.
Sen. Tim Scott of South Carolina delivered the impassioned speech on the Senate floor, speaking of a "deep divide" between communities and the police officers responsible for protecting them.
The remarks, which have since gone viral, came in the wake of the police killings of two black men in Minnesota and Louisiana and the fatal shootings of five Dallas officers by a sniper who said he wanted to kill white people.
"I have felt the anger, the frustration, the sadness and the humiliation that comes with feeling like you're being targeted for nothing more than just being yourself," Scott said.
"Was I speeding sometimes? Sure," said Scott. "But the vast majority of the time, I was pulled over for nothing more than driving a new car in the wrong neighborhood or some other reason just as trivial."
"I do not know many African-American men who do not have a very similar story to tell -- no matter their profession, no matter their income, no matter their disposition in life," he continued.
Scott also spoke about being asked by an officer to show his ID inside an office building on Capitol Hill even though he was wearing a Senate pin.
U.S. Capitol Police officials did not return a request for comment.
Scott urged his colleagues at the end of his speech to "recognize that just because you do not feel the pain, the anguish of another, does not mean it does not exist."
"To ignore their struggles, our struggles, does not make them disappear, it simply leaves you blind and the American family very vulnerable."
Scott's personal speech followed remarks he gave on Monday in which he praised the work of the majority of law enforcement around the country.
"For the overwhelming majority of cops, it is a calling – not simply a job – but a calling," Scott said.
"Law enforcement officers simply want to do two things: protect and serve. We cannot allow the actions of a few to overwhelm the good of the majority," he said.
To illustrate his point, Scott spoke of the heroism of a young, black police officer named Jillian Smith, who was shot and killed after protecting an 11-year-old girl from her mother's boyfriend.
"Officer Smith rushed to cover the 11-year-old and was fatally shot. The boyfriend also killed the mother before killing himself. But the 11-year-old survived," Scott said of the December 2010 shooting in Arlington, Texas.
"Without a second thought, Jillian Smith, who first decided to become a cop in the sixth grade while participating in her school's DARE program, gave her own life to save another," he said.
A Scott spokeswoman told FoxNews.com that the senator is scheduled to deliver a third speech later Thursday in which he will propose ways to "move forward."
FoxNews.com's Cristina Corbin contributed to this report.