Senate Republicans Call for Immediate Enforcement of MOVE Act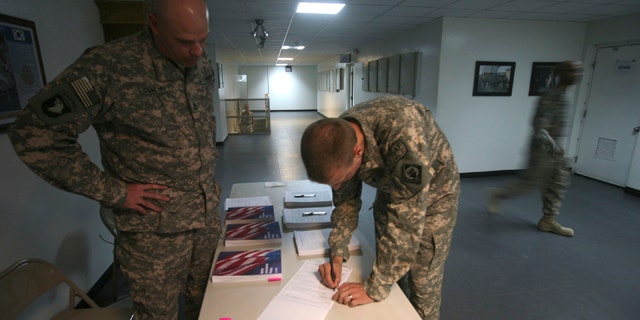 Republic Senators called for immediate legal action to enforce MOVE Act compliance and to prevent the disenfranchisement of military servicemen and women in a letter to Attorney General Eric Holder on Wednesday.
The letter, signed by seven Republicans on the Senate Judiciary Committee, says if the Justice Department does not intervene immediately it will be too late.
"We ask you to immediately bring lawsuits to enforce the Military and Overseas Voter Empowerment Act ('MOVE Act') in jurisdictions that are currently violating that important law," the letter reads.
"Immediate litigation against all noncompliant jurisdictions is now the only option that can guarantee the voting rights of our men and women in uniform. Within days, the possibility of crafting a remedy for noncompliant jurisdictions that will meaningfully protect military voting rights in the 2010 elections will vanish forever. To protect military voting rights, DoJ must litigate now."
The Republican Senators who signed the letter are: John Cornyn, Texas; Chuck Grassley, Iowa; Tom Coburn, Oklahoma; Lindsey Graham, South Carolina; Jon Kyl, Arizona; Jeff Sessions, Alabama; Orrin Hatch, Utah.
Their letter to Holder follows a meeting held earlier this week between Justice Department officials and Judiciary staffers and on the heels of the emergence of a slew of new possible MOVE Act violations in states across the country.
Justice Department officials met with Judiciary Committee staffers Monday afternoon to address MOVE Act enforcement concerns. Justice Department personnel said they had 20 staffers working on MOVE Act-related issues.
Also on Monday, Military Voter Protection Project, a nonprofit founded by former Justice Department voting section attorney Eric Eversole, sent a letter of its own to Holder. In it, Eversole he claimed that MOVE Act requirements may have been violated in Connecticut, New Mexico, seven counties in Alabama, two counties in Arkansas, one county in California, one county in Indiana and two counties in Nevada.
And last Thursday, the same nonprofit filed a lawsuit against Maryland Board of Elections on behalf of an unnamed state National Guard officer now serving in Iraq. The suit alleges that the state did not meet the MOVE Act provision requiring states to send out military and overseas ballots 45 days prior to elections. The lawsuit says Maryland sent absentee ballots containing only federal, not state, races.
Maryland has maintained that it is in full compliance with the law.
In response to the group's round-up of potential violations, the seven Republican senators on the Judiciary Committee implored the Justice Department to immediately bring legal action against jurisdictions not compliant with the MOVE Act and to fully investigate the latest claims.
In their letter to Holder, the seven Senators wrote:
"Given the widespread MOVE Act violations uncovered in the limited sample of jurisdictions surveyed by the MVP Project's volunteers, we can only surmise that these 20 DoJ professionals have uncovered a significant number of jurisdictions that failed to mail ballots by September 18, as required by law."
The letter also says the senators plan to call for post-election oversight hearings.