Senate Poised to Take Up Health Care Bill Next Week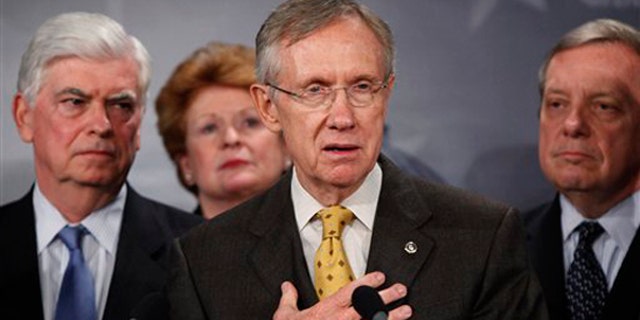 NEWYou can now listen to Fox News articles!
The Senate's Thanksgiving break will end with a bang Monday when debate is scheduled to begin on sweeping legislation to remake the U.S. health care system, a showdown likely to last for weeks.
The debate on the Senate's version of the legislation will test the strength of a re-energized Republican insurgency and the loyalty of a fractured Democratic majority.
Sen. Sherrod Brown, D-Ohio, said Sunday that he doesn't think any members of the Democratic caucus, including the two independents, will vote against final legislation.
"I don't think they want to be on the wrong side of history. I don't think they want to go back and say, 'You know, on a procedural vote, I killed the most important bill in my political career.' I don't think they want to be there on that. So I think in the end, we get them," he said on CNN's "State of the Union."
Senators will take up the 2,074-page bill that is estimated to cost $848 billion over 10 years, offering amendments aimed at improving it. The Democrats' bill is intended to extend coverage over six years to an estimated 31 million Americans who lack it and crack down on insurance industry practices that deny benefits, though Republicans argue the cost is too great and risks a government takeover of the health care system.
The most contentious issues expected to be debated are abortion, illegal immigration and the so-called public option, a government-run insurance plan -- each of which threaten to stall the legislation.
Republicans are largely opposed to the bill and the Democratic majority is sharply divided on the issues. Bridging that divide will likely prove to be the toughest challenge for Democratic leaders.
Moderate Democrats have vowed to vote against any bill that doesn't include tougher restrictions on federal funding for abortion, allows illegal immigrants to buying insurance -- even with their own money-- or contains the public option. In return, liberal Democrats have pledged to withhold their support for any bill making those concessions.
Senate Majority Leader Harry Reid already climbed uphill to secure the 60 votes needed to begin debate. He wrote the bill in private negotiations with White House officials, combining elements of two committee-passed bills and making additional changes with an eye to getting the necessary votes.
Along the way, Reid sweetened the pot for individual senators, adding federal funds for Louisiana and agreeing to support an amendment written by Sen. Ron Wyden, D-Ore., that would expand eligibility for the purchasing exchanges.
In the final hours leading up to the vote last week, three moderate Democrats sitting on the fence -- Sens. Ben Nelson of Nebraska, Mary Landrieu of Louisiana and Blanche Lincoln of Arkansas -- announced their support but said they wouldn't vote for the bill in its current form.
That means Reid may find it even more difficult to secure the 60 votes need to wrap up debate and bring the bill to a final vote.
Most Americans would be required to purchase insurance under Reid's legislation, and billions in new taxes would be levied on insurers and high-income Americans to help extend coverage to 31 million uninsured. Insurance companies would no longer be allowed to deny coverage to people with medical conditions or drop coverage when someone gets sick.
The debate comes nearly a month after the House barely passed its $1.05 trillion version of health care overhaul with a vote of 220-215 with 39 Democrats lined up against it and only one Republican backing the bill.
If the Senate can manage to pass its bill, it still has to be merged with the House bill before Obama can sign it into law -- a process that could go on until early next year.
The bills have many similarities, including the new requirements on insurers and the creation of new purchasing marketplaces called exchanges where self-employed individuals and small businesses could go to shop for and compare coverage plans. One option in the exchanges would be a new government-offered plan, something that's opposed by private insurers and business groups.
Differences include requirements for employers. The House bill would require medium and large businesses to cover their employees, while the Senate bill would not require them to offer coverage but would make them pay a fee if the government ends up subsidizing employees' coverage.
Another difference is in how they're paid for. The Senate bill includes a tax on high-value insurance policies that's not part of the House bill, while the House would levy a new income tax on upper-income Americans that's not in the Senate measure. The Senate measure also raises the Medicare payroll tax on income above $200,000 annually for individuals and $250,000 for couples. Both bills rely on more than $400 billion in cuts to Medicare.