Senate panel endorses Hagel for Pentagon in rare party-line vote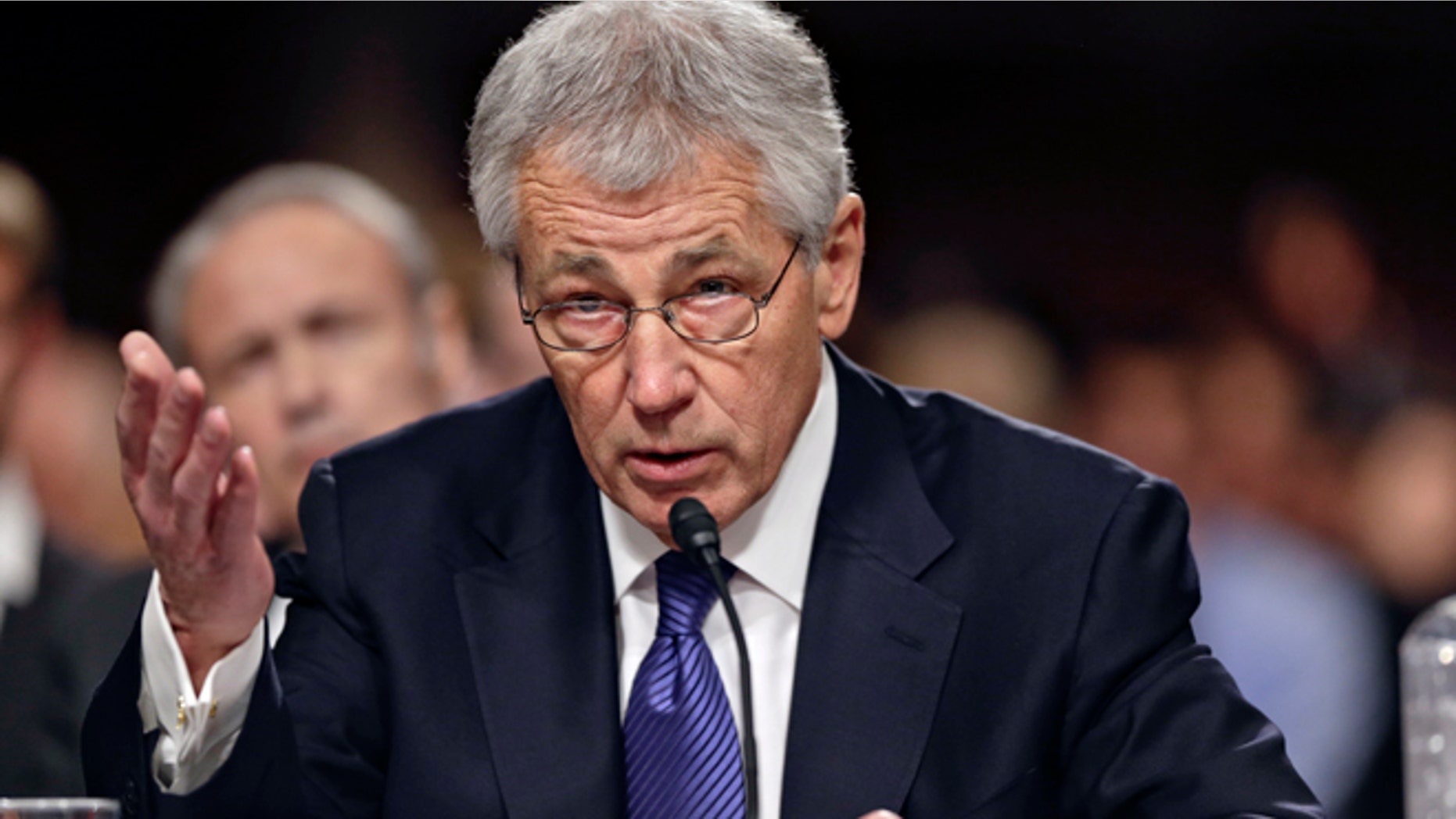 A Senate panel narrowly endorsed Chuck Hagel to lead the Pentagon Tuesday, in a rare party-line vote that underscored intense Republican opposition to his nomination while nevertheless advancing Hagel to the floor for a final verdict.
The Senate Armed Services Committee voted 14-11 to advance Hagel's nomination.
All Republicans present voted against Hagel, himself a Republican and former Nebraska senator. Supporters lauded his service in the Vietnam War, and claimed the nominee had been forthcoming throughout his confirmation process.
But critics pointed to Hagel's history of controversial votes and statements regarding Iran, Israel, terror groups, the Iraq war and other issues.
Further, they panned what was widely regarded as a rocky performance by Hagel during his recent confirmation hearing. It is rare for the Senate to be this divided on a Cabinet nomination of this magnitude.
"His performance before this committee was the worst that I have seen for any nominee for office," Sen. John McCain, R-Ariz., said, before voting against Hagel.
Sen. Lindsey Graham, R-S.C., another senator opposing Hagel, said "there are very few people who have been this wrong about so many things."
Saying the next secretary of Defense will deal with "a world on fire," Graham said Hagel's testimony was "not reassuring."
Republican lawmakers had various reasons for opposing Hagel or trying to hold up his nomination. Some wanted him to provide more financial background information. Others voiced interest in holding up the nomination until the administration provides more information about the Benghazi terror attack, while voicing concerns about Hagel's background as well.
Democratic Chairman Carl Levin, though, pushed forward on a vote just hours before President Obama was set to deliver his State of the Union address.
"The time has come for the committee to act on this nomination," Levin said.
Obama tapped Hagel, 66, a former Republican senator and twice-wounded Vietnam War combat veteran to succeed Defense Secretary Leon Panetta, who is stepping down after four years as CIA director and Pentagon chief.
Senate Majority Leader Harry Reid, a Democrat, is pressing for a full Senate vote later this week, most likely on Thursday.
McCain cited Hagel's opposition to an increase in U.S. forces in Iraq that McCain backed in 2007, as well as Hagel's halting performance at his confirmation hearing.
During the final committee meeting Tuesday, a dispute broke out between Sen. Ted Cruz, R-Texas, and Democrats over complaints Cruz had about Hagel not revealing certain personal compensation -- Cruz questioned whether Hagel had gotten paid at any point by radical groups.
Sen. Bill Nelson, D-Fla., said Cruz had "gone over the line" and "impugned the patriotism" of Hagel, a claim Cruz denied.
Committee Republicans had forced a delay in the expected vote last week when they pressed Hagel for further data on his personal finances.
Levin said the Republican demands were beyond the scope of those traditionally asked of previous nominees, Republican and Democrat -- a point echoed by McCain.
Hagel now faces Republican delaying tactics in the full Senate, with the panel's top Republican, Sen. Jim Inhofe, insisting that any confirmation be based on 60 votes rather than a majority of the 100-member Senate.
But that effort has divided Republicans, with several longtime members opposed to the unprecedented step of stalling, or filibustering, a president's Cabinet nominee for Defense secretary.
Late Monday, McCain met privately with several committee Republicans and urged them not to filibuster the Hagel nomination, pointing out that the roles could be reversed someday with a Republican president and Republican-controlled Senate.
"I'm encouraging my colleagues if they want to vote against Sen. Hagel that's one thing and that's a principled stand," McCain told a group of reporters. "We do not want to filibuster. We have not filibustered a Cabinet appointee in the past and I believe that we should move forward with his nomination, bring it to the floor and vote up or down."
All 55 Democrats are expected to back Hagel, and two Republicans -- Sens. Thad Cochran and Mike Johanns -- have said they will vote for the nominee. At least five Republicans, including McCain, have said they oppose a filibuster despite their reservations or opposition toward the nominee.
More than a dozen Republicans have said they will oppose their former colleague, and several others have indicated they are likely to vote no. Sen. Kelly Ayotte, a Republican member of the Armed Services Committee, said Tuesday she would vote against the nominee, citing his performance at his confirmation hearing.
Hagel seemed ill-prepared under withering cross-examination from committee Republicans in nearly eight hours of testimony on Jan. 31. He was repeatedly pressed about past statements and votes on Israel, Iran and nuclear weapons, with Republican lawmakers suggesting he wasn't sufficiently supportive of Israel or anti-Iran.
The Associated Press contributed to this report.