Senate Judiciary Committee receives FBI report on sexual misconduct allegations against Kavanaugh
NEWYou can now listen to Fox News articles!
Senators will get their first look Thursday at the FBI's background investigation on sexual misconduct allegations against Supreme Court nominee Brett Kavanaugh, with a tense series of votes looming and likely to play out into the weekend.
The report, which is already coming under scrutiny from lawyers for accuser Christine Blasey Ford, will be a key factor for wavering senators ahead of the confirmation vote.
A source familiar with the supplemental report told Fox News it shows no evidence corroborating the allegations of sexual assault or misconduct against the nominee. Other specifics from the report were not immediately available, but Fox News is told the review included interviews with nine people, along with a sworn statement from another. This went beyond the original Senate request for interviews with four people, though the FBI did not dive into Kavanaugh's drinking habits in high school, one area of contention, because the Senate did not formally request the information.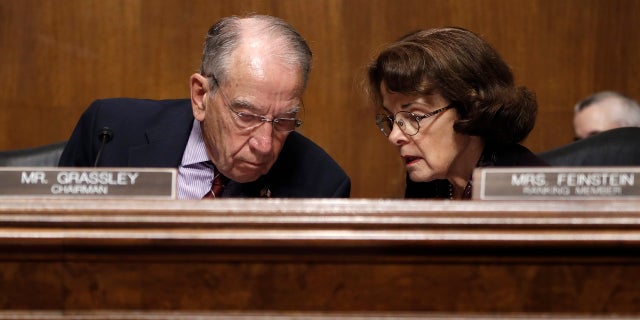 Senate Judiciary Chairman Chuck Grassley tweeted early Thursday that the committee received the "supplemental FBI background file." Grassley said he has agreed with ranking member Sen. Dianne Feinstein "to alternating EQUAL access for senators to study content from additional background info gathered by non-partisan FBI agents."
The FBI was tasked by Trump last week to look into allegations of sexual misconduct leveled against Kavanaugh by three women. The investigation commenced after Ford -- the first woman to come forward -- testified before the Senate Judiciary last week about her claims against the federal judge.
MCCONNELL DESIGNS GAMBIT TO HANDLE OTHER ISSUES IN SENATE, WHILE ADVANCING KAVANAUGH NOMINATION
The White House announced early Thursday that it has also received the FBI's supplemental background investigation into Kavanaugh, and is "fully confident" that President Trump's pick will eventually be confirmed to the Supreme Court.
Attorneys for Ford slammed the FBI background investigation for not interviewing the California professor, who has accused Kavanaugh of pinning her to a bed during a house party in Maryland in the early 1980s, attempting to remove her clothes and putting his hand over her mouth when she tried to scream.
"An FBI supplemental background investigation that did not include an interview of Dr. Christine Blasey Ford -- nor the witnesses who corroborate her testimony -- cannot be called an investigation," the statement read. "We are profoundly disappointed that after the tremendous sacrifice she made in coming forward, those directing the FBI investigation were not interested in seeking the truth."
Ford told the committee that she was "100 percent" certain that Kavanaugh was her attacker. Kavanaugh has vehemently denied the allegations.
CHRISTINE BLASEY FORD EX-BOYFRIEND SAYS SHE HELPED FRIEND PREP FOR POTENTIAL POLYGRAPH; GRASSLEY SOUNDS ALARM
Mark Judge, a friend of Kavanaugh's who previously said in a letter to the committee the he did "not recall the events described by Dr. Ford in her testimony" nor did he see "Brett act in the manner Dr. Ford describes," was among those interviewed by the FBI.
The FBI also interviewed Deborah Ramirez, who has accused Kavanaugh of exposing himself to her during a party while they were students at Yale University, according to The Associated Press.
Kavanaugh's fate boils down to at least three Republican senators: Jeff Flake, Susan Collins and Lisa Murkowski. Sen. Joe Manchin, D-W.Va., who is facing a re-election battle, also has said he will make his decision after the FBI probe.
Republicans outnumber Democrats in the Senate 51-49, and – in the event of a tie – Vice President Mike Pence would be the deciding vote.
Fox News' Chad Pergram and Edmund DeMarche contributed to this report.