Senate GOP Earmark Ban Gains Support -- But Still Short on Votes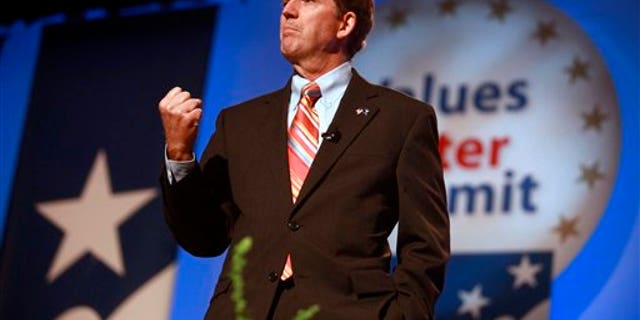 Sen. Jim DeMint, R-SC, is building support for his Senate-Republicans-only earmark ban that is expected to receive a vote when the conference meets behind closed doors on Tuesday, and it clearly will be a close one. Currently, the senator has 13 supporters, but he needs 24 in order to win the day.
Senator-elect Pat Toomey, R-Pa., among the 13, told Fox's Neil Cavuto Thursday, "Earmarks are not the whole problem, but they are a very, very important part of it."
Senate GOP Leader Mitch McConnell, R-Ky., a long-time Appropriations Committee member, opposes the ban and has been making his position known to many of the members of his conference ahead of the vote.
The current list of supporters, includes six incoming freshmen senators, according to DeMint spokesman Wesley Denton: Tom Coburn (R-Oklahoma), John Ensign (R-Nevada), Mike Enzi (R-Wyoming), John Cornyn (R-Texas), Richard Burr (R-North Carolina), Jeff Sessions (R-Alabama), Bob Corker (R-Tennessee) along with Senators-elect Pat Toomey (R-Pennsylvania), Marco Rubio (R-Florida), Rand Paul (R-Kentucky), Mike Lee (R-Utah), Ron Johnson (R-Wisconsin), and Kelly Ayotte (R-New Hampshire).
McConnell's spokesman has said the leader opposes the measure not only because it applies solely to Republicans, but also because it bans targeted tax and tariff measures that are often used to assist certain industries, like wind energy and coal, back home in the members' states.
The ban on pork barrel spending is not binding, but Denton said his boss hopes that members who support the measure would be pressured by that vote not to stray.
Meanwhile, Sen. James Inhofe, R-Okla., perhaps the chamber's most conservative Republican, is working hard in conservative circles to explain why he opposes DeMint's populist move and is planning a Senate floor speech Monday to outline what he says is an "alternative way forward that does not ban earmarks" but trims back the practice.