Senate Democrats Cast Doubt on Finishing Health Care Bill This Year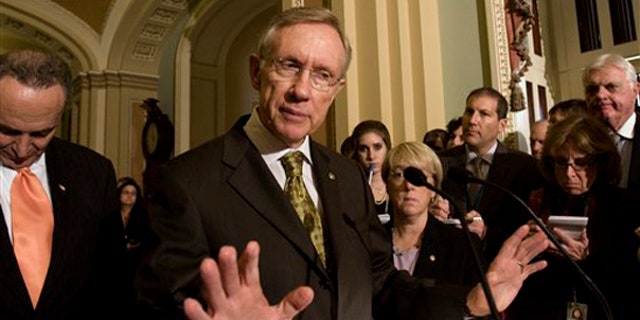 NEWYou can now listen to Fox News articles!
Despite President Obama's goal of signing healthcare reform legislation this year -- one backed by assurances from congressional Democrats -- Senate Democratic leaders Tuesday subtly acknowledged that's not likely to happen as they started the delicate dance of walking back expectations.
Putting the legislation together has proved exceedingly difficult, and most aides now say there is virtually no way a bill can get to Obama's desk this year.
When asked directly if he could finish legislation this year, Senate Majority Leader Harry Reid said Tuesday, "We're not going to be bound by any timelines. We need to do the best job we can for the American people. We want quality legislation, and we're going to do that."
Previously, the Nevada Democrat had said a bill could be finished by various other deadlines, with Thanksgiving being the most recent one. But Reid started to qualify his answer after an August recess deadline came and went, saying that he didn't want to be bound by "arbitrary timelines."
Later Tuesday, a spokesman for Reid told Fox News that Democrats are willing and able to finish work on a health care bill this year.
"Our goals remain unchanged. We want to get health insurance reform done this year and we have unprecedented momentum to achieve that," Reid spokesman Jim Manley said.
"There is no reason why we can't have a transparent and thorough debate in the Senate and still send a bill to the president by Christmas," he said.
But other Democratic leaders echoed Reid's earlier shift in position.
"We will move with all deliberate speed," Sen. Chuck Schumer said, a far departure from last week when he said that a health care bill would get done by Christmas.
"The most important thing is to get it done right, not quickly," added the New York Democrat and vice chairman of Reid's caucus.
Democrats are divided on how to move ahead on reform, and that has taken a good deal of time in back room negotiations, in committee markups. And a big part of the hold up is getting an analysis and so-called "score," or overall cost, of legislation from the nonpartisan Congressional Budget Office (CBO), which has been inundated with healthcare bills and pieces of bills for nearly a year now.
Reid is currently awaiting CBO scores on a menu of options for his own reform bill, but Sen. Max Baucus, D-Mo, chairman of the Finance Committee, said Tuesday that none would be coming this week.
This shifting of timelines has become all too familiar in the healthcare debate. Some Democratic lawmakers said early on that a health care bill could get done by the August recess before walking that back.
The timeline then shifted gradually to one Vice President Biden and Reid both said could be met: Thanksgiving. But that's not even remotely possible now because the Senate will likely be just starting to consider a bill just before that holiday deadline.
But Schumer, a former chairman of the Democrats' campaign committee, predicted that passage of a bill in a year beset with tough re-election efforts would not be problem.