Sen. Tim Scott announces opposition to judicial nominee Thomas Farr, effectively dooming confirmation
NEWYou can now listen to Fox News articles!
South Carolina Republican Sen. Tim Scott announced Thursday he will oppose embattled judicial nominee Thomas Farr, in a reversal of his position a day earlier that seemingly ends the nominee's chances for now amid fierce criticism by civil rights groups.
Democratic lawmakers and the National Association for the Advancement of Colored People (NAACP) have long cited Farr's work on the campaigns of North Carolina Republican Sen. Jesse Helms in 1984 and 1990. Farr was first nominated to the federal court in the Eastern District of North Carolina by former President George W. Bush in 2006, but never received a confirmation vote.
Farr was specifically criticized at the time for allegedly working on the Helms campaign's behalf to distribute 120,000 postcards, primarily to black voters, to discourage voting, something he denied knowing anything about.
But a 1991 memo from the Department of Justice, unearthed this week, set the stage for Farr's latest troubles. The DOJ memo documented a meeting involving Farr and the Helms campaign in which Farr discussed the Republicans' so-called "ballot security" measures and reportedly said there was no need to send postcards because they wouldnot be "useful" to the campaign's efforts.
Farr has also been a legal advocate for conservatives in defense of voter ID laws, leading Democrats to say he has not changed his tack.
"I am ready and willing to support strong candidates for our judicial vacancies that do not have lingering concerns about issues that could affect their decision-making process as a federal judge," Scott said in a statement.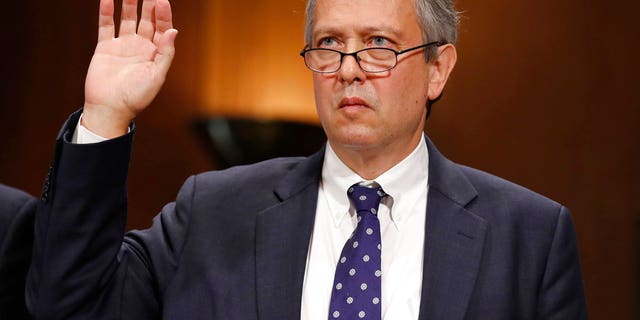 He added: "This week, a Department of Justice memo written under President George H.W. Bush was released that shed new light on Mr. Farr's activities. This, in turn, created more concerns. Weighing these important factors, this afternoon I concluded that I could not support Mr. Farr's nomination."
Just one day earlier, though, Scott told "Fox News @ Night" host Shannon Bream that all indications were that Farr was "not the architect" of the Helms campaign's policy, and that the nominee had "very strong" character witnesses.
"One of the reasons why I called and spoke to the author of the DOJ memo from 28 years ago was to understand and appreciate what role Tom Farr played in the Helms campaign," Scott said. "If he was the architect of that nasty, racist campaign, I would've been a 'no' without any question."
He continued: "But I found so far -- from appointees of the Obama administration to my conversation with the author of the memo -- is that he was in fact not the architect of the campaign and that the character witnesses from the Obama administration coming forward on behalf of Tom Farr have been very strong. But I'm continuing my research."
FLAKE BLOCKED IN BID TO STALL TRUMP JUDICIAL NOMINEES TO ENSURE VOTE ON MUELLER LEGISLATION
Prominent Democrats immediately applauded Scott's decision Thursday to oppose Farr, and attacked President Trump for doubling down on Bush's nomination.
"Sen. Tim Scott has done a courageous thing, and he's done the right thing," Senate Minority Leader Chuck Schumer, D-N.Y., said in a statement. "Thomas Farr has been involved in the sordid practice of voter suppression for decades and never should have been nominated, let alone confirmed to the bench. Thankfully, he won't be."
Former President Barack Obama nominated two African-American women to serve on the bench instead of Farr, but neither got a hearing -- and the spot has remained vacant for more than 12 years.
Farr's nomination had been caught up in a kind of nomination limbo in recent weeks, after Arizona Republican Sen. Jeff Flake -- a frequent Trump critic who will leave office in January -- announced earlier this month he would not vote to advance any of Trump's judicial nominees until the Senate voted on unrelated legislation to further protect Special Counsel Robert Mueller from termination. (Republicans have said that such legislation is an unnecessary and unconstitutional restriction on Executive Branch authority.)
Flake followed through on his threat Wednesday afternoon and joined Democrats in opposing a bid to advance Farr's nomination. Vice President Pence was then forced to break a 50-50 tie on a procedural vote, in a rare Senate intervention, and a final vote on Farr's confirmation was quickly delayed.
Scott voted yes on that procedural vote, drawing widespread derision from Democrats who said the only black Republican senator was putting party ahead of principle.
"Hogwash," Scott told Fox News' Shannon Bream, after she quoted bloggers, including The Washington Post's Jennifer Rubin, who had called him a "fraud on civil rights" for his vote.
He emphasized his work on prison reform and "ways to improve education" through legislative efforts.
"I'm gonna take my hits, and at the end of the day that comes with the territory," Scott said.
Top Republicans had also stood behind Farr this week. It remains unclear whether the Senate's GOP leadership will try to reconsider Farr when the new 53-47 Republican majority -- sans Flake -- is seated in January.
"The American Bar Association's Standing Committee on the Federal Judiciary -- a body that's frequently been held up by my Democratic colleagues as the 'gold standard' -- has awarded Mr. Farr its highest possible rating: unanimously well qualified," said Senate Majority Leader Mitch McConnell, R-Ky.
Scott press secretary Ken Farnaso took something of a victory lap around Rubin via Twitter.
"Hi @JRubinBlogger — just wanted to let you know that the man you think is a 'fraud on civil rights,' is one of the most courageous statesmen we have in the United States Congress," Farnaso wrote. "Our country is better because of his quiet, humble, and powerful voice."
Fox News' Alex Pappas contributed to this report.