Scott Walker confronted by undocumented immigrant, teary child during hometown visit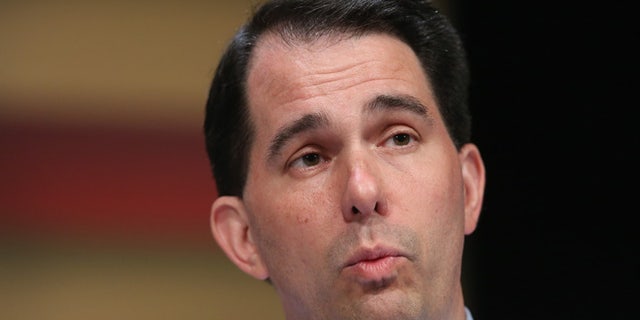 NEWYou can now listen to Fox News articles!
What was supposed to a feel good tour through GOP presidential hopeful Scott Walker's former hometown turned into a showdown when he was confronted by one undocumented immigrant and the man's teary children.
While the Wisconsin governor was touring a farm in Plainfield, Iowa – the town where he grew up – he was challenged by 38-year José Flores, an undocumented immigrant who lives in Wisconsin and works for a medical supply factory. Accompanied by two of his four children, including his visibly teary 13-year old daughter Lesile, Flores asked Walker why he doesn't support President Barack Obama's plan to give temporary status to some undocumented workers, including parents of children who were born in the United States.
"My family is at risk of being separated by being deported," Leslie told the reporters after the meeting.
Walker responded to the Flores family by saying that the U.S. is "a nation of laws."
"My point is that you have to follow the law, follow the process," he added, according to the Washington Post.
Flores' 7-year-old son, Luis, also asked Walker: "Do you want me to come home from school and my dad got deported?"
Walked said that was not his plan.
"That's not what I'm talking about," Walker said, according to the Wall Street Journal. "My point is that, in America, no one person is above the law. The president can't make the law just because he says it."
Despite much of the early chatter surrounding the 2016 revolving around immigration, Walker has quietly avoided the topic as much as he can – failing to mention it in his announcement speech or his first couple of campaign stop.
Some have suggested that the governor is still cementing his views, while trying to keep in mind Republican voters who don't agree with him on the issues.
Just two years ago, Walker supported a pathway to citizenship for undocumented immigrants, saying it "makes sense" in the case of some of the millions of undocumented workers already in the country.
"You've got to find a way to say that people who are in line right now have first preference," he said at Politico's State Solutions Conference in Washington, D.C. "We just have a broken system. And to me, if somebody wants to come in and live the American dream and work hard … we should have a system that works and lets people in."
Earlier this year, Walker's position shifted to be more hardline. "I don't believe in amnesty" for those in the country without proper documentation, he said.
Yet, according to the Washington Post, he told a private gathering of New Hampshire business leaders in March of this year that he supports providing some undocumented immigrants with a pathway to citizenship.
In April, Walker went further than most in the rest of the Republican field by saying legal immigration may need to be regulated further to protect U.S. jobs.
"In terms of legal immigration, how we need to approach that going forward is saying—the next president and the next congress need to make decisions about a legal immigration system that's based on, first and foremost, on protecting American workers and American wages," he told Glenn Beck, according to Slate.
Like us on Facebook
Follow us on Twitter & Instagram