Majority Whip Steve Scalise made a surprise and triumphant return Thursday to the floor of the House of Representatives, for the first time since he was badly wounded in the June mass shooting at a congressional baseball practice.
Colleagues erupted in applause and gave Scalise a standing ovation as he entered the chamber on crutches, wearing a dark suit and a striped red tie. Colleagues embraced him as he walked to the podium, where he delivered a first-hand and emotional telling of the journey that brought him back to Washington these past three months.
"It starts with God," Scalise said, recalling how when he was laying on the ballfield that day and unable to move, "I just started praying."
"Pretty much every one of those prayers were answered," Scalise said. "He really did deliver for me and my family, and it just gives you that renewed faith and understanding that the power of prayer is just something that you cannot underestimate."
He added, "I'm definitely a living example that miracles really do happen."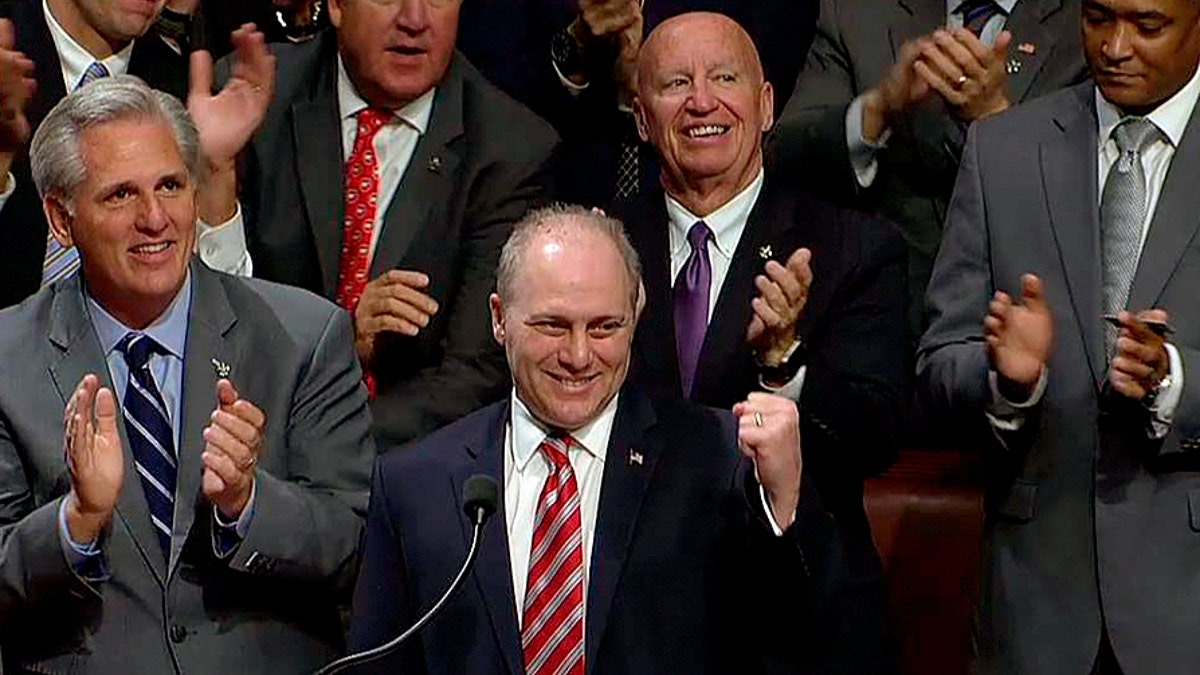 Scalise went on to laud the heroic actions of the Capitol Police officers on the scene who helped take down the shooter, crediting them for saving lives. He expressed gratitude for the "little miracles" in the days and weeks that followed, as well as the "outpouring of love" – from colleagues, foreign leaders and people he had never met before.
Scalise concluded with a reminder to a body that is often sharply divided that it's important to "rise above" their challenges.
'I'm definitely a living example that miracles really do happen.'
The Louisiana Republican has spent more than three months in recovery, first undergoing multiple surgeries followed by extensive rehabilitation at an in-patient facility.
Scalise's office said in a statement the congressman is "returning to work at the United States Capitol." The congressman will also complete "an extended period of out-patient rehabilitation over the coming months," his office said.
"I'm back," Scalise tweeted Thursday morning, along with a photo of him looking out across the National Mall.
Scalise met earlier with House Speaker Paul Ryan, R-Wis.
"I don't have words right now," Ryan said after the meeting.
Scalise and several others were shot on June 14 when gunman James Hodgkinson opened fire at a Republican congressional baseball practice in Alexandria, Va. The gunman was later killed by police.
Scalise sustained a single rifle wound, entering his left hip and passing through his right hip, also known as a trans-pelvic gunshot wound.
The round did substantial damage to bones, internal organs and blood vessels, according to Dr. Jack Sava, the director of trauma at MedStar Washington Hospital where Scalise had been treated after the shooting.
Scalise, a top-ranking member of GOP leadership, returned to Capitol Hill a day after his colleagues unveiled a far-reaching tax reform plan – expected to be the party's top legislative priority, after several failed attempts at passing health care legislation.
Scalise presumably will resume his role in helping steer the GOP agenda on the House side. Returning to the public eye, he also is giving an interview with "60 Minutes" set to air Sunday.
Lobbyist Matt Mika, House GOP aide Zack Barth and Capitol Police Officer Crystal Griner also were shot in the June rampage, while Capitol Police Officer David Bailey and Texas Rep. Roger Williams were injured.
The shooting fueled concerns about the adequacy of security for lawmakers traveling in large groups, as well as the broader threat of political tensions turning violent.
At the time, one witness told Fox News that the apparent gunman specifically asked whether Republicans or Democrats were on the field, before the shooting broke out.
Fox News' Chad Pergram and Brooke Singman contributed to this report.