Scalise 'in very tough shape' after shooting, Trump says
NEWYou can now listen to Fox News articles!
House Majority Whip Steve Scalise remains in critical condition and needs further surgery after he was shot Wednesday during a GOP baseball practice in Alexandria, Va., according to the hospital where he is being treated.
MedStar Washington Hospital said in a statement late Wednesday that the Louisiana Republican was shot once in the left hip.
"The bullet travelled across his pelvis, fracturing bones, injuring internal organs, and causing severe bleeding," the statement said. "He underwent immediate surgery, and an additional procedure to stop bleeding. He has received multiple units of blood transfusion."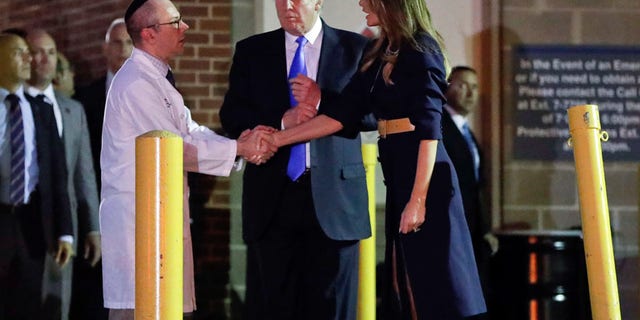 Scalise was one of four people shot by James T. Hodgkinson as they prepared for Thursday's Congressional Baseball Game between the Republicans and Democrats.
Shortly before the hospital issued its statement, President Donald Trump and first lady Melania Trump made a surprise visit to the hospital. A senior White House aide told Fox News that the president and first lady met with Scalise's doctors and family, including his wife Jennifer.
"The president entered the room, spoke with Scalise's family members and sat by his bedside with Mrs. Trump," Press Secretary Sean Spicer said, describing the scene in the intensive care unit as emotional.
The Trumps also met with U.S. Capitol Police officer Crystal Griner, who was shot in the ankle, as well as Griner's wife and colleagues who were visiting her. Melania Trump presented a bouquet of flowers to Jennifer Scalise and gave another bouquet to Griner and her wife, the official said.
Trump later tweeted that Scalise was in "very tough shape" and urged Americans to "Pray for Steve!"
Of the other two victims, lobbyist Matt Mika was in critical condition after being shot multiple times. Legislative aide Zack Barth suffered non-life-threatening injuries.
Hodgkinson was shot and killed by law enforcement officers. Investigators said Rep. Roger Williams, R-Texas, and U.S. Capitol Police officer David Bailey suffered minor injuries in the mayhem following the gunfire.
House Speaker Paul Ryan, R-Wis., praised the actions of the officers earlier Wednesday, saying they had saved lives with their quick response.
Griner and Bailey were at the park as part of Scalise's security detail, which is assigned to protect the House's No. 3 Republican at all times. Lawmakers who were at the practice said the shootings could have been much worse if the security detail had not been there.
Scalise is so unassuming and low-key that Louisiana politicians have often joked about his security detail.
"I've seen him a couple of times like in the Superdome and I often wondered, 'Well, why in the hell did he have all those security people with him?" Louisiana Senate President John Alario said.
"I see why now," Alario added. "It was an abundance of caution. I'm glad they did it."
Fox News' Serafin Gomez and The Associated Press contributed to this report.