San Juan mayor dons 'nasty' shirt for interview on Trump's Puerto Rico response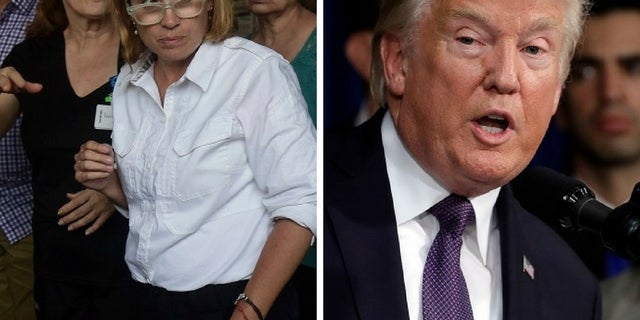 NEWYou can now listen to Fox News articles!
San Juan Mayor Carmen Yulin Cruz wore a black t-shirt emblazoned with the word "nasty" Wednesday during an interview with Univision's Jorge Ramos in response to President Trump's tweet criticizing the politician.
Cruz told Ramos she wore the shirt because "it was one of the expressions that the president used to describe me. I was a 'nasty mayor,'" People reported.
"When it bothers somebody that you're asking for drinking water, medicine for the sick and food for the hungry, that person has much deeper problems than what we can discuss in an interview," Cruz said.
"What really is nasty is showing your back to the Puerto Rican people," Cruz added.
The island was recently hit by powerful Hurricane Maria and has been working to restore power and clean water to the territory.
TRUMP SURVEYS HURRICANE-RAVAGED PUERTO RICO, MEETS SAN JUAN MAYOR AFTER FEUD
Cruz criticized the Trump administration's hurricane response to the island. Last Friday, the mayor appeared on television in a black shirt with white letters that read, "HELP US, WE ARE DYING." Cruz argued that federal aid had been slow to reach Puerto Rico following Maria, which knocked out power to the entire island.
In response, Trump tweeted on Saturday, "Such poor leadership ability by the Mayor of San Juan, and others in Puerto Rico, who are not able to get their workers to help."
Trump added Cruz was "very complimentary only a few days ago," but "has now been told by the Democrats that you must be nasty to Trump."
A number of politicians and celebrities took to social media immediately after to criticize Trump's tweets.
Trump said in an interview with Fox News' Sean Hannity that Cruz was "very nice at the beginning but she went a little bit on the nasty side and I said I guess she's running for office, and it turns out I'm right."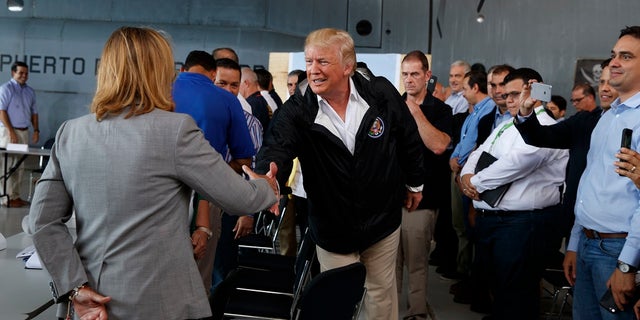 During Trump's visit to the U.S. territory on Tuesday, the mayor and president shook hands. Trump received some criticism for telling Puerto Ricans they escaped the higher death toll of "a real catastrophe like Katrina."
Known deaths from Maria in Puerto Rico stand at 34, The Associated Press reported.
TRUMP SLAMS 'FAKE NEWS' FOR COVERAGE OF PUERTO RICO TRIP
"Sometimes his style of communication gets in the way," Cruz said of Trump's comment. "I would hope that the president of the United States stops spouting out comments that really hurt the people of Puerto Rico."
However, Cruz praised the White House staff and said, "I saw a real connection between the reality and the White House staff. I think they finally understood."
Trump famously called Democratic presidential candidate Hillary Clinton a "nasty woman" during a debate during the 2016 campaign.
The Associated Press contributed to this report.