Rumsfeld Goes Toe-to-Toe With Al Jazeera Over U.S. Invasion of Iraq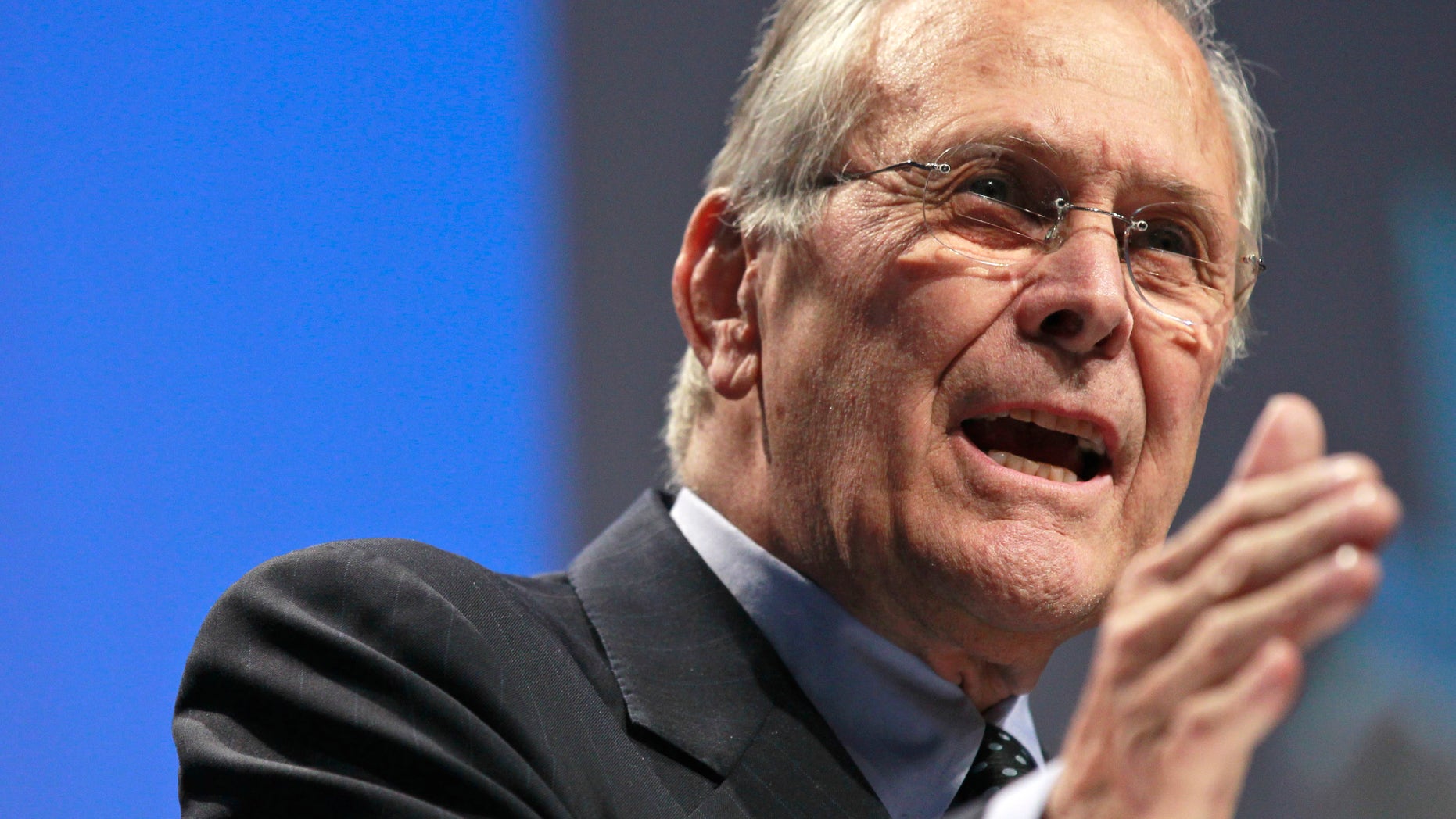 That didn't last long.
Donald Rumsfeld, who once called Al Jazeera's news coverage "vicious, inaccurate and inexcusable" during his stint as defense secretary in the Bush administration, appeared to make peace with the English version of the Arabic-language news channel by agreeing to his first interview with the network last Friday to hawk his memoir.
But following a friendly interview with news veteran David Frost for the network on the same day, sparks flew in another round of questioning by D.C. bureau chief Abderrahim Foukara.
In that interview, which aired Tuesday, the two exchanged fire when Rumsfeld was pressed about the Bush administration's responsibility for the killing of innocent Iraqis after the U.S. invasion in 2003.
"You keep making assertions which are fundamentally false," Rumsfeld said in response to Foukara's assertion that the U.S. failed to secure the borders of Iraq by only sending 140,000 troops -- a figure that he said many in the Pentagon told Rumsfeld wasn't enough.
"No one in the Pentagon said there was not enough," Rumsfeld said. "The president went around the room, he asked everyone of them, do you have everything you need, do you have the numbers you want, we went back and forth with the commanders in Iraq at CENTCOM, asking them do they want additional forces and the answer was no."
Rumsfeld added that U.S. commanders received any additional forces they requested.
"So does that make the numbers you went into Iraq with right?"Foukara quickly replied.
"Do you want to yell or do you want to have an interview?" Rumsfeld asked. "You have a choice. You're being true to form."
The interview devolved from there as Foukara insisted he was respectfully seeking the facts and Rumsfeld remained on the defensive.
"Look, you can characterize my answers anyway you want and you do it in a pejorative way," Rumsfeld said, prompting Foukara to say he'll do it respectfully.
"No, you don't at all. You're obviously, you are of that nature. It's clear, that you're being, that you like to do that," Rumsfeld said.
Foukara told Rumsfeld, "You have just disparaged me as a member of Al Jazeera, but that's ok. Just give me a straight answer."
When Foukara continued to press for an answer over Rumsfeld's musings, Rumsfeld finally asked, "Why should I do everything you want and you won't do a thing I want!"
"Because I'm the interviewer," Foukara said with a laugh.
"Oh really?" Rumsfeld said. "And that gives you the privilege to be the way you are?"
When Foukara tried to end the talk, saying, "Seriously, just give me an answer to my question," Rumsfeld fired back, "What do you mean, seriously? I'm being serious. This is worthless. This is not an interview. You're haranguing. That's what you're doing."
Rumsfeld has made several stops with media while on a book tour since February to promote his book, "Known and Unknown."