'Rosie the Riveters' honored with visit to Washington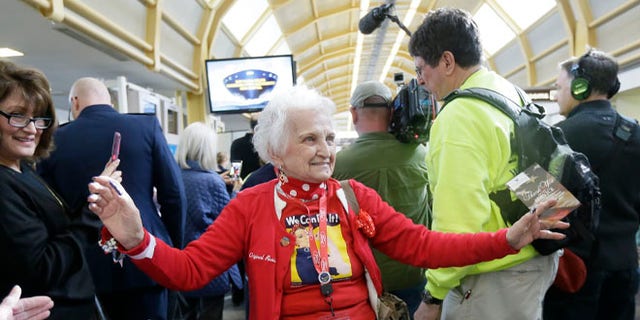 Seven decades after their "we can do it" attitude proved invaluable to the Allied victory in World War II, about 30 "Rosie the Riveters" were honored Tuesday with a visit to Washington.
Wearing honor flight red cardigans, the women -- now in their 80s and 90s -- who did work toward the war effort left the Detroit area Tuesday morning for the nation's capital. There they posed for group photos with the U.S. Capitol as a backdrop, had lunch at a Library of Congress building and later planned to check out the National World War II Memorial.
"You incredible women are such an inspiration," U.S. Rep. Debbie Dingell of Michigan told the women during the luncheon at the James Madison Memorial Building. "You opened the doors wider for (women)," Dingell said.
Helen Kushnir of Dearborn said she felt "like queen for the day" after volunteers took a formal photo of her before she boarded the plane.
"They have those signs: `We can do it.' They should say: `We did it,"' Kushnir said.
Dozens of flag-waving, sign-toting well-wishers had greeted the women as their plane arrived. A children's choir sang patriotic songs and the onlookers cheered as each woman emerged.
Kushnir cried as she took in the adulation, while Sylvia Tanis, of Holland, Michigan, smiled widely and yelled out: "This is soooo overwhelming!"
Mallie Mellon, 96, said she couldn't sleep Monday night.
"I was so excited thinking about my trip," said Mellon, who now lives in Belleville, but during the war worked as a riveter making B-29s at a plant in Detroit.
During World War II, women worked at jobs traditionally done by men, such as churning out bombers at Ford Motor Co.'s Willow Run plant near Ann Arbor, Michigan. One of them, Rose Will Monroe, was the inspiration for the Rosie character that came to symbolize female empowerment and the "we're-in-this-together" spirit of the American homefront.
The honor flights provide one-day trips for veterans to visit Washington's monuments and memorials. The Ford Motor Company Fund has sponsored 10 such flights, but Tuesday's was the first designed specifically for Rosies, said Jim Vella, the fund's president.
On the flight, chaperones Lyn Watson and Stephanie Hagaman sat next to each other and realized that Watson's mother, Beth Fordyce, and Hagaman's grandmother, Refugio Garza, were sitting next to each other a few rows ahead of them. Fordyce turned 94 on Monday, and Garza turns 97 on Wednesday.
They also learned that each Rosie carries the nickname "Cookie."
"We both have Cookies in first class," Hagaman said, laughing.