Romney predicts a Trump win in 2020
Mitt Romney addressed a closed-door tech summit in Utah on Thursday, telling the room he thinks President Donald Trump -- the man he once called a "phony" and a "fraud" -- will "solidly" win re-election in 2020, reports said.
Romney, a former Massachusetts governor, now running for a U.S. Senate seat in Utah, told a group of GOP donors that Trump will "easily" be the party's nominee and go on to beat his Democratic rival, Politico reported.
"I think that not just because of the strong economy and the fact that people are going to see increasingly rising wages, but I think it's also true because I think our Democrat friends are likely to nominate someone who is really out of the mainstream of American thought and will make it easier for a president who's presiding over a growing economy," Romney said.
Romney was a vocal critic of Trump during the 2016 presidential primaries, urging Americans to vote for U.S. Sen. Ted Cruz, R-Texas. The former governor also recently revealed he didn't cast his November vote for Trump, choosing instead to write in his wife Anne's name.
Romney's criticism of Trump has cooled since launching his own Senate bid earlier this year following the announcement of U.S. Sen. Orrin Hatch's retirement. The two rivals have appeared to embrace each other, with the president giving his "full support" for Romney's Senate candidacy in February.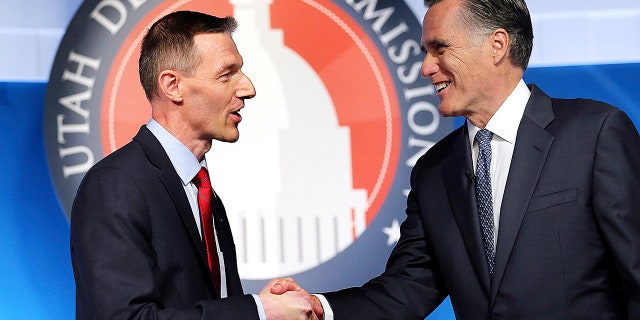 The 71-year-old Romney is favored to win Utah's GOP nomination in a runoff on June 26 against state Rep. Mike Kennedy, with whom he sparred at a debate last week.
Other dignitaries expected to appear at the three-day Utah Technology Innovation Summit include House Speaker Paul Ryan, billionaire former New York City Mayor Michael Bloomberg, and U.S. Sen. Cory Gardner, R-Colo., in addition to actor Seth Rogen, former Starbucks CEO Howard Schultz and former Domino's Pizza CEO Patrick Doyle.
The Associated Press contributed to this report.