Romney looks for winning combo in narrowing VP field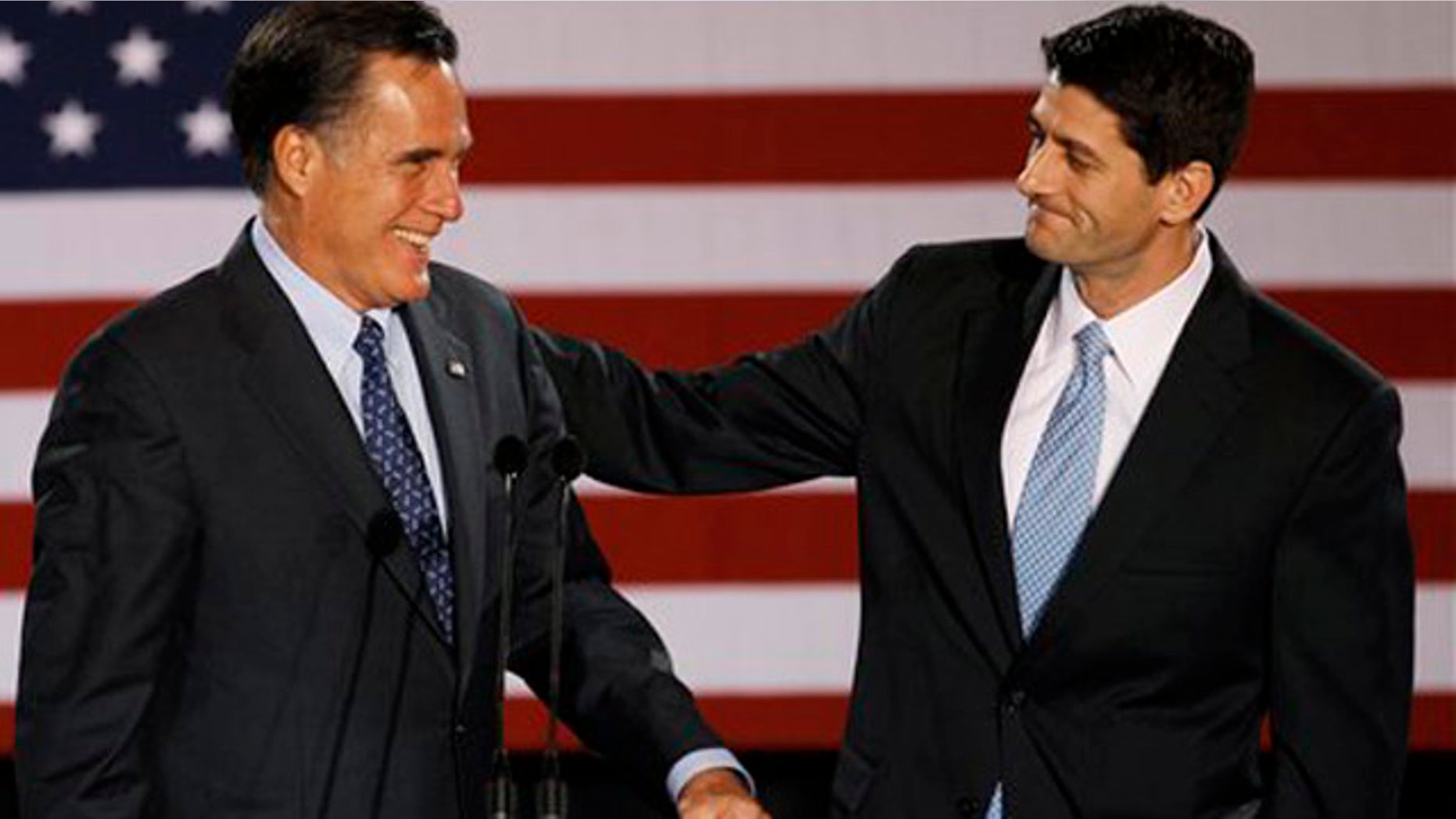 As Mitt Romney widens his lead on the field of GOP presidential candidates, the front-runner is searching from a narrowing list of potential vice presidential candidates who can perhaps deliver on the intangibles that voters say his candidacy still needs.
GOP Rep. Paul Ryan appears to be in the top mix of any list, to be sure. The Wisconsin congressman campaigned in his home state with Romney for five days around the Tuesday primary, helping the former Massachusetts governor win convincingly in a three-state sweep.
Several other contenders meanwhile claim to be taking themselves out of the running, including Florida Sen. Marco Rubio. That doesn't mean they wouldn't change their minds if asked, but the volume of political figures shunning the VP spotlight suggests Romney's choices might be limited.
Ryan, while not a lock, is seen as a natural complement in a GOP ticket that has Romney as the Harvard-educated financier at top and Ryan, who rose from working-class roots to chairman of the House Budget Committee, as a running mate. Ryan's deficit-slashing budget proposals have helped make him a rising GOP star.
"Paul Ryan is a very interesting vice presidential candidate," said Republican strategist Taylor Griffin, partner of Washington-based Hamilton Place Strategies. "The assumption, which is the correct assumption, is that Ryan would bring serious leadership. And whatever you say about Paul Ryan, he's a serious guy."
Though the Romney campaign has downplayed talk of a Romney-Ryan team, Hamilton points out that President Obama appears to recognize Ryan's power and influence, consider much of his roughly 37-minute speech Monday was a withering attack on Ryan's budget proposal.
Like other GOP strategists, Hamilton, who most recently worked on Sen. John McCain's 2008 presidential campaign, thinks Rubio would be a good running mate too, despite Rubio suggesting he is not interested.
Beyond helping secure the Hispanic vote, Rubio as the son of Cuban immigrants presents the America Dream and will appeal to conservatives, Hamilton said.
"He made success out of very meager beginnings," he said Thursday. "And you satisfy the base with the vice president, which frees you to appeal to the middle."
GOP strategist Elliott Curson agrees that Rubio will appeal to the GOP base but suspects Romney is feeling pressure to pick GOP challenger Rick Santorum, who has strong support among Tea Party members and voters in the Deep South.
"Voters might come out for Rubio. They will come out for Rick," said Curson, a media consultant on Ronald Reagan's 1980 presidential campaign.
Among the other names mentioned are New Jersey Gov. Chris Christie -- powerful, but perhaps too powerful for vice president, Curson said. Christie, discussing the VP speculation, has suggested he wouldn't be too comfortable as someone's No. 2.
Another name that has recently surfaced is first-term Sen. Rob Portman, a Republican from the swing state of Ohio.
Larry Sabato, director of the University of Virginia Center for Politics, said Thursday that voters should not automatically assume Romney will pick a vice presidential candidate from a swing state rich in electoral votes.
In fact, a vice president has never come out of Florida, and the last one from Ohio was in 1944, Sabato said.
"It's amazing how many of these presidential candidates bypass these mega-swing states," he added.
As for a female candidate, South Carolina Gov. Nikki Haley has said she would decline a Romney offer, and New Mexico Gov. Susana Martinez has said she is not interested.
Other names include Louisiana Gov. Bobby Jindal, Virginia Gov. Bob McDonnell, South Dakota Sen. John Thune and former Minnesota Gov. Tim Pawlenty.
Though most suspected to be on the short-list have demurred, Curson and Hamilton said that's just part of the strategy because announcing too early kicks in opposition research -- and perhaps more importantly campaigns need to create buzz with a surprise pick.
"Keep them guessing until the end," Curson said.