Romney eyes comeback in Utah race as voters in 7 states head to polls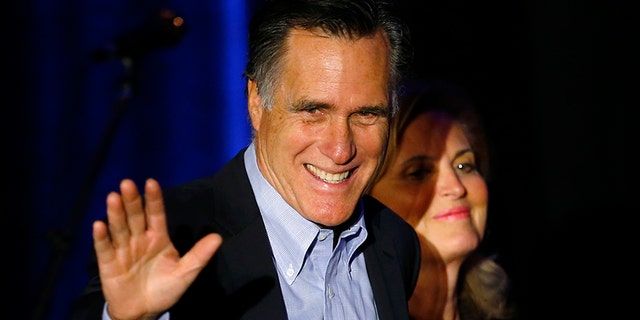 Mitt Romney once famously claimed he'd never be seen as a winner again if he failed to win the White House.
"I have looked at what happens to anybody in this country who loses as the nominee of their party," Romney, who was defeated by then-President Barack Obama in the 2012 race, said in the documentary "Mitt" about his two failed Republican bids for the presidency. "They become a loser for life."
But on Tuesday, Romney is hoping to shed that self-applied label.
The former Massachusetts governor, who moved to Utah to run for the Senate this year, is the favorite to win the Republican nomination on Tuesday to replace the retiring Sen. Orrin Hatch. In all, seven states were holding primaries or runoffs across the country on Tuesday.
The trickiest maneuver for Romney during the primary campaign has been balancing his past criticism of President Trump – someone he once called "a phony, a fraud" – and his vows to work with the president if elected.
The two have had a rocky relationship at times, though Trump publicly mulled making Romney his secretary of state after the 2016 election.
"If I get to Washington, I will work with him with policies I think are right, I will oppose those things I think are wrong for the country or for the state," Romney said on the topic of Trump during a Fox News interview in Utah on Monday. "And I will speak my mind on issues of conscience."
But don't expect him to weigh in on every comment made by the president.
"I have and will continue to speak out when the president says or does something which is divisive, racist, sexist, anti-immigrant, dishonest or destructive to democratic institutions," Romney wrote in an op-ed for the Salt Lake Tribune ahead of the election. "I do not make this a daily commentary; I express contrary views only when I believe it is a matter of substantial significance."
Romney is facing a challenge from state Rep. Mike Kennedy, who has emphasized his local experience in order to draw a contrast with Romney.
"I have a really good grasp of what's going on in the ground level of Utah," Kennedy said in a recent debate.
Voters are also headed to the polls in New York, Maryland, Colorado, Mississippi, Oklahoma and South Carolina.
Among the closely watched races is South Carolina's Republican gubernatorial runoff between incumbent Gov. Henry McMaster and businessman John Warren. Trump has been stumping for McMaster.
Indeed, Trump went all out for McMaster on Monday night, taking a political risk to stump for the vulnerable Republican the day before a heated primary runoff.
TRUMP TAKES POLITICAL RISK AHEAD OF HEATED SOUTH CAROLINA PRIMARY
Speaking at Airport High School in West Columbia on a rainy, sweltering evening, Trump said, "Get your asses out tomorrow and vote."
"The president's endorsement is wonderful," McMaster said Tuesday on "America's Newsroom."
"It is just a wonderful thing not only for my campaign and me, but for the people of South Carolina. We love him and he loves us. We'll win this election and we'll keep on winning."
Warren, McMaster's rival, shot back later during a Fox News appearance, portraying himself as an outsider and calling for change in the governor's office.
"This election is clearly not about President Trump's record," Warren told Fox News host Sandra Smith. "It is about Henry McMaster's and it's a record of failure. The people are tired of it."
The winner of the Republican runoff will face Democratic nominee James Smith.
Other races being watched include Maryland's Democratic primary, in which longtime Maryland Sen. Ben Cardin is facing a challenge from Chelsea Manning, and several others.
Cardin, 74, was first elected to Congress in 1987 and is seen to be in a commanding position, not just in terms of taking the primary, but also in his likelihood to win re-election.
Manning, who was convicted of leaking classified documents before transitioning to a woman and later winning a commutation from Obama – has received a barrage of media attention, yet the former Army intelligence analyst has struggled to make a significant mark on the race.
The Baltimore Sun, the largest newspaper in Maryland, reported last week that it's not clear if Manning – formerly known as Bradley Manning -- is even campaigning anymore ahead of Tuesday's vote.
The crowded Democratic gubernatorial primary in Maryland to take on GOP Gov. Larry Hogan was viewed as the more competitive Tuesday contest, with former NAACP president Ben Jealous and County Executive Rushern Baker running for their party's nomination.
As for congressional races, former congressman and federal tax fraud felon Michael Grimm is challenging an incumbent congressmanm Dan Donovan, in New York's 11th Congressional District. Each claims he is the only one who can keep the seat from the Democrats – who are having their own primary.
Grimm, a former FBI agent, resigned from Congress after pleading guilty to tax evasion. Grimm served seven months in prison and now says the charges were politically motivated. Last month, Trump endorsed Donovan.
Fox News' Dan Springer, Gregg Re and David Lee Miller contributed to this report.