RNC elects Ronna Romney McDaniel as chair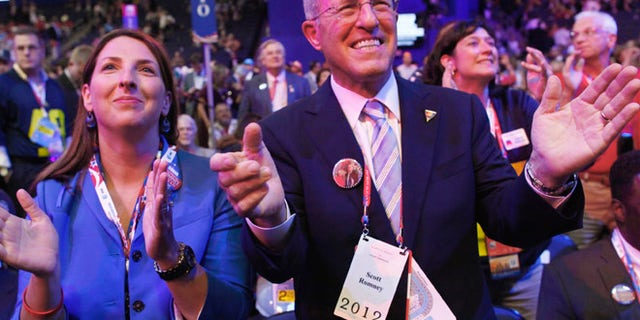 NEWYou can now listen to Fox News articles!
The Republican National Committee elected Ronna Romney McDaniel Thursday to serve as its chairwoman – making her the first female RNC chief in three decades.
McDaniel, President-elect Donald Trump's preferred candidate, previously served as the chairwoman of the Michigan Republican Party and played a key role in delivering the state by a thin margin to Trump in the November election.
McDaniel, 43, is the niece of 2012 presidential nominee Mitt Romney and earned favor with Trump by supporting him despite a feud earlier this year between her uncle and the now-president elect.
"I am a mom from Michigan," she said. "I am an outsider. And I am going to do everything I can to make sure Donald Trump and Republicans everywhere are successful."
McDaniel was elected by RNC members gathered in the nation's capital, and takes over from outgoing chairman Reince Priebus, who had served in the role for six years. Priebus is moving to the Trump White House where he will serve as chief of staff.
Priebus gave McDaniel a strong endorsement in his final address to the committee, calling McDaniel "the right woman to lead the RNC" and pointed to her ability to turn Michigan red in the election.
"It is that level of passion, along with her commitment to building out the ground, data, and digital operation the RNC has been working on for years, that gives me total confidence she is the right woman to lead the RNC," he said.
Massachusetts GOP chair Kirsten Hughes said McDaniel's election is part of "an honest effort" to improve the party's standing with women. After the 2012 presidential election defeat, the RNC's now famous "autopsy" encouraged the party to "grow the ranks of influential female voices in the Republican Party."
McDaniel herself indicated that her election could play a role in breaking down the Democratic Party's claim to be the party of women.
"For far too long, Democrats have hailed themselves as the party of women," McDaniel said. "As Republicans, we know their so-called monopoly on being the party of women is false, and it is a mindset I intend to change."
McDaniel is expected to play a behind-the-scenes role, with a special focus on fundraising and maintaining the national field and data operation built by Priebus' team. She will work with new Co-Chair Bob Paduchik, who was Trump's state director in Ohio.
The Associated Press contributed to this report.