Retiring Marine Corps commandant accused of padding resume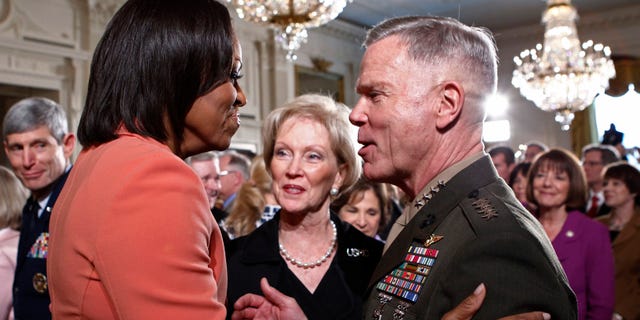 NEWYou can now listen to Fox News articles!
WASHINGTON – Days before Marine Corps Commandant Gen. James Amos is set to retire, allegations have surfaced that he padded his resume and may have misled Congress about completing a vital training program.
At issue is whether Amos, a four-star general, attended and completed The Basic School – rigorous training for newly commissioned or appointed Marine Corps officers. His official resume, the one he signed and submitted to Congress during his confirmation hearing in 2010, says he graduated in 1972.
A longtime Amos critic first raised questions about whether military records back that up. But Rep. Walter Jones, R-N.C., another Amos critic, also has gotten involved and is asking Defense Secretary Chuck Hagel to investigate the matter.
"He lied on his resume and it is a huge integrity issue," Jones told FoxNews.com.
In a series of back-and-forth emails and letters with the military, Jones' office reportedly was told initially that Amos in fact never attended TBS and "was an inter-service transfer from the Navy."
Jones, though, said when he pressed the Marines on the discrepancies he later was told that Amos graduated from TBS on Feb. 28, 1977, through a correspondence course. The problem is, correspondence courses weren't offered until 1978, Jones said. That date also conflicts with what Amos told Congress.
"I know this might not be the biggest issue going on in the world, but I feel that any person that has the privilege to be the top person in the military… in the Marines… needs to be a man of integrity," Jones said. "I have been very disappointed in him."
Marine Corps spokesman John Caldwell on Wednesday stood by previous claims that the outgoing commandant completed the course via correspondence, without addressing the questions over the dates.
"The Commandant of the Marine Corps completed The Basic Officer Course via correspondence, which was common practice for pilots during the Vietnam era," Caldwell said in a written statement. "Completion of professional military education requirements via correspondence is common practice today and is another method the Marine Corps uses to satisfy educational qualifications in circumstances preventing formal school attendance."
But retired Army Lt. Col. Tony Shaffer, a former military intelligence officer, told FoxNews.com that some critics -- with whom he is working -- want to see Amos reduced to a three-star rank in retirement.
"There is a visceral reaction of the Marine Corps veterans over the potential that Amos lied," Shaffer said.
Jones, a member of the House Armed Services Committee whose district in eastern North Carolina includes three Marine installations, told FoxNews.com there have been multiple incidents where actions taken by Amos have raised concerns including how he handed the case of Marines caught on tape urinating on the corpses of suspected Taliban fighters in Afghanistan.
The case triggered a rare fight over how the military punished its own.
At the time, Maj. James Weirick, a Marine lawyer assigned to the case, spoke out against Amos, alleging that the criminal investigation wasn't fair because the commandant publicly demanded harsh punishment against the Marines implicated before they had had their day in court.
Amos, in turn, reportedly retaliated against Weirick by removing him from his job, taking his personal weapons and ordering a mental health screening – a move many, including Jones – saw as an abuse of power by Amos. The commandant denied it.
"Look, this resume thing is just one in a long line of things General Amos has done that I find disappointing," Jones said.
Amos, who is scheduled to retire on a full military pension this Friday, has had many unforeseen challenges and changes competing for his attention during his tenure and many of his peers have said he's done the best he could with what he was given.
During Amos' four years as commandant, he oversaw severe budget cuts and the repeal of the Don't Ask, Don't Tell policy in 2011, and was tasked with developing a postwar strategy in Afghanistan. He was also at the helm for the 2013 Pentagon mandate to open front-line combat jobs to women.
Despite the critics, others like Sergeant Major of the Marines Corps Mike Barrett, told the Marine Corps Times that Amos "masterfully shepherded us through the most tumultuous times in our Corps' history."